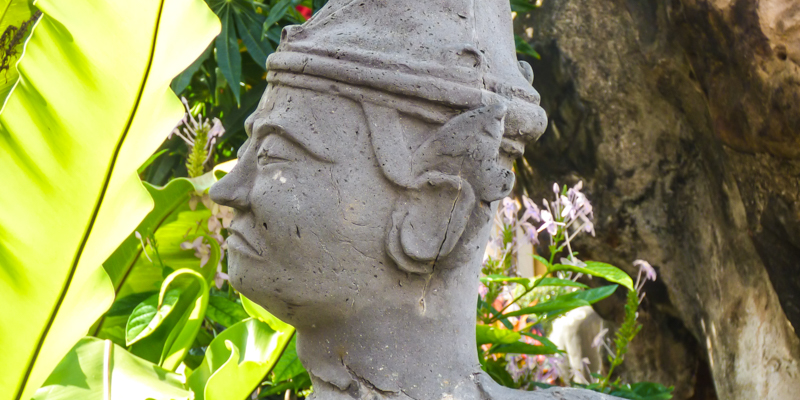 © Image from TraditionalBodywork.com
In this article we present the best Thai Massage teachers from Thailand, that is, the Gurus, the Masters, and the most popular instructors.
No doubt we'll fail to mention all great teachers, so please don't hesitate to write us if you think we need to definitely add a certain Thai Massage instructor to the list.
In alphabetical order:
Chongkol Setthakorn
Chongkol Setthakorn (John) is the founder of the renown International Training Massage School (ITM Chiang Mai). John was the lead teacher at the Shivaga Komarpaj School (the Old Medicine Hospital) in Chiang Mai in the years 1985-1991. In that time John helped to design and create the Thai Massage instruction routines that are now standard in Chiang Mai for Northern Style Thai Massage.
Yet, to be frank, you will have a hard time getting personal training from Mr. Chongkol himself seen the size of the ITM school and the number of teachers.
Dot Po
Mrs. Dot Po is a teacher at the Sunshine Massage School in Chiang Mai. Dot is a very experienced Thai Massage teacher, absolutely funny, kind, and very knowledgeable of Thai Herbal remedies and Thai Dance. Additionally, she's an active priestess (Dao Master) in a Chinese temple in Chiang Mai. I'd like to nickname her the "Thai Druid."
Homprang Chaleekanha
The teacher Mrs. Homprang Chaleekanha, from the Baan Hom Samunphrai school in Chiang Mai, is a Traditional Medicine Doctor, Herbal Pharmacologist, and Midwife. Well-known for her teaching specializations in Herbal Medicine, Thai Womblifting techniques, and Thai Postpartum Care.
Jack Chaiya
Jack Chaiya, based in Chiang Mai, is the son of the late Lek Chaiya. "Mama Lek" Chaiya was a famous healer, herbalist, and Thai Medicine teacher. Her Thai Massage style is widely known as Nerve Touch Style (Jap Sen). Today, Jack continues teaching her work.
Khun Ni
Mrs. Khun Ni (A. Bunjong Pun) is a Thai therapist and teacher from Chiang Mai highly specialized in Thai Abdominal (Chi Nei Tsang) massage, Karsai Nei Tsang Thai genital Massage and Thai Womblifting techniques.
Kraijakkri Rungrojsakulporn
Master Kraijakkri Rungrojsakulporn aka "Kong," from Bangkok, is a teacher specialist in Thai Foot Reflexology and Thai Yoga (Reusi Dat Ton) and a highly versatile Thai Massage instructor. His willingness and openness to also learn from his students is remarkable.
Mantak Chia
Master Mantak Chia from the Tao garden in Chiang Mai is renown around the world for his Qi Gong, Chi Nei Tsang (Thai Abdominal Chi Massage) and Karsei Nei Tsang (Thai genital Detox Massage) training courses.
Mister Nat
Mister Nat from Chiang Mai is a well-known blind therapist and teacher at the Supattra Blind Massage Center. On request, he gives private Thai Massage training at his home. He's known for his simple, tough, effective Thai Massage style. No fancy moves, no fancy stretches, just what works!
Moh Bunchu Chantrabut
Moh Bunchu Chantrabut (Ajahn Boonchu) from Hang Dong is a well-known Lanna Thai Folk Healing specialist in notably Tok Sen and Thai Fire Therapy (Yam Khang).
Mr. Suwat
Mr. Suwat runs the Thara Massage Institute in Chiang Mai, a Thai medical clinic and highly specialized in both Thai Massage Therapeutic treatments and Traditional Thai Massage therapy courses.
Ohm Rinraya
Mrs. Ohm Rinraya from Omsala in Chiang Mai is a former Sunshine Massage School Thai Massage teacher. Ohm is specialized in Chi Nei Tsang and Karsai Nei Tsang Genital Therapeutic Massage courses and treatments.
Pi Jem
Mrs. Pi Jem is a specialist in Thai Abdominal massage, Nuad Karsai, Thai Womblifting and Thai Postpartum massage. She offers treatments, courses and classes in Chiang Mai.
Pichest Boonthumme
The famous "Chain Smoking Master" Ajahn Pichest from Hang Dong is a master in Thai Massage Therapy and doesn't stop enriching the global Thai Massage toolbox with a continuous stream of new techniques. A former Old Medicine Hospital practitioner and teacher, highly influential, and a teacher of many contemporary Thai Massage instructors.
Sinchai Sukparset
Ajarn Sinchai Sukparset is a renowned blind Thai Massage teacher and therapist in Chiang Mai who specializes in Therapeutic Massage. With 5 decades of Thai Massage experience Mr. Sinchai is an absolute icon in the Chiang Mai Thai Massage community.
Sirichan Nooy
Doctor teacher Mrs. Sirichan Nooy from Chiang Mai is a versatile specialist in Traditional Thai massage and Lanna Folk Healing modalities.
Somphong Prapharat
Ajarn Somphong Prapharat from Waulai Thaimassage in Chiang Mai is a highly specialized Lanna Master offering courses in Herbal Medicine, Herball Bal Compress Massage, Reusi Dat Ton and Tok Sen.
Srida Shiomi
Mrs. Srida Shiomi (aka Kru Ong) is the founder of Ong's Thai Massage School in Chiang Mai. The school has seen some notable growth in past years and it's rather unlikely to get personal training from Ong seen the number of teachers that give courses at the school.
Tassanee Boonsom
Mrs. "Coocky" Tassanee Boonsom is the founder of the Loi Kroh Massage and Yoga School, one of the most established schools in Chiang Mai. Coocky is known for her teaching specializations in Thai Yoga (Reusi Datton), Chi Nei Tsang, and Karsei Nei Tsang.
Terdchai Chumphoopong
Terdchai Chumphoopong aka Mac from Chiang Mai is a former teacher of the Old medicine Hospital and of ITM Chiang Mai and an absolute veteran of Thai Massage and Thai Massage teacher trainings.
Thanachai Chaimongkhon
Mr. Thanachai Chaimongkhon is a well-known Thai Massage and Thai Abdominal Massage therapist and teacher in Chiang Mai.
Timmy Kaossaard
Timmy Kaossaard from Timmy's Thai Massage Training Center in Chiang Mai is a veteran and icon in Thai Massage training. She teaches Northern style, Wat Po style, Lanna style and is a specialist in Tok Sen, Thai postpartum treatments (Yu Fai) and preparation of herbal products.
Wandee Boonsai
Wandee Boonsai, the big Thai Smile Lady from Chiang Mai, is a former Old Medicine Hospital practitioner and teacher. She offers courses in Thai Massage, Thai Oil Massage and Thai Foot Massage. Additionally, she also runs a guesthouse where long-term students can stay.
Yong Kiat
Ajahn Yong Kiat is a blind Thai Massage Teacher and Therapist in Bangkok specialized in Thai Massage therapy training. He is a former instructor at the Pisit Massage School for the Blind and a pupil from the late Ajahn Pisit Benjamongkonwaree.
---

---
---
Related Articles