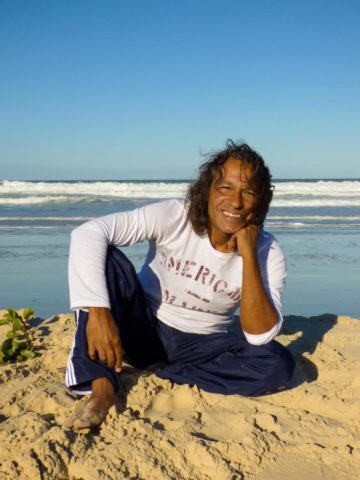 Marce Ferreira spent a considerable part of his life in Holland, where he worked for more than 15 years as an IT-Engineer. In 2009, he took a sabbatical leave heading off to Asia. In Thailand, he discovered his two new passions: Thai Traditional Massage and Thai Yoga (Reusi Dat Ton).
Returning to Europe in 2010, he quit his former IT-job and began offering treatments, workshops and training courses in Austria, Germany, Spain, Holland, France and Brazil, returning yearly to Thailand to continue and deepen Thai Healing Arts studies.
As a certified teacher from Ong's Thai Massage School in Chiang Mai he's registered with the Thai Ministry of Education and authorized to teach Thai Traditional Massage abroad and hand out certificates.
In addition, Marce is a certified Reusi Dat Ton (Thai Traditional Ascetic Yoga) instructor, affiliated with the Yoga Massage School Thailand Metta in Bangkok, and authorized to hand out training course completion certificates.
In 2017, Marce stopped practitioning and teaching professionally, dedicating himself completely to the TraditionalBodywork.com website. Today, on rare occasions, he still gives Thai massages and trainings.
Experience

8+ years experience as a Thai Massage therapist and Reusi Dat Ton practitioner


800+ hours of formal studies in Thai Massage and Reusi Dat Ton in Bangkok and Chiang Mai


500+ clients treated with Thai Massage


1200+ Thai Massage sessions given counting for over 2000 hours of massage


40+ training courses and workshops given in Thai Massage and Thai Yoga in 4 countries


200+ students taught
Training
Sunshine Massage School | Chiang Mai
— General Thai Yoga Massage (Northern Style)
— Advanced Thai Massage Techniques & Stretches
— Osteothai & Western Therapeutics
— Thai Abdominal Massage (Chi Nei Tsang)
Thai Yoga Massage Around The World | Chiang Mai
— Advanced Thai Yoga Massage & Stretches
— Thai Massage in the Side Position
— Thai Massage for Pregnancy & Older People
Watpo Thai Traditional Medical School | Bangkok
— General Thai Massage (Southern Style)
— Reusi Dat Ton (Traditional Thai Yoga Ascetic Self-Stretching Exercises)
Sunshine Network Lahu Village | Chiang Rai
— General Thai Yoga Massage (Northern Style)
Suai Thai Massage School | Bangkok, Phuket
— General Thai Massage (Northern Style, TTMS Style & Royal Style)
— Advanced Techniques & Stretches
— Thai Therapeutics
— Herbal Ball Compress Massage
Ong's Thai Massage School | Chiang Mai
— General Thai Massage (Integrated Northern & Southern Style)
— Professional Thai Massage (Integrated Northern & Southern Style)
— Energy lines (Sip Sen)
— Thai Massage Teacher Training (2012)
Mornoi Clinic | Chiang Mai
— Soft Touch Thai Massage
Sinchai Massage | Chiang Mai
— Therapeutic Thai Massage
Yoga Massage School of Thailand | Bangkok
— Reusi Dat Ton Basic Training
— Reusi Dat Ton Professional Training
— Reusi Dat Ton Teacher Training (2013)