---

Tap or click for Table of Contents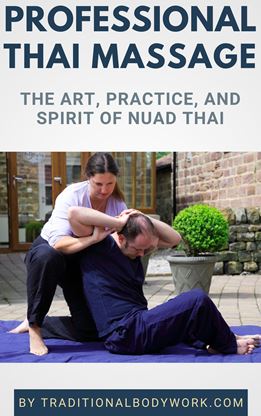 Written by: Marce Ferreira
First published: August 2019
Last update: April 2020
Length: 232 pages
Book content: more details
Table of contents: preview here
Readability: device support
Formats: pdf, epub, mobi
Delivery: download and email
Suggested price: US$ 7
Minimum price: US$ 4
If you want to buy several related products at once, you can also check out our
eBook Bundles
.
What Is this Book about?
This work is a practical, real-life guide about the art, actual practice, and true spirit of Traditional Thai Massage.
It's an in-depth, pragmatic, and no-nonsense book based on seven years of doing Thai Massage professionally, and aimed at supporting, guiding, and empowering new and seasoned Thai Massage therapists.
We cover the Thai Massage art itself — including its place within the broader realm of the traditional Thai Healing Arts — we talk about the clients, the therapist, the sessions, methods and techniques, and therapy aspects.
Furthermore, we extensively discuss the spiritual characteristics and spirit in which Thai Massage is given.
This book is not a training course or workshop but aims at providing you with a comprehensive understanding of the topic presented.
Table of Contents
PREFACE
ART
~ Doing Thai Massage Professionally 9
~ What Is Traditional Bodywork? 11
~ Thai Traditional Massage 13
~ On the Origins of Thai Massage 15
~ The Thai Traditional Healing Arts 19
~ Thai Massage and the Circle of Life 21
~ The Four Elements: Earth, Water, Wind and Fire 23
~ Pancha Kosha Philosophy and Thai Massage 28
~ Diagnostics Arts in Thai Massage 30
~ Thai Massage and Anatomy 34
~ The Thai Sib Sen Energy Lines 37
~ Thai Lanna Folk Healing Arts 39
~ Thai Massage Styles 44
~ Thai Massage Modalities 47
~ How Thais Learn the Art 54
~ Thai Massage and the Art of Living 58
~ Pichest Boonthumme about the Art of Thai Massage 60
~ Accreditation, Certification, and Lineage 63
PRACTICE
About Our Clients
~ What Clients Should Wear 68
~ Your Client after the Treatment 71
~ Emotional Release – Part 1 73
~ Emotional Release – Part 2 75
~ Emotional Release – Part 3 77
~ Giving Thai Massage to Famous People 80
~ Intimacy and Intimate Aspects in Thai Massage 82
~ Feedback from Our Clients 85
~ Appointments & Cancellations 87
~ The Endurance of Our Clients 88
~ Cultural Differences with Experiencing Pain in Thai Massage 89
About Ourselves
~ Our Thai Massage Style 93
~ Our Personal Growth 94
~ Doing Yoga and Thai Massage 96
~ Our Lifelong Continuing Education 98
~ How to Build Your Thai Massage Business? 100
~ Why Thai Massage Changes Our Body 103
~ How to Avoid a Thai Massage Therapist Burnout 105
~ Living Healthy and Thai Massage 111
~ Physical Requirements and Strains for the Therapist 113
~ Psychological and Emotional Strains for the Therapist 118
~ When Can I Start teaching Thai Massage? 120
~ Managing the Thai Massage Classroom 123
About Treatment Sessions
~ Precautions & Contraindications 127
~ Etiquette & Preparations 130
~ How to Start a Thai Massage Session? 132
~ The Optimal Thai Massage Session Duration 134
~ Getting Cold during the Session 136
~ Thai Massage is Dressed Bodywork 138
About Methods & Techniques
~ Thai Massage Tools and Techniques 141
~ Using Thai Massage Poses, Postures & Positions 145
~ The Perfect Fit in Thai Massage 146
~ Giving Thai Massage: Hard or Soft? 147
~ Table Thai Massage vs. Thai Massage on the Floor 150
~ Thai Massage Mats and Mattresses 152
~ Applying the Thai Massage Sequence 156
~ Thai Massage is Massage also 157
~ Inflicting Good Pain with Thai Massage 158
~ Using the Thai Massage Sen Energy Lines 160
~ Integrating Thai Massage with Other Bodywork 162
~ Limits and Limitations of Thai Massage 164
About Thai Massage Therapy
~ Giving Thai Massage Therapy 166
~ The Holistic Approach of Thai Massage 168
~ Traditional Solutions vs. Contemporary Problems 173
~ How Many Treatments Should You Give? 176
~ Is Thai Massage Therapy Dangerous? 178
~ Nothing is necessary, only Metta 183
~ Science and Thai Massage Therapy 185
~ A Circulatory System Approach of the Sen Energy Lines 188
~ Treating Low Back Pain with Thai Massage Therapy 191
SPIRIT
~ Extraordinary Times for Thai Massage 200
~ Awareness, Grounding, and Spiritual Clearness 202
~ The Discontinuity of Judgment 205
~ Psychosomatics 206
~ The Session Ambiance 208
~ The Fast Lane of Thai Massage 210
~ The Mystification of Thai Massage 212
~ Energy and Thai Massage 213
~ Thai Massage, Vipassana and Mindfulness 215
~ The Thai Massage Event Anomaly 218
~ The Thai Massage Practitioner Code of Ethics 221
~ The True Spirit of Thai Massage 224
~ Buddhism and Thai Massage 226
~ The Wai Khru and Thai Massage 229
APPENDIX
How Do You Receive this eBook?
We work with Gumroad, a reputable and established digital downloads service provider and payment processor. After buying this eBook you can immediately download it in one or all formats of your choice (pdf, epub, mobi). We will also send you an email with a link to the downloads so that you can re-download the eBook anytime you'd like to.
Device Support
Our books and videos can be viewed on all common devices, such as desktops, laptops, notebooks, Smartphones, and tablets. Our eBooks can also be read with eReaders, including the Kindle eReader. Our videos can be played in any appropriate viewer or streamed with our online viewer. All regular OS are supported, such as MS Windows, Apple Mac OS, and Google Android.

PDF files are best read on desktop computers, laptops, notebooks, and tablets, but can be easily read on other devices also. EPUB files are suitable for all generic eReaders. The MOBI file format is supported by many eReaders also, but it's specifically suitable for the Kindle eReader.

Smartphones and tablets can access all file formats we publish, but depending on the screen size and apps available or downloaded, either PDF, EPUB or MOBI will be best. MP4 video formats are widely supported by computers and Smartphones, and by many other devices.

After buying a product you can immediately download all formats, or view the product(s) online. If you use a Kindle, you can directly send PDF and MOBI files to your Kindle device using your Kindle email address.