---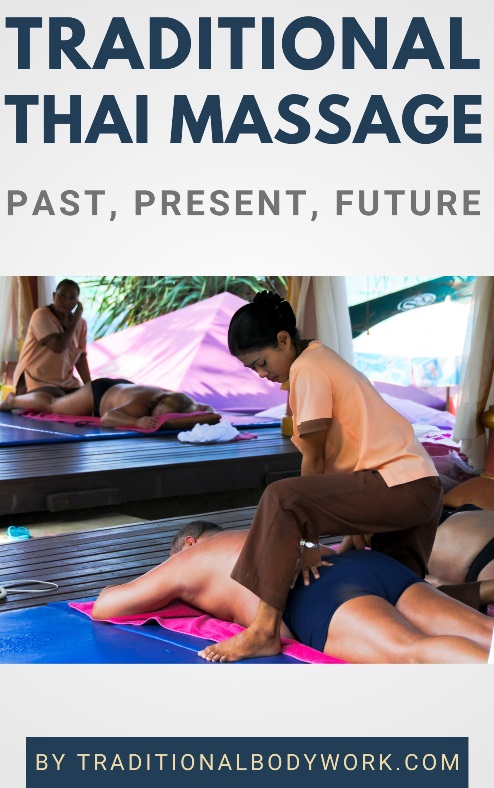 First published: March 2020
Last updated: November 2021
Length: 243 pages
Book content: more details
Table of contents: preview here
Readability: device support
Formats: pdf, epub, mobi
Delivery: by download and email
Suggested price: US$ 8
Minimum price: US$ 5
What Is this Book about?
This book is about the past, present, and future of Traditional Thai Massage.
We cover the immense changes Thai Massage has been going through since the 1950s. Key to all these changes is a renewed local awareness of Thailand's cultural heritage, and an increasing interest of the international community in general, and of the West in particular, for traditional medicines and healing arts.
Thai Massage today looks very different compared to seventy years, or even twenty or ten years ago, and the changes follow each other up in a maddening speed both for treatments and training, but also for our knowledge about the history and the conceptual backgrounds.
We discuss the ancient history of Thai Massage, contemporary history, the traditional styles, the shifting perspectives and directions taken in the last seventy years up to now, and the rise of new Thai Massage modalities, blends, integrations and hybrids.
We look at the changes in Thailand, but also how other countries, notably the West, have embraced Thai Traditional Massage, at the same time taking it into completely new directions.
This book is not a training course, it doesn't contain pictures or instructions of techniques, but aims at providing you with a thorough understanding of the topic presented.
Table of Contents
Open Preview
PREFACE
INTRODUCTION
~ From Happy Ending to New Beginnings 9
~ Traditional Massage and Bodywork 14
~ Thai Traditional Massage 17
~ Thai Traditional Medicine 20
~ The Origins of Thai Massage 22
~ Origins of the Sib Sen Energy Lines 27
~ Jivaka | The Father Doctor of Thai Medicine 30
~ Wat Pho | The Rescue of Thai Massage 33
TRADITIONAL STYLES
~ Nuad Thai, Nuad Boran, and Nuad Phaen Boran 38
~ Northern and Southern Thai Style Massage 41
~ Thai Royal Massage (Nuad Rajasamnak) 43
~ Thai Folk Massage (Nuad Chaloeisak) 46
~ The Thai Lanna Folk Healing Arts 48
~ Traditional Lanna Thai Massage 51
~ Wat Pho Temple Style | Bangkok 53
~ Old Medicine Hospital Style | Chiang Mai 54
~ Thai Massage Treatment Modalities | Overview 56
SHIFTING PERSPECTIVES
~ The Historic Thai Massage Revival Project 65
~ Traditional Solutions vs. Contemporary Problems 70
~ Holistic Massage, Body Language, and Body Talk 73
~ The Commercialization of Thai Massage 78
~ Authentic Thai Massage versus New Directions 82
~ The Formalization of Thai Massage Education in Thailand 84
~ Encapsulating Thai Massage in Existing Frameworks 88
~ Thai Massage Training in Thailand 92
~ Cultural Differences with Experiencing Pain 94
~ Thai Massage and Psychosomatics 97
~ Western Science and Thai Massage Therapy 99
~ Thai Massage Diagnostics 102
~ A Western Perspective on the Sib Sen Energy Lines 106
~ Integrating Thai Massage with Other Bodywork 110
~ The Mystification of Thai Massage 112
~ A Western Outlook on Thai Assisted Stretches 114
~ Are the Thai Sen Energy Lines Necessary? 118
~ Standard Thai Massage Sequences and Routines 120
~ Modern Thai Massage Teacher Training in Thailand 122
~ Using Hard and Soft Thai Massage Approaches 125
~ Changes in Thai Massage Session Durations 129
~ Thai Massage and Sex Work in Thailand 132
~ Scientific Research on Thai Massage 135
~ The Thai Massage Events Generation 141
~ Nuad Thai and the UNESCO 144
~ Teaching Thai Massage in the West 147
~ The Future of the Thai Healing Arts in Thailand 149
NEW DIRECTIONS
~ Blending or Emphasizing Thai Massage Techniques 154
~ AcroYoga, Partner Yoga, and Thai Massage 157
~ Anathai 160
~ Anatomical Knowledge and Thai Massage 161
~ Ancient Massage 164
~ Ayurveda and Thai Traditional Massage 165
~ Ayurveda Yoga Massage (AYM) 168
~ Barefoot-Thai 169
~ Breema Bodywork® 171
~ Chair Thai Massage 174
~ Chi Nei Tsang | Thai Abdominal Chi Massage 176
~ Chinese Medicine (TCM) and Thai Massage 179
~ Clinical Thai Bodywork and Trigger Point Therapy 182
~ Flow-Nuad 184
~ Harmonics, Rocking, and Dynamic Thai Massage 185
~ Jap Sen Herbal Thai Massage 187
~ Hydra Yoga Therapy 189
~ Integrated and Integrative Thai Massage 190
~ Karsai | Thai Genital Detox Massage 193
~ Master Mantak Chia 195
~ Osteothai 197
~ PhysioThai ® 199
~ Phoenix Rising Yoga Therapy 200
~ Reiki-Thai 201
~ RestoraTHAI 202
~ Rolfing Thai 203
~ SomaVeda® Thai Yoga 204
~ Structural Energy Awakening (SEA Bodywork) 205
~ Table Thai Massage 206
~ Table Thai Shiatsu 209
~ Taoist and Tantric Influences on Thai Massage 210
~ Thai Amatarot Massage 216
~ Thai Couples Massage 218
~ Thai Foot Massage & Reflexology 219
~ Thai Lomi Lomi Massage 221
~ Thai Massage and Energy Work 222
~ Thai Massage, Vipassana, and Mindfulness 225
~ Thai Oil Massage & Aromatherapy 228
~ Thai Shiatsu Combos 230
~ Thai Sportsmassage 231
~ Thai Swedish Massage 232
~ Thai Vedic Yoga 233
~ Thai Yoga | Disambiguation 234
~ Thai Yoga Fusion Massage® 237
~ Thai Yoga Massage 238
~ Vedic Thai Yoga Bodywork 240
~ Wissum Nuad Tong Boran 241
~ ZenThai Shiatsu 242
APPENDIX
How Do You Receive this eBook?
We work with Gumroad, a reputable and established digital downloads service provider and payment processor. After buying this book you can immediately download it in one or all formats of your choice (pdf, epub, mobi). We will also send you an email with a link to the downloads so that you can re-download the eBook anytime you'd like to.
Device Support
Our books and videos can be viewed on all common devices, such as desktops, laptops, notebooks, Smartphones, and tablets. Our eBooks can also be read with eReaders, including the Kindle eReader. Our videos can be played in any appropriate viewer or streamed with our online viewer. All regular OS are supported, such as MS Windows, Apple Mac OS, and Google Android.

PDF files are best read on desktop computers, laptops, notebooks, and tablets, but can be easily read on other devices also. EPUB files are suitable for all generic eReaders. The MOBI file format is supported by many eReaders also, but it's specifically suitable for the Kindle eReader.

Smartphones and tablets can access all file formats we publish, but depending on the screen size and apps available or downloaded, either PDF, EPUB or MOBI will be best. MP4 video formats are widely supported by computers and Smartphones, and by many other devices.

After buying a product you can immediately download all formats, or view the product(s) online. If you use a Kindle, you can directly send PDF and MOBI files to your Kindle device using your Kindle email address.