---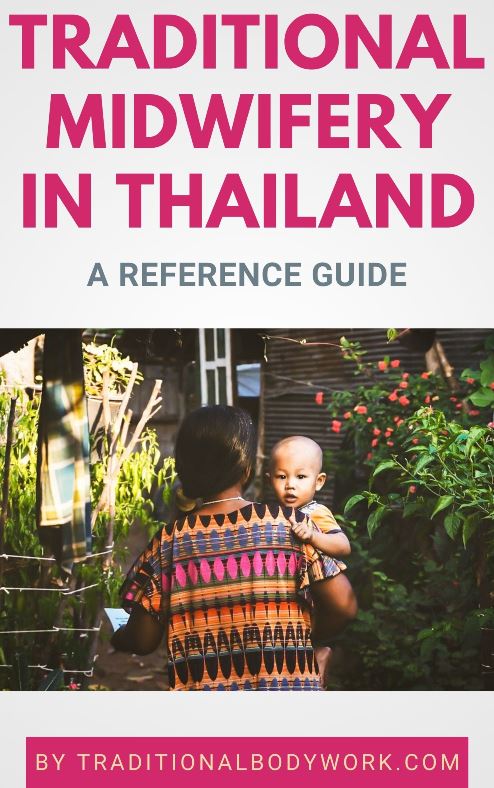 First published: November 2019
Last updated: October 2021
Length: 136 pages
Book content: more details
Table of contents: preview here
Readability: device support
Formats: pdf, epub, mobi
Delivery: download and email
Suggested price: US$ 8
Minimum price: US$ 5
What is this eBook about?
Traditional Midwifery in Thailand is a fascinating domain that integrates a vast range of Thai Healing Arts modalities.
The Thai Folk Healer or Thai Midwife needs to be extremely versatile and well-trained in a variety of treatments, such as Pregnancy and Postpartum Thai Massage, Herbal Ball Compress Massage, Herbal Baths and Herbal Steaming treatments, Abdominal Binding, Spiritual Practices, and Antenatal and Postnatal Dietary Regimes, to name some fields.
Moreover, the therapist needs to accompany a woman and her baby going through various phases: from pregnancy to labor, and from delivery to postpartum period.
In fact, we have very much enjoyed doing research and writing this book, and we think we have created a unique and in-depth overview thoroughly covering Traditional Thai Mother & Child Care concepts and modalities.
This book is not a training course, it doesn't contain pictures or instructions of techniques, but aims at providing you with a thorough understanding of the topic presented.
Table of Contents
Open Preview
PREFACE
INTRODUCTION
~ Thai Traditional Midwifery | Moh Tum Yae 8
~ Thai Traditional Medicine 10
~ Thai Traditional Massage | Nuad Thai 12
CONCEPTS
~ Hot and Cold | The Postpartum Concept of Regaining Heat 15
~ Body, Mind, and Energy in Thai Medicine 17
~ The Four Body Elements: Earth, Water, Wind and Fire 19
~ Thai Herbal Medicine 25
~ The Sib Sen Energy Lines 28
MODALITIES & TREATMENTS
~ Midwifery Treatment Categories 31
~ Pre-Pregnancy and Fertility Treatments 34
~ Karsai Nei Tsang Genital Detox Massage 35
~ Chi Nei Tsang Abdominal Massage 38
~ Dietary Precautions during Pregnancy 42
~ Spiritual Beliefs and Superstitions around Pregnancy 44
~ Thai Pregnancy Massage 47
~ Kud Thong | Thai Childbirth Massage 49
~ Thai Intrapartum Care and Massage 51
~ Yu Duan | Postpartum Confinement Period 53
~ Yu Fai | Thai Postpartum Care and Massage 56
~ Dietary Restrictions during the Postpartum Period 58
~ Thai Herbal Steam and Heat Treatments 60
~ Thai Herbal Baths 62
~ Thai Herbal Sitzbaths 64
~ Thai Herbs and Applications after Childbirth 66
~ Kao Krachome Steaming 74
~ Thai Womblifting 75
~ Yok Thong | Uterus Massage 76
~ Sitting above Charcoal | Vaginal Steaming 77
~ Kon Sau | Hot Stone Compresses 79
~ Ekgakraohm | Herbal Steam Baths 80
~ Hot Herbal Compresses 81
~ Heated Salt-Filled Clay Pot Compresses 83
~ Ya Dong Lao 84
~ Postpartum Abdominal Binding 86
~ Traditional Breast Care and Breastfeeding Practices 88
~ Breast Massage for Lactation 93
~ Infant Care after Childbirth 95
~ Thai Baby and Infant Massage 98
SUPPLEMENT
~ Asian Traditional Postpartum Practices 100
~ Ginger | The Thai Herb par Excellence 102
~ Castor Oil 105
~ Abdominal Massage and Deliberate Abortions 107
~ Origins of the Thai Healing Arts 109
~ Pregnancy Massage for Relaxation and Health 114
~ Vaginal Steaming | Benefits and Risks 116
~ Pelvic Floor Muscles Exercises 118
~ Mantak Chia and the Universal Healing Tao System 121
~ Emotional Release during Labor and Postpartum Period 123
~ Intimacy Aspects in Thai Massage 125
~ Traditional Solutions vs. Contemporary Problems 129
~ Traditional vs Contemporary Postpartum Treatments 130
~ Learning the Traditional Arts in Thailand 132
APPENDIX
How Do You Receive this eBook?
We work with Gumroad, a reputable and established digital downloads service provider and payment processor. After buying this book you can immediately download it in one or all formats of your choice (pdf, epub, mobi). We will also send you an email with a link to the downloads so that you can re-download the book anytime you'd like to.
Device Support
Our books and videos can be viewed on all common devices, such as desktops, laptops, notebooks, Smartphones, and tablets. Our eBooks can also be read with eReaders, including the Kindle eReader. Our videos can be played in any appropriate viewer or streamed with our online viewer. All regular OS are supported, such as MS Windows, Apple Mac OS, and Google Android.

PDF files are best read on desktop computers, laptops, notebooks, and tablets, but can be easily read on other devices also. EPUB files are suitable for all generic eReaders. The MOBI file format is supported by many eReaders also, but it's specifically suitable for the Kindle eReader.

Smartphones and tablets can access all file formats we publish, but depending on the screen size and apps available or downloaded, either PDF, EPUB or MOBI will be best. MP4 video formats are widely supported by computers and Smartphones, and by many other devices.

After buying a product you can immediately download all formats, or view the product(s) online. If you use a Kindle, you can directly send PDF and MOBI files to your Kindle device using your Kindle email address.