---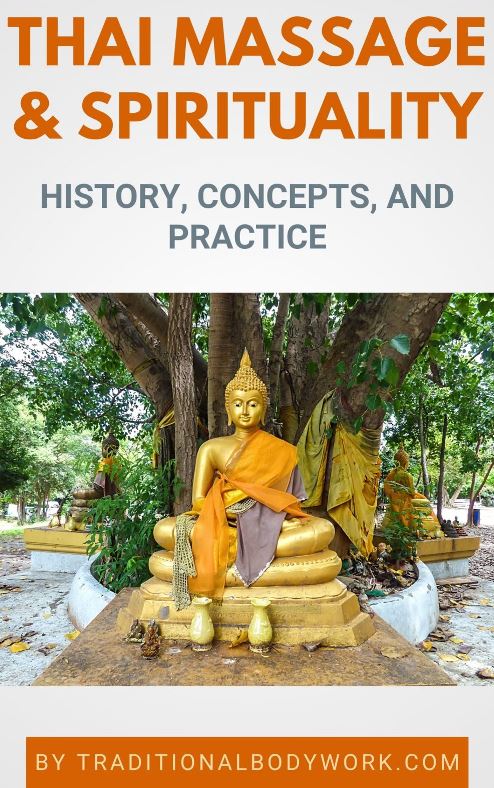 First published: July 2020
Last update: August 2021
Length: 116 pages
Book content: more details
Table of contents: preview here
Readability: device support
Formats: pdf, epub, mobi
Delivery: by download and email
Suggested price: US$ 8
Minimum price: US$ 5
What Is this Book about?
Physical, emotional and mental healing practices have always had a close connection with spirituality and religion. This doesn't count for Thai Massage only, but basically for all traditional healing arts.
Traditional Thai Massage in Thailand emerged within a religious context, adopting Buddhist and spiritual animistic principles, which is of importance for the practice until today.
Although we can learn and practice Thai Massage without spiritual connotations, a thorough understanding of the healing power of Thai Massage can only come about if devotional, religious and spiritual aspects are taken into account.
In this book, we explore what spiritual, philosophical and religious practices have influenced or still influence Thai Massage, and how those practices have been materialized in the Thai Massage healing art as we know it today.
This book is not a training course, it doesn't contain pictures or instructions of techniques, but aims at providing you with a thorough understanding of the topic presented.
Table of Contents
Open Preview
PREFACE
INTRODUCTION
~ Healing, Spirituality and Thai Massage 6
HISTORICAL CONTEXT
~ Origins of Thai Massage 9
~ Jivaka – The Father Doctor of Thai Medicine 14
~ Buddhism and Thai Massage 17
~ Ayurveda and Thai Massage 21
~ Thai Temples and Thai Massage 23
~ Origins of the Sen Energy Lines 24
~ The Wat Po Temple and Thai Massage 27
~ The Sacred Number 72,000 30
~ The Reusi Hermits of Thailand 33
~ Origins of Reusi Dat Ton (Yogic Self-Stretching) 35
~ Lanna Folk Healing 37
~ The Shivagakomarpaj Traditional Medicine Hospital 40
PHILOSOPHY AND CONCEPTS
~ The Four Attitudes – Karuna, Metta, Mudita, Upekkha 43
~ Buddhist Ethics and Thai Massage 45
~ Metta Meditation and Thai Massage 46
~ Lom Pran and Prana – the Wind of Life 48
~ Sen Energy Lines – Foundation of Thai Massage 50
~ Pancha Kosha Philosophy and Thai Massage 52
~ Pranic Chakras and the Sen Energy Lines 55
~ Thai Concept of Life: Body, Citta, and Energy 57
~ The Four Elements: Earth, Water, Wind and Fire 59
CONTEMPORARY PRACTICES
~ Thai Massage Practitioner Code of Ethics 66
~ The Wai Khru Ceremony 69
~ Spirituality and Teaching Thai Massage in the West 73
~ Awareness and Spiritual Clarity 75
~ Mystification and Spiritualization of Thai Massage 78
~ Thai Massage Training in Thailand 80
~ Energy, Metta, and Thai Massage 82
~ Thai Massage, Vipassana Meditation, and Mindfulness 85
~ The Spirit of Giving Thai Massage 88
~ Practicing Dhammanamai 91
~ The Commercialization of Thai Massage 93
~ Taoist and Tantric Influences on Thai Massage 97
SUPPLEMENT
~ Spiritual Beliefs and Superstitions around Pregnancy & Childbirth 104
~ Buddhist Vipassana Meditation 107
~ Nothing is Necessary, only Metta 110
~ The Spirit Houses of Thailand 113
APPENDIX
How Do You Receive this eBook?
We work with Gumroad, a reputable and established digital downloads service provider and payment processor. After buying this eBook you can immediately download it in one or all formats of your choice (pdf, epub, mobi). We will also send you an email with a link to the downloads so that you can re-download the eBook anytime you'd like to.
Device Support
Our books and videos can be viewed on all common devices, such as desktops, laptops, notebooks, Smartphones, and tablets. Our eBooks can also be read with eReaders, including the Kindle eReader. Our videos can be played in any appropriate viewer or streamed with our online viewer. All regular OS are supported, such as MS Windows, Apple Mac OS, and Google Android.

PDF files are best read on desktop computers, laptops, notebooks, and tablets, but can be easily read on other devices also. EPUB files are suitable for all generic eReaders. The MOBI file format is supported by many eReaders also, but it's specifically suitable for the Kindle eReader.

Smartphones and tablets can access all file formats we publish, but depending on the screen size and apps available or downloaded, either PDF, EPUB or MOBI will be best. MP4 video formats are widely supported by computers and Smartphones, and by many other devices.

After buying a product you can immediately download all formats, or view the product(s) online. If you use a Kindle, you can directly send PDF and MOBI files to your Kindle device using your Kindle email address.