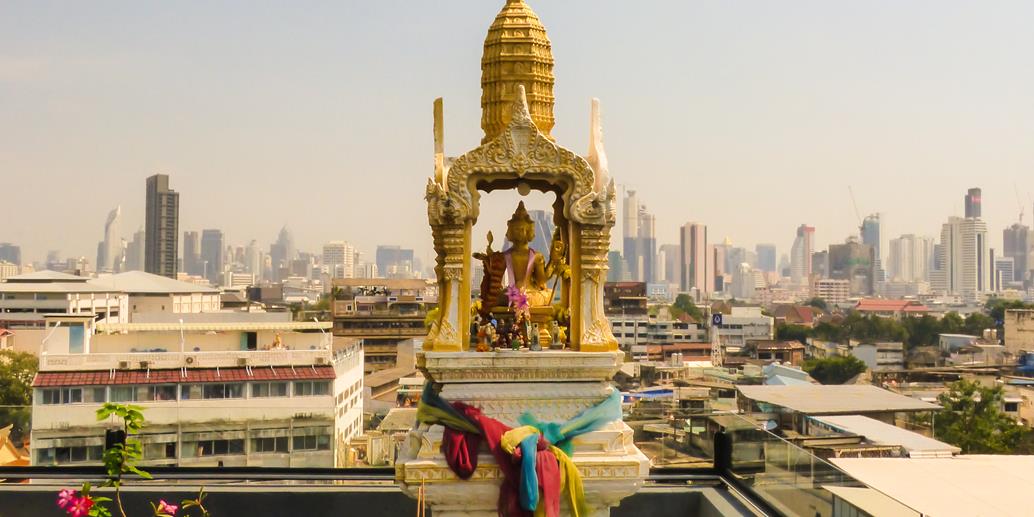 For anyone seriously pursuing a Thai Massage or Thai Bodywork practitioner career, the question of studying in Thailand or not will naturally, at some point or the other, come to mind.
It's a valid question, because Thailand is the birthplace of Thai Traditional Medicine, Thai Massage and Thai Massage Education, and who doesn't want to drink directly at the source?
Yet, there is quite some consideration and deliberation involved before we can answer the question with a Yes or No. In general, of course, we could say that "it depends." It depends on financial possibilities, available time, your personality and disposition, your personal situation, your previous history with (Thai) Bodywork, your professional goals.
The Journey
But let's start with the journey to Thailand. If it would be your first trip to South East Asia, you should definitely take plenty of time. Let's say a week or two before the actual start of your courses and a week or so after.
You see, you'll need time to digest a jet lag, the travel, a totally other culture and language, and most probably you'll need to get used to the climate and food. You might fall ill because of all that, which could express itself in confusion, puzzlement, say culture-shock, and/or diarrhea, fever, or what else, and it may take you up to week to feel perfectly fit again.
And certainly, after your courses, it would be sensible to "cool down" a bit before returning home and enjoy some of the other wonderful things Thailand has to offer besides Thai Bodywork.
So, "having time" is an issue and considering you would want to take a two weeks course in Thailand, it would be preferable to schedule about 30 days for your trip. Besides that, being in Thailand already, you might want to do several courses (perhaps even with several schools), and that of course would take even more of your time.
Finances
Next "the money thing." Surely, Thai Massage courses in the West are generally 2 to 3 times more costly than in Thailand, but on the other hand you'll need to pay for a round-trip Thailand, and surely… tickets cost. Furthermore, in Thailand, you'll need to pay for accommodation during your stay. Food and transport are rather cheap, but still, maybe you manage cheaper at home.
The Thai Way of Teaching
Another aspect is the way Thai Bodywork is taught in Thailand, which usually is done quite differently compared to the West. Westerners have another outlook when it comes to learning (bodywork). We often demand a lot of theory and explanations accompanied with the practice, and basically, to be honest, you won't really get that in Thailand. In Thailand, learning massage, or learning anything for that matter, is basically about "look, feel, and do." Therefore, you'll need to be willing to handle their way of teaching.
The Language Issue
Mind also that the Thai generally don't speak English very well and you may have quite a hard time getting clear answers to your questions. It's true that an increasing amount of Western teachers offer courses and workshops in Thailand, yet the majority of schools work with Thai teachers only.
Accreditation & Certification
Then the question of accreditation and certification arises. What is the value of the courses done in Thailand? Do they count towards Continuing Education points or not? Do they help you to fulfill license requirements in your home country?
The answer to the above is often negative, and if you seek valid Continuing Education Units (CEU) in Thailand your choices will be limited. There are (a growing amount of) Thai schools that are NCBTMB, NHPC or AAMT certified offering CE Units, but the organizations mentioned are only valid in the USA, Canada or Australia. For practitioners from other countries those certifications are license-technically or CE-technically seen basically without any value.
Now, after all this being told, you perhaps ask yourself why in heavens name you would want to study Thai Massage in Thailand?
Why You Should Try to Go Anyway
Well, for starters, in Chiang Mai (Northern Thailand) alone there are already more than a 100 Thai Massage schools spread on not even 15 square kilometers. Small schools, medium sized schools, big schools. And… a rich diversity of many styles of Thai Massage and other Thai Bodywork. Choice, choice, choice!
Then, despite of language and cultural obstacles, in my opinion, the Thai teachers as a rule have the so-called "Thai hand" rarely found in the West, and it's something I think a Western Thai bodywork practitioner or teacher should experience. It's the "Thai touch," a certain kind of fluidity, calmness and smoothness, a thing I can not explain to you in words really.
And for sure, being in Thailand and tasting the culture and atmosphere, taking plenty of reasonably priced Thai Massage sessions yourself, experiencing closely the setting wherein Traditional Thai medicine and massage operate… is priceless. It puts things into perspective on one side and puts things together on the other side. It will give you a whole other quality and feel to you yourself and to your practice back home.
So, finally, my answer to the question posed in the title of this article is: "Yes, go and study in Thailand, if you can." If you perhaps feel a bit unsure of traveling alone, well, there are always Thai Massage schools in your home country that offer Study Abroad Travel Programs to Thailand.
Anyway, if you want but can't go to Thailand, don't worry about it. Today, there are enough competent Thai Massage schools and teachers in many other countries, and moreover… in the last couple of years I've seen an increasing number of Thai teachers traveling the globe offering workshops and training outside of Thailand.
---
---
Related Topics