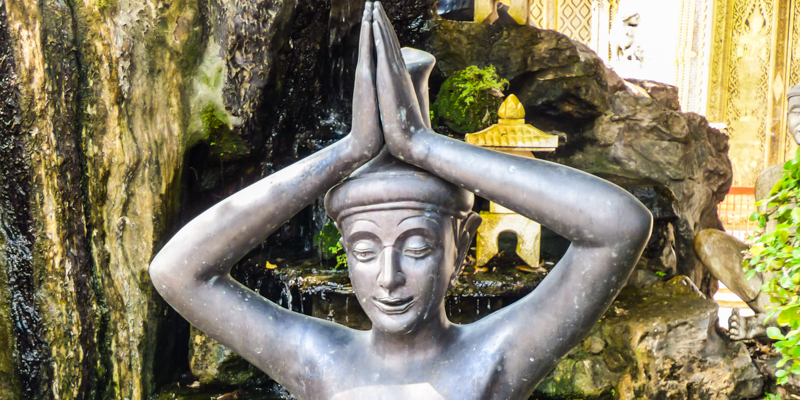 I often get this question about what Thai Massage really is. What its aims and benefits are. And where it originates. And I've noticed that it's generally not very clear where Thai Massage stands.
It's not uncommon that even "big schools" and institutes sometimes omit or forget to tell that Traditional Thai Massage is not an isolated phenomenon. And that it's certainly not (only) "Wellness" or "Relaxation."
In fact, Thai Massage is an integral part of Traditional Thai Medicine—a holistic Thai Traditional healing system. "Traditional" doesn't mean forgotten, obsolete, or not used. Traditional Thai Medicine is very much alive. Since the late 80's of the former century, Thai Traditional Medicine has seen a remarkable revival and interest. Not only in Thailand. On the contrary—it's very much adopted by the West as a result of their search of Alternative Medicine systems. And this process is still continuing.
Thai Traditional Medicine consists of three branches
1) Herbs & Diet,
2) Buddhism, Shamanism & Animism and
3) Energy – or Bodywork.
Seen with Western eyes this could be (roughly) translated with
1) Nutrition, Diet & Medicines,
2) Psycho-Analysis & Religion and
3) Fitness & Sports.
Apart from the tools, I would say the main difference with common Western healing methodology is the fact that Thai Traditional Medicine is applied holistically.
Instead of "shopping around," in Thailand one would go to a Traditional Medicine Hospital or Clinic, get diagnosed (by a Thai Traditional Medicine Doctor) and get subsequently sent to the different departments (in the same Hospital or Clinic) to get the necessary (combined) treatments. That is—when a Thai chooses Traditional Medicine. Conventional Medicine is also widely spread in Thailand (and of excellent quality and reasonable costs, measured to the vast number of Westerns doing quite some health-shopping in Thailand) and equally often used.
Another important difference with Western Conventional Medicine is that the applied medications (herbs) are most likely not chemically produced. Likewise, in Thai Traditional Medicine the diagnostic process is mostly done in the "old fashioned way"— reading the pulse, checking colors (of hands, eyes, tongue, and so on), feeling the differences in hot and cold of (body) areas, checking range of motion of the various body-parts and so on, and so on.
For the moment I won't dig any deeper in this vast realm of Traditional Thai Healing. The idea is to realize that Thai Massage is an integral part of a bigger "system," a system in which Thai Massage has its place but should always be considered in relation to its counterparts.
---
---
Related Topics