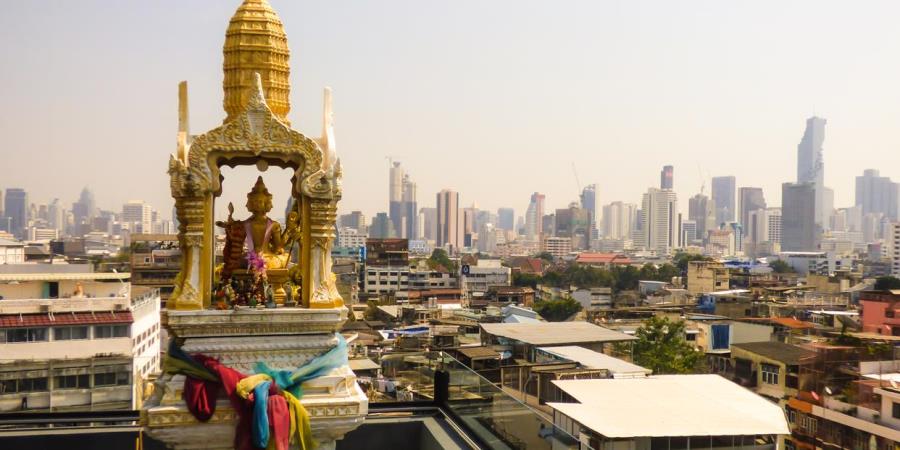 © Image from TraditionalBodywork.com
It goes perhaps without saying, but Thailand is the absolute place-to-be to study Thai Massage. The Thai welcome foreigners who want to learn Thai Massage, and there are more than 250 massage schools and individual trainers spread across the country specifically (or partially) focused on giving massage courses and workshops to foreign students.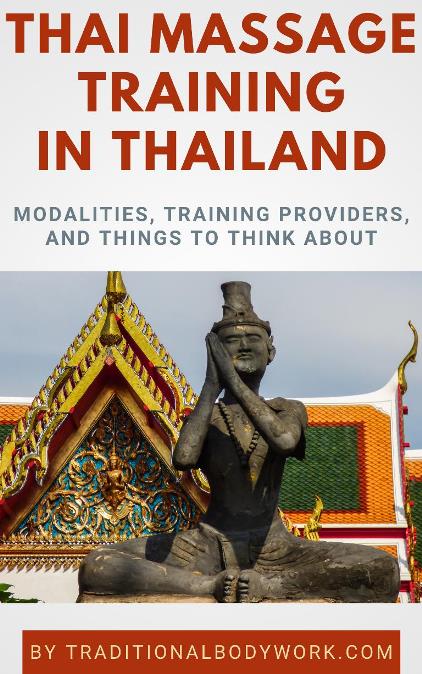 Bangkok — Thailand's bustling capital city — boasts about seventy Thai Massage institutes, schools, and training centers. That's a bit less compared to the number of Thai Massage schools in Chiang Mai (with more than hundred twenty trainers), but without doubt still quite a lot.
In any case, in this post we'll take a look at the most popular and best Thai Massage schools in Bangkok.
But then, how to decide what schools are best? Well, that's of course very subjective, depending very much on what a Thai Massage students wants and needs. We've written more about that in our post Best Thai Massage Schools in Thailand.
In any case, we've decided to take into account the national and international reputation of the massage school, the variety of Thai Massage and other Thai healing arts and bodywork courses offered, and organizational aspects. Mind that this is only our current opinion, subject to change any time.
1. Shewa Spa
Shewa Spa is conveniently located in the Khao San Road area, the place where many tourists start there holidays or travels in Thailand. The Thai Spa Massage center offers both massage treatments and training courses.
Although the variety of offerings in training is limited, you'll find the most popular trainings like Thai Massage, Thai Foot Massage, and Thai Oil Massage. All courses take 5 study days, with a total of 20 hours.
You can read more about Shewa Spa in our post Shewa Spa Bangkok | Rambuttri Road.
2. Baimint Spa Academy
The Baimint Spa Academy offers a wealth of both Thai Massage, Thai Spa and Western bodywork modalities, but also for instance Balinese Massage and Indian Head Massage courses. It's a well-established Thai Massage school, and open for foreigners.
You can read more about the Baimint Spa Academy in our post Baimint Spa Academy in Bangkok.
3. Chiva-Som International Academy
Chiva Som Academy has won many prices for being the best spa educator in Thailand. In fact, the academy offers a vast amount of Spa & Wellness training courses and programs.
Honestly, it's a bit too much to all list here in this post, but to give you the idea: full diploma programs, theoretical foundation programs, spa management, Thai Spa cooking programs, massage therapy courses, Reiki, Detox programs, Thai Massage, Western and other Asian bodywork course modalities, and the like.
You can read more about the Chiva-Som International Academy in our post Chiva-Som International Academy | Bangkok.
4. Bangkok Thai Massage
Ajahn Yong Kiat is a blind Thai Massage therapist and teacher in Bangkok in the lineage from the late Ajahn Pisit Benjamongkonwaree (Pisit Massage School for the Blind). Master Yong Kiat offers in-depth, advanced Thai Massage therapy training.
You can read more about Master Yong Kiat in our post Yong Kiat's Bangkok Thai Massage.
5. Lek Massage & Academy
Lek Massage operates about ten Lek branches in Bangkok for Spa & Wellness treatments.
Apart from the Thai Spa centers and parlors, Lek Massage has its own education academy offering a thorough 150 hour Thai Massage course and many other 60 hour Thai Bodywork modality courses like Foot Massage, Herbal Compress Massage, and so on.
6.Nuad Thai School – Thai Massage School
The Nuad Thai School in Bangkok is a professional Thai Massage Academy (part of the Loft Spa) that offers a variety of trainings, such as Traditional Thai Massage, Aroma Oil Massage, Facial Treatment, Thai Warrior Massage, and Traditional Foot Massage.
The course prices are rather elevated, to say the least, but then again — some people don't mind, and the courses are typically given as a private course and tailor-made for you.
7. SPA Cenvaree Training Academy
SPA Cenvaree operates many spas across Thailand. The Training Academy forms Thai therapists, providing them with anatomy knowledge, treatment skills, guest service and spa standards.
Their massage courses cover spa philosophy and operations, holistic treatments such Hot Stone Massage, essential oils, facial treatments, and nail care, including Ayurvedic treatment modalities.
8. TTC Spa School
The TTC Spa School is a renowned massage training institute in Thailand and overseas.
The training center offers a broad variety of specialized massage courses, Spa & Wellness course modalities, and excellent therapist training courses from 38 hours up to 380 hour (2 months). The center has branches in Chiang Mai, Bangkok, and Koh Chang.
You can read more about the TTC branch in Chiang Mai in our post TTC Spa School in Chiang Mai.
9. Watpo Thai Medical Massage School
Of course, the Wat Po Thai Massage School is perhaps the best known Thai Massage school in the world, and the official protector of Thai Traditional Medicine.
Wat Pho (also written as Wat Po or Watpo) is an important Thai establishment and cultural icon when it comes to Traditional Thai Massage. The massage school — part of the Chetawan Health Group — has several branches and massage service clinics in and around Bangkok, and even a school branch in Chiang Mai.
As for the Thai healing arts, the institute offers a General Thai Massage Course, Advanced Medical Thai Massage, Foot Massage Course, Oil Massage and Aromatherapy, Woman Healthcare Massage, Infant and Child Massage Course, Ascetic Self-Stretching (Ruesi Datton) Course, a Thai Massage Experience Training, Professional Thai Massage for Health (26 days), and a Professional Thai Massage Therapy Course of 200 hours (5 weeks).
The Wat Pho branch at Salaya is an on-site retreat center where you can stay during the course period and take the Professional Thai Massage for Health (26 days) and Professional Thai Massage Therapy Course (5 weeks).
It needs to be said that Watpo's websites are often a bit out of date, and certainly not always complete, but apparently they can simply get away with it thriving on their fame.
You can read more about the Wat Pho Massage School in our post Watpo Traditional Thai Massage School – Review.
10. Yoga Massage School Thailand Metta
The one-man Yoga Massage Metta School from Master Kong is a little miracle.
Master Kong offers excellent Thai Massage courses, expert courses in Foot Massage & Reflexology, and Advanced Reusi Dat Ton (Thai Yoga) training. All course modalities can be studied up to teacher training level.
You can read more about the Master Kong in our post Thai Yoga Massage School of Thailand Metta.
---