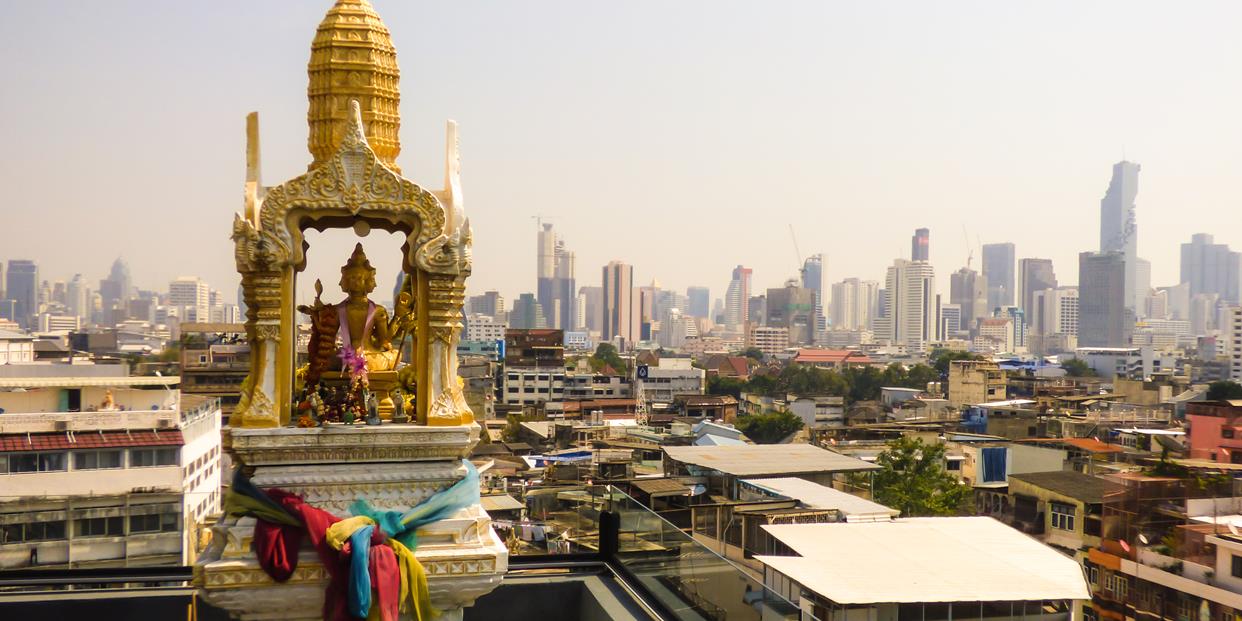 Bangkok boasts more than 40 Thai Massage Schools and Trainers accessible for foreigners. That's half the amount of Chiang Mai, but certainly still quite a lot. In this article we'll take a look at the best Thai Massage schools of Bangkok.
How to decide which schools are best? Well, that's of course very subjective, depending very much on what a Thai Massage students wants and needs. We've written about that in a previous article.
Anyway, we've decided to take into account the international reputation of the massage school, the variety of Thai massage and bodywork courses offered, and organizational aspects. Mind that this is only our current opinion, subject to change any time.
To find other Thai Massage trainers in Bangkok or in the rest of Thailand, visit our Training in Thailand page and use our Shortlists or Filter Engine.
1. Bangkok Spa Academy (BSA)
The Bangkok Spa Academy focuses on the Spa & Wellness industry. The academy offers a thorough Thai Massage for Health course of 150 hours, a Health Spa and Beauty Course of 250 hours (1 month) being a mix of Thai and Western bodywork modalities, a Spa management course of 150 hours, and a Thai Herbal Compress massage course of one week.
Besides Thai modalities, the school offers a variety of Western bodywork and Spa course modalities. If you don't speak or read Thai, check out the English section of their website.
2. Baimint Spa Academy
The Baimint Spa Academy offers a wealth of both Thai Massage, Thai Spa and Western bodywork modalities, but also for instance Balinese Massage and Indian Head Massage courses. Well established Thai school, but also open for foreigners.
3. Chiva-Som International Academy
Chiva Som has won many prices for being the best Spa Educator in Thailand. In fact, the academy offers an enormous amount of Spa & Wellness training courses and programs. Honestly, a bit too much to list here. But to give you the idea: full diploma programs, theoretical foundation programs, spa management, Thai Spa cooking programs, Therapy courses, Reiki, Detox programs, Thai Massage, Western and other Asian bodywork course modalities.
4. Bangkok Thai Massage
Ajahn Yong Kiat is a blind Thai Massage Therapist and Teacher in Bangkok in the lineage from the late Ajahn Pisit Benjamongkonwaree (Pisit Massage School for the Blind). Yong Kiat offers in-depth, advanced Thai Massage therapy training.
5. Lek Massage & Academy
Lek Massage operates about 10 Lek branches in Bangkok for Spa & Wellness treatments. Apart from the Thai Spa centers and parlors, Lek has its own education academy offering a thorough 150 hour Thai Massage course and many other 60 hour Thai Bodywork modality courses like Foot Massage, Herbal Compress massage, and so on.
6. Sabai Corner Spa
Sabai Corner Spa Training Center offers 16 short-term courses for Thais and foreigners. The duration of the training courses are about 5 to 15 days.
Apart from Foot Massage, Oil massage, Herbal Ball compress massage, and the like, the school offers very thorough Thai Massage course programs of 60, 150 and 372 hours.
7. SPA Cenvaree Training Academy
SPA Cenvaree operates many spas across Thailand. The Training Academy forms Thai therapists, providing them with anatomy knowledge, treatment skills, guest service and spa standards. Courses cover Spa Philosophy, Holistic Treatments such as Ayurveda, Hot Stone massage, essential oils, facials, and nail care.
8. TTC Spa School
The TTC Spa School is renowned massage training institute in both Thailand and overseas. Offers a variety of specialized massage courses, Spa & Wellness course modalities, and excellent therapist training courses from 38 hours up to 380 hour (2 months). The school has branches in Chiang Mai, Bangkok, and Koh Chang.
9. Watpo Thai Medical Massage School
Of course—the Watpo Thai Massage school is perhaps the best known Thai Massage school in the world. An icon when it comes to Traditional Thai Massage. The school (part of the Chetawan Health Group) has several branches and massage service clinics in and around Bangkok and even a school branch in Chiang Mai.
As for Thai bodywork, the school offers a General Thai Massage Course, Advanced Medical Thai Massage, Foot Massage Course, Oil Massage and Aromatherapy, Woman Healthcare Massage, Infant and Child Massage Course, Ascetic self-Stretching (Ruesi Datton) Course, a Thai Massage Experience Training, Professional Thai Massage for Health (26 days), and a Professional Thai Massage Therapy Course of 200 hours (5 weeks).
The branch at Salaya is an on-site retreat center where one can stay during the course period and take the Professional Thai Massage for Health (26 days) and Professional Thai Massage Therapy Course (5 weeks).
Needs to be said that Watpo's websites are (always) out of date and certainly not complete, but apparently they can simply get away with it thriving on their fame.
10. Yoga Massage School Thailand Metta
The one-man Yoga Massage Metta School from Master Kong is a little miracle. Kong offers excellent Thai Massage courses, expert courses in Foot Massage & Reflexology and Advanced Reusi Dat Ton (Thai Yoga) training. All course modalities can be studied up to teacher training level.
Related Topics