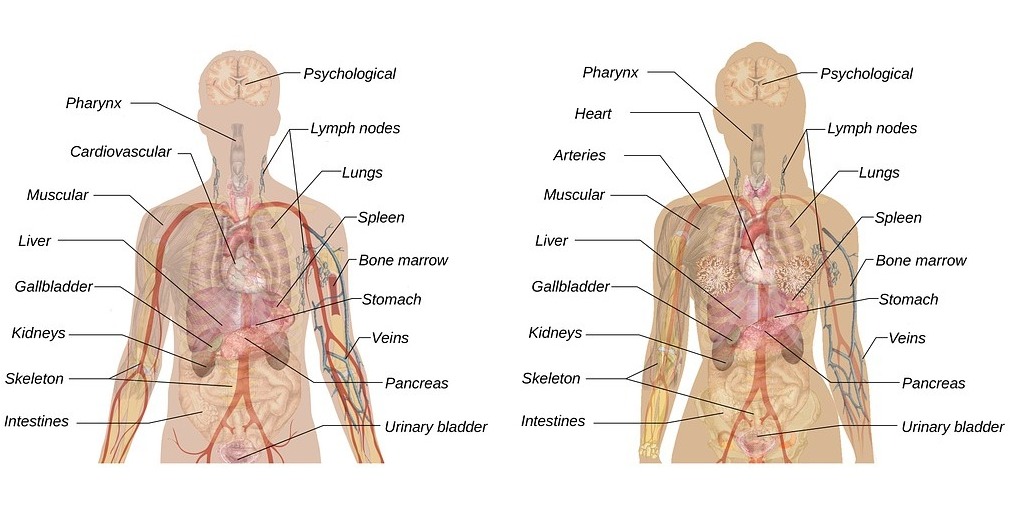 Chi Nei Tsang or Thai Abdominal Chi Massage is an ancient form of detoxifying, energizing, abdominal massage that blends Chinese and Thai massage and meditation techniques.
The modality was created by Mantak Chia, the founder of the Tao Healing Garden in Chiang Mai, Thailand. With Mantak Chia, Chi Nei Tsang emerged as a distinct abdominal and internal organ hybrid therapeutic treatment that integrates concepts, methods and techniques from Thai Traditional medicine, Traditional Chinese Medicine and Thai Massage.
Certainly, one can learn Chi Nei Tsang with Mantak Chia at, for instance, the Tao Healing Garden in Chiang Mai. But today, there are several other Thai Massage schools and teachers in Chiang Mai that offer Chi Nei Tsang courses and classes.
Below the complete list of Thai Massage training centers in Chiang Mai where you can study Chi Nei Tsang.
Baan Hom Samunphrai
An established school located a bit outside of Chiang Mai city (Hang Quae) with on-site accommodation options. Offers Thai Abdominal Massage i.e. Chi Nei Tsang, Thai Foot Massage & Reflexology, Th
[More info...]
Bangkok Massage Training (BMT)
Bangkok Massage Training (BMT) offers massage training program packages in Bangkok, Chiang Mai and Koh Samui. Duration can be 1, 3, or 6 days. Trainings offered are Thai Massage, Foot Massage and Abdo
[More info...]
Blue Garden
Blue Garden was founded by Bow and Remco and is located in Chiang Mai's old city center. The place offers Thai Massage, Abdominal Chi Massage (Chi Nei Tsang) and Yoga classes and courses.
[More info...]
Chi Nei Tsang Official Site
The official website for the Universal Healing Tao Center Chi Nei Tsang healing modality.
[More info...]
Chiangmai Classic Art Thai Massage School (CCA)
The Chiangmai Classic Art Thai Massage School is a Thai Massage school in Chiang Mai (Thailand) for Japanese students. The website is in Japanese only.
[More info...]
CLS Massage School
The CLS Massage School is located in Chiang Mai, and profiles itself as a Thai Therapy and Thai Spa massage school. There is on-campus residential accommodation available. Thai Spa Courses & Work
[More info...]
Good Luck Pengsri
Good Luck Pengsri is a Thai Massage therapist and instructor based in Chiang Mai. He is an experienced – more than 15 years – therapist and teacher in the Nimmanhaemin area. He initially learned t
[More info...]
Jutta Kellenberger
Jutta Kellenberger is a practitioner and Senior teacher of Mantak Chia's Universal Healing Tao system. She's based in Thailand, Chiang Mai. She offers courses and workshops in Thailand, bu
[More info...]
Khun Ni
Mrs. Khun Ni (A. Bunjong Pun) is a well-known Thai therapist and teacher from Chiang Mai specialized in Thai Abdominal (Chi Nei Tsang) massage, Karsai Nei Tsang Thai genital Massage and Thai Womblifti
[More info...]
Kornthip Hattavej
Kornthip Hattavej Massage Training, run by Pensiri Matchachan (Waree), offers Private training & Intensive treatments of Abdominal Healing massage, Thai massage, Thai oil massage, Thai foot reflex
[More info...]
Loi Kroh Traditional Thai Massage & Yoga
Loi Kroh Massage, founded in 1999, is one of the established Thai Massage schools in Chiang Mai. Apart from their in-depth Thai Massage training programs, the school is renowned for their Thai Yoga Re
[More info...]
Mantak Chia
Mantak Chia is the creator of the Universal Healing Tao System (UHT), Chi Nei Tsang, Karsai Nei Tsang, Healing Tao and Tao Yoga. Additionally, he's the director of the Universal Healing Tao Cent
[More info...]
Omsala
Omsala in Chiang Mai is founded and operated by Ohm Rinraya. Ohm is a former Sunshine Massage School teacher. Apart from offering Thai Massage training, she's specialized in Chi Nei Tsang and Ka
[More info...]
Ong's Thai Massage School
Ong's massage school in Chiang Mai offers a broad diversity of courses with a duration generally from 1 up to 5 days. Training modalities range from Thai Massage, Herbal Compress Massage, Reusi
[More info...]
Pan Whaen Thai Massage
Mr. Joe Khumlee offers Thai Massage and bodywork training, Tok Sen, Chi Nei Tsang Abdominal Massage, Moxibustion and Guasha courses.
[More info...]
Pi Jem Thai Massage
Pi Jem offers treatments, courses and classes in Chiang Mai. She's a specialist in Thai abdominal massage, Nuad Karsai, Thai Womblifting and Thai Postpartum massage.
[More info...]
Sensip Training
Sensip Training is active in both Thailand (Chiang Mai, since 2008) and in France (Aubenas, since 2015). The subsidiary in Chiang Mai was founded by Ajarn Thanaphorn Saebun, who's licensed by th
[More info...]
Sirichan Medical Massage School
The Sirichan Thai Massage School in Chiang Mai is founded and run by teacher Sirichan Nooy, a doctor and therapist in traditional Thai Massage. She also runs a clinic of Thai Traditional Massage and T
[More info...]
Sunshine Massage School
The Sunshine Massage School in Chiang Mai is a reputable Traditional Thai Bodywork training center, not only known in Thailand, but also within the global Thai Massage community. The school offers so
[More info...]
Tao Garden Health Spa & Resort
The Tao Garden from founder Mantak Chia needs perhaps little introduction. It's a large Spa, Wellness & Health enterprise in Chiang Mai offering a wealth of both treatments and courses, notably
[More info...]
Taoyoga
Personal website of Walter Kellenberger offering a range of UHT courses (Universal Healing Tao).
[More info...]
Thai Bodywork Chiang Mai
David Deslandes, from French origin, in Chiang Mai offers Thai abdominal massage, Thai Massage, Foot massage and Thai Oil Massage & Reflexology treatments and courses.
[More info...]
Thai Healing Massage Academy
The academy was founded by Shama Kern who lives in Chiang Mai. The Thai Healing Massage Academy offers online Thai massage training programs only.
[More info...]
Thanachai Therapy
The institute is founded by Thanachai Chaimongkhon who offers Thai Massage and Thai Abdominal Massage courses.
[More info...]
Universal Tao TV
The mission of UniversalTao.TV is to preserve and present to the world the Taoist Internal Alchemy Qigong as taught by Mantak Chia. The website is an Online library containing hundreds of hours of wor
[More info...]
Wandee Ancient Thai Massage
Wandee Boonsai worked for more than 10 years as a masseuse and teacher for the Old Medicine Hospital in Chiang Mai. She offers Thai Massage, Thai Oil Massage and Thai Foot Massage courses. She also ru
[More info...]
---
---
Related Topics