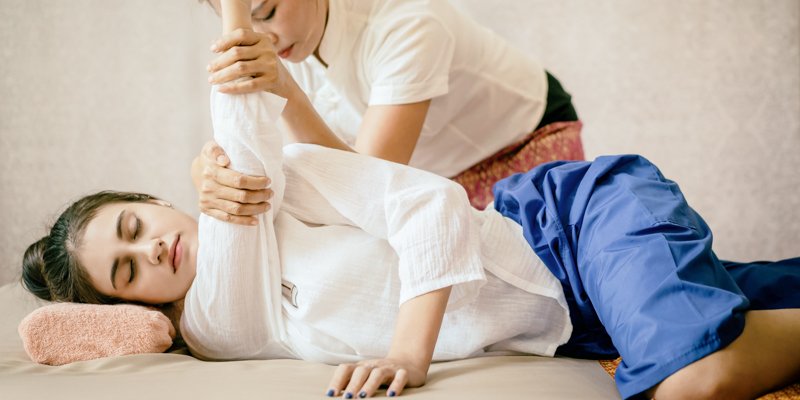 Before we sum up and briefly describe the Thai Massage schools and training centers in Thailand that are most suitable for Western Thai Massage students, let's first quickly define what exactly Westerners are.
Although there are some conflicting definitions, notably about South-America (Latin America), it basically comes down to the peoples from North-America (USA and Canada), Europe, Australasia (Australia and New Zealand), and parts of South-America.

Our eBook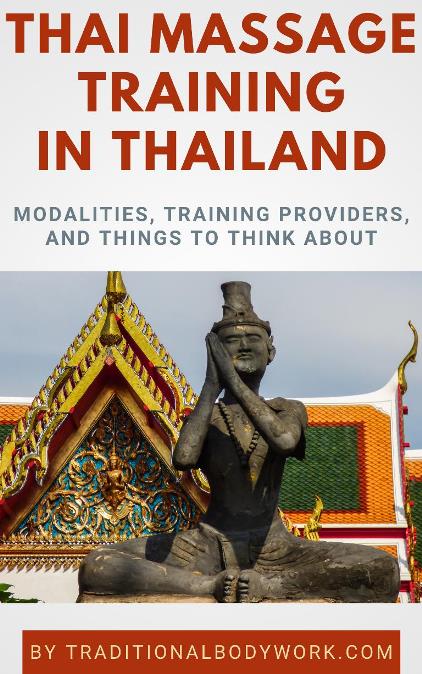 You see, the Thai are friendly, happy people, but usually their style of teaching and sharing knowledge is very different compared to what Westerners are used to in their own countries.
Westerners usually ask a lot (and want sensible, "logical" answers), want to know facts, and have a way of thinking very much related to visible, verifiable causes and effects, and so on.
The Thai are different. They often can not deal effectively with the Western mind-set of scientifically verifiable, fact-based questions and answers. Besides that, their language skills when it comes to English, French, or Spanish, for example, is rather limited, which makes it very hard for them to understand or answer you sensibly.
Anyway, having said all that, luckily, there are Thai Massage trainers in Thailand that are much more used to Westerners than others, and have learned to more or less cater to Western students' wishes and style of learning.
This, of course, doesn't mean that other Thai Massage schools or teachers shouldn't be considered! On the contrary, for those who want the genuine "Thai cultural experience," I would certainly advise to study with the "Thai who stayed Thai." Moreover, to study and learn certain Thai Massage styles and techniques or certain Thai therapeutic specialties, one wouldn't have another choice anyway.
However, in this post we're going to take a look at the Thai Massage schools and trainers in Thailand that are more likely to give a pleasant and more fruitful learning-experience to Westerners.
Sunshine Massage School
The Sunshine Massage School in Chiang Mai was founded by Max Scheuermeier (Switzerland) in cooperation with the late Asokananda (Harald Brust, Germany). The school has extensive experience working with foreigners, in fact, the majority of students originate from Europe, North-America, South-America and Australasia.
The school's base staff is Thai (and is equally well-equipped working with non-Thai), but the numerous special and advanced workshop programs of the school are mostly offered by guest Thai Massage teachers from all over the world.
A school that has made an effort to accredit an important part of their courses with the NCBTMB (USA), NHPC (Canada), and Massage & Myotherapy Australia. The website of Sunshine is available in English, French and German.
International Training Massage School Chiang Mai (ITM)
ITM Chiang Mai is one of the largest and best known Thai Massage schools in Thailand and in the world. Although the school also especially caters for Japanese students, it's certainly a trainer that has plenty experience with Westerners and facilitates their style of learning.
The school boasts accredited courses recognized by the NCBTMB (USA), NHPC (Canada), and Massage & Myotherapy Australia. The website of ITM comes in clear English and Japanese.
Thai Massage School of Chiang Mai (TMC)
The TMC School is another large and well-known Thai Massage trainer in Chiang Mai that focuses strongly on Western Thai Massage students.
A school, like the two others just mentioned, that offers Continuing Education points valid with the NCBTMB, NHPC, and Massage & Myotherapy Australia.
Loi Kroh Massage & Yoga
Loi Kroh Massage is an established, experienced Thai Massage school in Chiang Mai that strongly caters for Japanese, French and English speaking students. The fact that the school, apart from group study, also offers private study programs makes it even easier for students to overcome language issues.
The clear website from Loi Kroh comes in English, Japanese, and French.
Blue Garden Chiang Mai
The Blue Garden school in Chiang Mai is founded and run by Remco and Bow. Remco van de Visch is from the Netherlands (Holland) and of course speaks Dutch and also English fluently. He's the lead teacher of the school, together with Bow.
The school additionally private training options, which makes it even easier to overcome language barriers.
Jack Chaiya
Jack Chaiya, the son of the late Mama Lek Chaiya, is based in Chiang Mai and a specialist in Nerve Touch Massage (Jap Sen). He's  an international Thai Massage teacher regularly traveling abroad teaching to foreign students and has broad experience working with Westerners in Chiang Mai at his school.
Baan Hom Samunphrai
Homprang Chaleekanha from Baan Hom Samunphrai (a bit outside Chiang Mai) works already many years extensively with Western foreigners. She's well-known for her herbal knowledge and womb lifting techniques.
Omsala
Ohm Rinraya from Omsala is a former Sunshine Massage School teacher with many years of experience working with Western students. A very patient, gentle woman, with whom you will have no problems following the courses.
Tao Garden
The Tao Garden Health Spa & Resort from Mantak Chia caters explicitly for foreigners. Quite some of their senior teachers are from abroad, like for instance Jutta Kellenberger, Walter Kellenberger, and other foreign teachers.
Health Lanna Spa
Health Lanna Spa is a high-end full service spa center with a learning academy attached to it. The website is well designed and in clear English. The school caters for both Thai and English speaking students.
Pi Jem Thai Massage
Pi Jem is from Chiang Mai and known for her Thai abdominal work and therapeutic massages. She travels internationally and has plenty experience working with foreigners.
SEA Bodywork
SEA Bodywork (Structural Energy Awakening) in Chiang Mai from Mike Tan will not be any problem at all for English speaking Thai Massage students because Mike is an American.
Sensip Training
The Sensip Training school is active in both Thailand (Chiang Mai) and in France. The school founded by Charles Breger will give no issues for English and French speaking students. The website is available in German, French and English.
RSM International
Hironori Ikeda from RSM International in Chiang Mai will have no problems supporting you adequately during the courses. Of course, being from Japanese origin, he will cater well for Japanese students also.
Sirichan Medical Massage School
Dr. Nooy Sirichan has a perfectly well designed and cared for website with proficiently written English. I don't know her personally, and I don't know if she speaks English well, but for what it's worth, it seems to be an extremely interesting woman to work with and learn from.
Spa Mantra
Spa Mantra is the Spa Academy from ITM Chiang Mai. See the ITM Chiang Mai section above for more info.
Thai Bodywork Chiang Mai
David Deslandes is based in Chiang Mai and from French origin. It seems to me he will have no issues with both English and French speaking Thai Massage students.
The Fine Art of Thai Massage School
The Fine Art of Thai Massage School exists already 2 decades. Terdchai Chumphoopong aka Mac, the founder and teacher of the school, speaks English fluently. Besides that, Mac has extensive experience working with foreign Western students and has traveled abroad teaching in various other countries. He also speaks a bit of Italian.
---

---
---
Related Articles