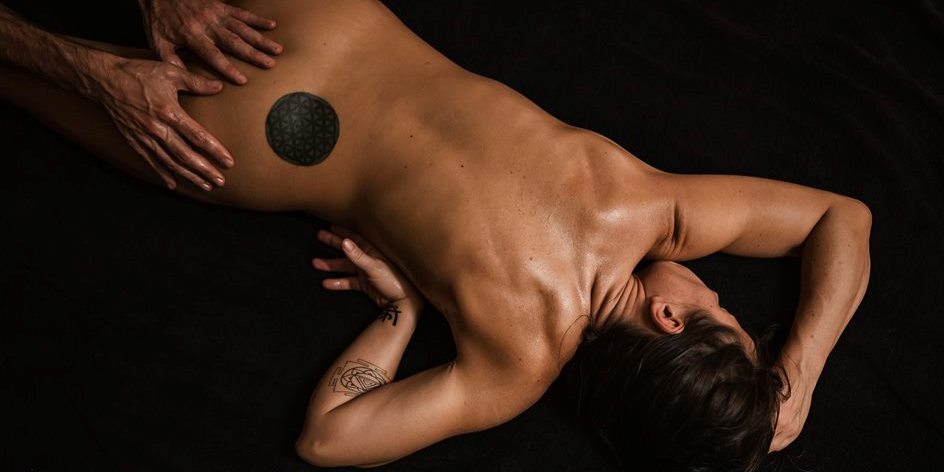 The label Tantra Massage is a common denominator of massages that are based on Tantric concepts. In fact, there are many different types of Tantric massages, and there are really no actual standards to it. It all depends on what an individual practitioner defines as "Tantric."

Our eBook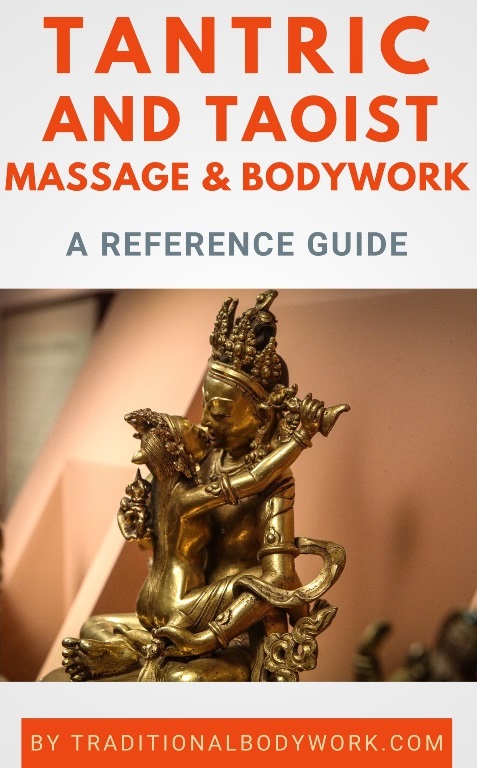 In fact, most Tantra Massage instructors teach their own version (or a version) of Tantric Massage. As such, massage treatments can be wildly different: from clothed to unclothed Tantra massages, massages that do or don't work with the genitals, internal or only external genital work, rather pleasure based or — by contrast —used for therapeutic purposes, or perhaps more focused on spiritual aspects, and so on.
In this post, we'll give you an overview of the most popular and best-known massages that have "Tantric characteristics." If we have written more in-depth on a specific type of Tantric Massage, you'll find a link so that you can read more details about it.
Below then we've listed — in alphabetical order — a selection of some well-known and popular Tantric massages.
Dark Tantric Massage
A Dark Tantra Massage moves into BDSM, kink, and fetishism by using sensory play, sensation play, restraints, and sadomasochism in its sessions, but then in a space that's both sacred and safe.
Kashmiri Tantra Massage
Kashmiri Tantra Massage is a type of Tantra Massage honoring Kashmir Shaivism, a lineage within Tantra emerging around 850 CE in the Kashmir region of Northern India.
Kinkassage
Kinkassage™ is a sensual erotic massage modality that includes BDSM elements, genital worship, and, depending on having a penis or not, a Lingam Massage or Yoni Massage.
Lingam Massage
Lingam Massage is a Neo-Tantric massage modality and can be considered the male version of a Tantric Yoni Massage. Although a Lingam Massage is a specialization of a Tantra Massage focusing primarily on the male genitalia, it's typically accompanied by a full body Tantric Massage.
Sacred Spot Massage
The phrases Sacred Spot Massage, G-Spot Massage, and G-Spot Prostate Massage are often used as synonyms, but there's a difference in application when we look at how it functions for men or women.
Tantra Kundalini Massage
Tantra Kundalini Massage is a full body Tantric Massage treatment modality specifically aimed at working with the Chakras and awakening Kundalini Energy.
Tantrassage
The term Tantrassage, a combination of the words Tantra and Massage, is an outdated designation for what now is called Tantra Massage or Tantric Massage. The term was more widely used between 2005 and 2015.
Tantric Breast Massage
Tantric Breast Massage focuses on the woman's breasts and is primarily aimed at circulating and cultivating sexual energy, opening the heart, and enhancing the orgasmic experience. Additionally, it also makes the breasts firmer and healthier, promotes hormonal balance, and increases sexual pleasure and intimacy when applied by a partner.
Tantric Couples Massage
A Tantric Couples Massage is a sensual erotic Tantric Massage experience together with a partner, typically supported by a trained Tantra Massage practitioner and usually taking the form of a workshop.
Taoist Tantra Massage
This is not really a specific type of massage, but rather a massage-blend that mixes Tantric and Taoist elements in a treatment session.
Transformational Tantra Massage
Transformational Tantra Massage was developed by John Hawken, a teacher of Tantric energy work and Shamanic practices. As the name of the treatment modality already implies, Transformational Tantra Massage is about supporting a transformation, that is, a change in the life of the receiver.
Yoni Massage
Yoni Massage is a Tantric Massage specifically designed for women, or maybe better — for those people who own vaginas. It's a sensual, erotic full body massage that nevertheless focuses on the female's genitalia and erogenous zones. It can be applied simply for sensual and sexual pleasure, but also with a therapeutic aim, for instance as a means for sexual trauma release.
---
---
Related Articles