Tantra Massage, or Tantric Massage, – as it's practiced today – is claimed to have been developed in Berlin, Germany, in the 70s of the former century. It's a highly sensual massage for both men and women, and it includes working with the erogenous zones of the body such as the mouth, breasts and nipples, the penis, vagina, perineum, and the anus. In addition, there are massage therapists that work internally with the uterus or prostate also.
The Treatment
The massage draws from a wide range of techniques containing elements from ancient Indian Tantra philosophy and rituals, Yoga, Bioenergetics, and modern Sexual Therapy, but also techniques and methods from various contemporary massage and bodywork teachers and psychologists such as Wilhelm Reich, Carl Jung, Carl Rogers, Alexander Lowen, Mantak Chia, Joseph Kramer and Annie Sprinkle.
The receiver of a Tantric Massage session is supposed to surrender completely to the session and process which aims at a rediscovery of feelings and emotions, combining well-being and deep relaxation with opening the mind and heart to resolving issues related to relationships and sexual issues. In the latter sense it can be considered containing aspects of a healing therapeutic modality.
Activating vital life energy (Qi or Prana) by opening the so-called Chakras and allowing the free flow of sexual energy is an important part of the treatment which is believed to promote passion, love, higher levels of creativity and intuition, and longevity.
A tantric massage is a loving touch massage with full awareness and presence of both masseur and receiver, it's about understanding the needs of the client, and without any specific massage sequence or form or preset result. It's a full body massage including the erogenous zones but with respect for mutual set boundaries.
Its focus is being an energetic massage where sexual energy gets plenty attention but to be clear – it's not a massage with sex or sexual intercourse although orgasms may occur; those are allowed and not judged. The tools used by the masseur are mainly the hands (and oils, but this is not a necessity) but the treatment can also be given body to body. A session can be done (half) naked, that is, the receiver and/or masseur are naked, but a clothed Tantra Massage is certainly possible also.
Although there are many similarities with a Relaxation Massage, Sports Massage, Erotic or Sensual massage or even Therapeutic Massage, Tantric massages combine many elements of those to come to an intimate and lovingly touched encounter that opens the heart and mind of the receiver to her or his true self and potential.
Supposed Benefits of Tantra Massage
Gives peace and relaxation;
Liberates sexual energy;
Stimulates free flow of vital life energy;
Reduces stress;
Supports trauma and emotional release;
Promotes love and loving kindness;
Improves overall health and vitality;
Treats common sexual dysfunctions;
Cultivates feelings of contentment and joy;
Improves orgasmic and pleasure potential;
Reduces stress and anxiety;
Conserves sexual energy for higher levels of creativity, longevity, and spiritual awakening.
---
Disclaimer:
All content on this website is for informational purposes only and not intended to serve as a substitute for the consultation, diagnosis, or medical treatment of a qualified physician or other professional healthcare provider.
---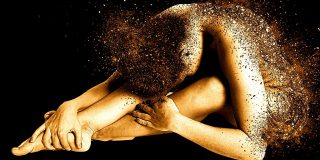 Aims and Health Benefits of Tantric Yoni Massage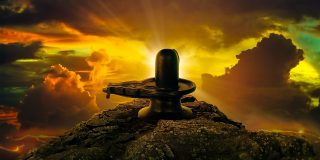 Goal and Benefits of Hindu Tantric Lingam Massage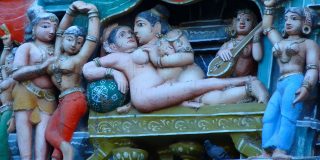 The Kama Sutra – India's Celebration of Sexuality, Love, and Pleasure
Article Categories: Tantric Massage and Genital Treatments, Traditional Genital Treatments
Tagged: Asian Genital Treatments, Erotic Massage, Genital Massage, Genital Treatments, India, Tantra, Tantric Massage, Topic Ayurveda, Topic Tantra & Neo-Tantra