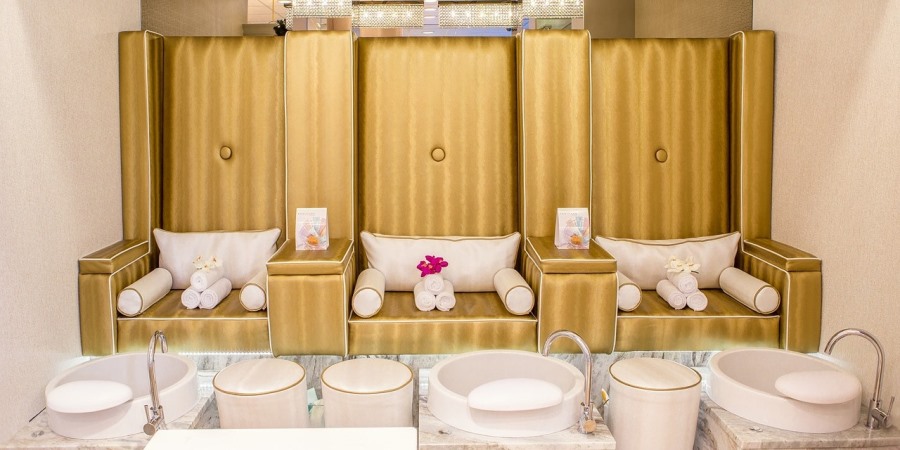 There's of course nothing wrong with earning money, one needs to make a living at the end of the day, but when it comes to heavily commercializing services or products that weren't at first very much commercialized, there's always a certain price to pay.
Or let's say it differently — things will change. And for one, the face of Thai Massage in Thailand in the past twenty years, both on the treatment and training level, has changed significantly.
Massage Treatments in Thailand
Our good old clothed Thai Traditional Massage session on the floor on a mat has been revamped into half-naked pampering Chocolate Mousse Thai Stretching on the massage table, Avocado Oil Aromatherapy Thai Massage, and Coconut Butter Thai Hammering Indulgence Relaxing Massage.

eBook | by TraditionalBodywork.com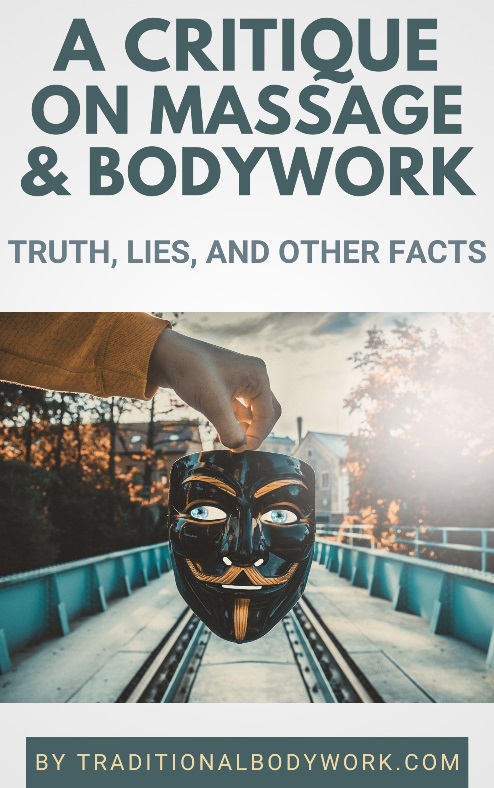 Of course, I'm exaggerating (although not really) but what we have seen is the rise of all sorts of "exotic" treatments in increasingly luxurious Western style spa-like settings. Additionally, you can buy quick sessions of ten minutes or extensive treatments of four hours or even an entire weekend packed with twenty treatment modalities.
What actually happened in the Thai Massage industry is that what at first was traditional preventive or curative medicine changed for the greater part to relaxation, wellness, beautifying, pampering and entertainment.
It's something people increasingly seek nowadays, thus, and this especially in Thailand, the market asks, the business provides.
The sensual or sexual massage industry, already been growing during the presence of American soldiers in the Vietnam war, exploded, and is still growing with increasingly hallucinating treatment offerings.
On the other hand, there's better information available nowadays and one can receive a plethora of health and therapeutic treatments of good quality. But as labels like "health" and "therapy" have become fashionable in recent years, we see a certain commercialization in this field likewise.
Today, there are quite a lot of "therapeutic treatments" offered which are not therapeutic at all, but simple relaxation and pampering.
The Thai government continually tries and has tried to certify Thai Massage therapists by imposing minimum training requirements, and things are improving in mid-range or high-end facilities, but as this is Thailand, there are a whole lot of practitioners out there with little or no training or experience.
It's hard for the government to be very strict in this field because it means employment — tourists ask, the demand is high, and there's enough work in the sector.
Massage Training in Thailand
With Thai Massage training we see similar developments as within the treatment industry. Not only have Thai Massage schools mushroomed since the 1980s, the types of training modalities offered have grown enormously — from Thai Massage to Thai Face Massage to Foot Massage to Thai Aromatherapy and Thai Oil Massage to Thai Bamboo Massage or Thai Shoulder and Neck Massage, well, you name it.
Apart from that, quite a lot of training being offered with the label "traditional" is not traditional at all or not even of Thai origin. The same counts for "therapeutic" of which too many courses are simply way too short to come even close to having any therapeutic value.

eBook | by TraditionalBodywork.com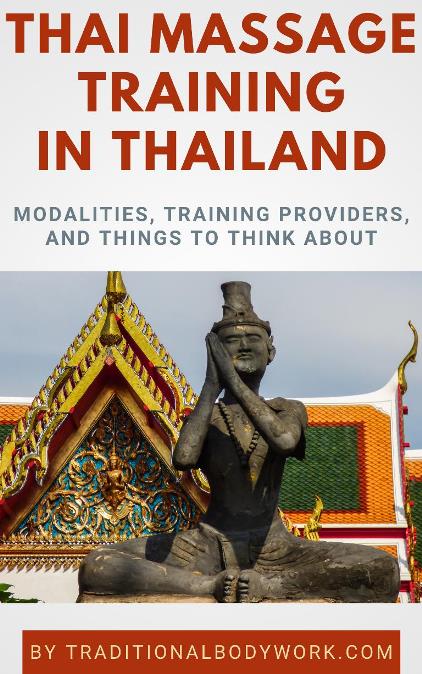 Moreover, from sitting at "the master's feet" we now see training courses of 1 day, 2 days or 5 days, sometimes even claiming that one will be a fully certified and competent Thai Massage practitioner afterwards. A bunch of schools have also ventured into the spa and wellness industry offering all kinds of blends of Thai and Western massage and bodywork training modalities, often, in my opinion, with very little study or practice hours and doubtful value.
But then again today, there are also very good and in-depth Thai Healing Arts trainings available, there's plenty of research going on, information is easier to obtain, top healers and teachers are more accessible, and there's more knowledge about "what's what and what's not."
Another development is Thai Massage schools offering courses that have professional, accredited value outside of Thailand giving rights to Continuing Education units in the USA, Canada, or Australia, for instance.
Additionally, there's a whole set of Thai governmental regulations and curricula with regard to Thai Traditional Medicine and Thai Massage training, which depending on the trainers is adhered to more or less conscientiously and making the quality of trainings better, well, in any case… theoretically.
As with the very short courses, I just think, well, at least people i.e. foreign students have a chance to get a taste of Thai Massage (being on vacation they often have no time to take longer courses), and that's perhaps better than no publicity or promotion at all for the art.
As long as schools or trainers clearly tell that a training of a few days is only a very superficial introduction, I don't think much harm is done.
For what it is, Thai Massage, either treatments or training, has become big business in Thailand, with many busy bees attracted by the honey, and anybody who wants a serious treatment or a serious training course just simply needs to do their homework before entering the scene.
Actually, there's plenty of decent info available on the internet, of course, if one takes the time to dive a bit deeper than articles of "the 5 best spas," "the 5 best Thai Massage schools" or "the 5 best therapies" from bloggers who really don't know what they're talking about and just copy-paste ahead.
---

---
---
Related Articles
---