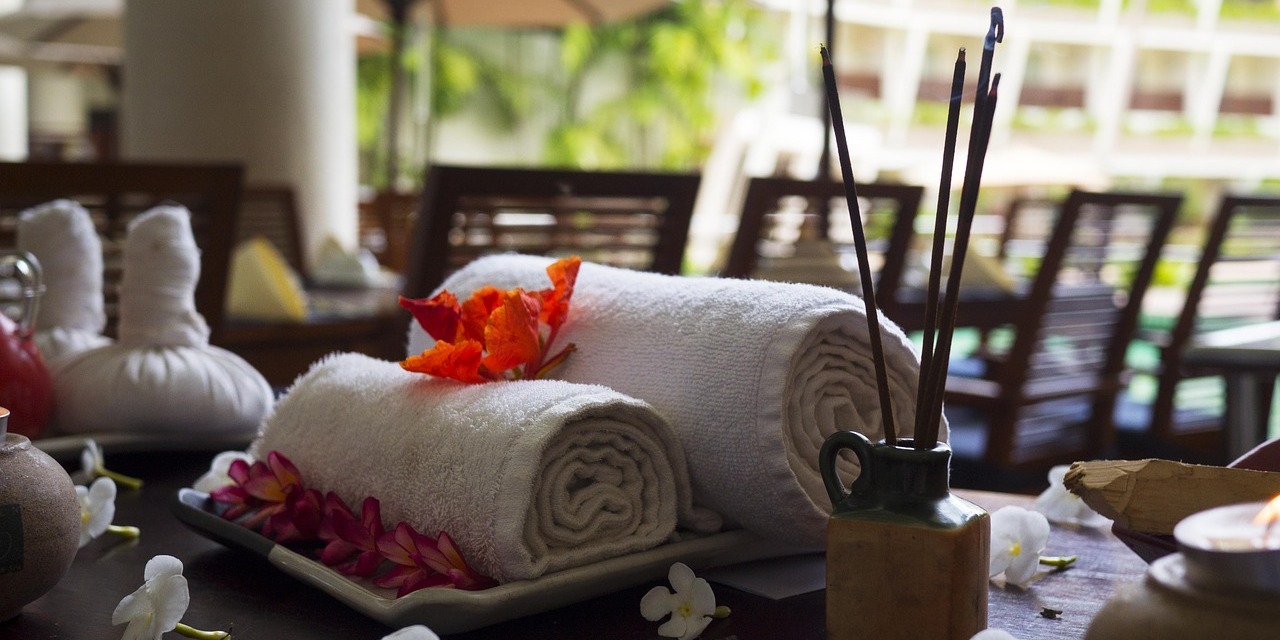 Thailand is of course one of the best known spa and wellness destinations in the world, and massage treatment establishments can be found in abundance and just simply everywhere across the country.
Chiang Mai city, lovingly called the Rose of the North, is no exception, and like Bangkok, Pattaya, and the Thai islands Phuket, Koh Phangan, Koh Lanta, and Koh Samui, to name some, a place with an overwhelming number of spas of all sorts: street front shops and massage parlors, hotel spas, independent day spas, and full-fledged spa and wellness retreats.
Chiang Mai takes in a special place because of its famous Lanna style which is characterized by elements of the ancient Northern Lanna Kingdom culture – notably with specializations in herbal massages and medicinal treatments, folk and hill tribe healing arts, and very specific treatment modalities hardly anywhere else found in Thailand. Think of modalities like Thai Tok Sen Hammering Massage, Yam Khang Fire Therapy, Thai Womblifting, Chi Nei Tsang and Karsai Nei Tsang, among other unique treatments.
In this post we're going to take a look at some of the most unique and exotic day spas in Chiang Mai, massage establishments that distinguish themselves from others by offering something different, something special, something that makes them stand out of the crowd.
1. Spa Mantra
Spa Mantra is a spa and wellness center and a branch of the famous ITM Chiang Mai Thai Massage school. The spa also runs a Thai Massage academy with both Western and Thai style training courses and workshops mostly focused on the spa industry.
Apart from offerings of several exotic signature wellness treatments in the medicinal herbal sphere, the spa also specializes in Thai Tok Sen and so-called Lanna Exotic Massage treatment modalities.
2. Fah Lanna Spa
Fah Lanna Spa is a renowned multi award winning day spa offering a broad range of spa, massage, Lanna style and signature treatments and packages. The Spa has three locations in Chiang Mai: in the old town center, West of the old town in Nimman, and near the Night Bazaar.
The spa distinguishes itself by taking social responsibility through saving energy and preserving natural resources, promoting the Lanna culture, promoting health and well-being of their staff and the local community, reducing waste and reusing materials, supporting green initiatives, and raising funds for charity projects.
The spa furthermore boasts very beautiful spa building establishments with mixtures of elegant dark hardwood and bamboo in extraordinary architectural designs.
3. Lila Thai Massage
Lila Thai Massage is a full service multi awarded Thai Spa established by Naowarat Thanasrisutharat, former Director of the Chiang Mai Women's Prison, to help support the lives of newly released female inmates in society. Additionally, Naowarat created the Lila Thai Massage Ex-Inmate Employment and Skill Development Center in 2014 to help women in difficult situations to receive a massage training course from certified massage instructors (that is, from the ex-inmates that work for Lila Thai Massage).
The Lila Spa offers a vast range of treatments, such as waxing and scrubs for the body or only the face, spa packages, and traditional treatments like Thai Foot Massage, Thai Oil Massage, Thai Massage, and Lanna style modalities such as Tok Sen.
4. Oasis Spa
Oasis Spa has a total of twelve spa branches spread over Chiang Mai, Bangkok, Phuket, and Pattaya, and also runs a spa training academy. Oasis cherishes the ancient wisdom of the Lanna Kingdom, having received numerous awards such as the Award for Excellence in the Day Spa category from the Thailand Tourism Authority, and the Day Spa of the Year from AsiaSpa magazine, and others.
The concept of the spa is to create an "Oasis in the middle of the city." Each spa location has its own unique theme and character always using a distinctive Thai design. Most of Oasis Spa's treatments use a fusion of traditional Thai herbs and other natural ingredients. Herbs and hot compresses are supplied by local villages in the Chiang Mai area that specialize in Thai Herbal Medicine.
In Chiang Mai alone you'll find 6 establishment of Oasis: At Nimman, Chiang Mai Gate, Oriental Secret Spa, Baan Saen Doi, Chiang Mai, and Lanna.
5. Arayana Spa
What makes Arayana Spa unique is its splendid Lanna style decoration. Really everything about the place is so Thai, so Lanna. The place is not large, but offers a broad range of Lanna Massage and Lanna Signature treatments and services. Arayana specializes in aromatherapy and herbal treatments.
6. Tao Garden Health Spa & Resort
The Tao Garden from the famous founder Master Mantak Chia is a large full-service Spa, Clinic, and Wellness & Health enterprise, a bit outside of Chiang Mai city, offering an incredible wealth of treatments and training courses, notably Chi Nei Tsang, Karsai Nei Tsang, Tok Sen and other modalities of Mantak Chia's Taoist Universal Healing Tao System (UHT).
The Tao Garden operates as a training center, a day spa, and a resort and retreat for short or long stay.
7. Dhara Dhevi
Dhara Dhevi is a luxury Spa and Wellness Center, hotel, resort and retreat, offering a broad range of recreational facilities and activities. What makes the place somewhat different is the truly exquisite traditional Lanna style architecture, the offerings of Ayurveda treatments and consultations, Yoga, Meditation & Fitness classes, Western style massages and beauty therapies, alongside Thai Lanna and Traditional Thai massage modalities. All in all, an almost over-complete wellness facility.
8. Nakara Spa
Nakara Spa's basic philosophy and main focus is to give guests treatments based on Indian Ayurvedic techniques using only natural spa products.
The spa, for instance, offers Ayurvedic Hot Herbal Compress, Kati Dhara, Abhyanga and Shirobhyanga treatments but also a full set of Lanna style massage treatments, such as Tok Sen, Lanna Oil Massage, Lanna Herbal Compress Massage, among other Lanna modalities. Additionally, there are options to receive facials, scrubs, and therapeutic bodywork.
9. RarinJinda Wellness Spa
RarinJinda Wellness Spa offers clients wellness, health and luxurious pampering in a spa sanctuary using the latest spa technologies. It deploys high international standards combining modern spa treatments and traditional Thai Massage and Thai healing traditions.
The spa has locations in downtown Chiang Mai and in Bangkok. Facilities include an indoor heated Hydrotherapy pool, Vichy Shower, Hydrotherapy Tub, Whirlpool with Chromotherapy, Rainforest Steam and Sauna. The variety of individual treatment offerings and packages is simply vast; just check out their website.
10. Kiriya Spa Vana
Kiriya Spa Vana distinguishes itself by offering, apart from traditional Thai Massage modalities, a range of Indonesian, that is, Javanese and Balinese wellness treatments.
Additionally, the spa offers a range of specific signature treatments like Citrus Rejuvenation, Coffee Invigorating, and Chocolate Indulgence rituals.
11. Green Bamboo Massage
Founded in 2009, Green Bamboo Massage is a family-run massage and bodywork treatment center with the aim to promote and protect the Lanna Thai Massage tradition. Green Bamboo Massage only works with certified organic and fair price products.
Green Bamboo also runs a micro charity project — if you have any clothes, medicines, household items, mosquito nets, and the like, you're welcome to bring those to the shop to support those who are in need.
Treatments offered are for instance individual traditional Thai Massages, Lanna treatments such as Tok Sen, Facial treatments, Scrubs & Wraps, Oil Massages, several combined spa treatment packages, and of course… a Bamboo Massage treatment with heated bamboo stalks and oils.
12. Peak Spa & Beauty Salon
Peak Spa & Beauty Salon in Chiang Mai specializes in a variety of beauty treatments, including manicure, pedicure, and a full-fledged L'Oreal hair-styling salon on one side and traditional Thai Massages and Lanna Herb treatments on the other side. The spa also offers Ayurvedic treatments, Hot Stone massages, and all sorts of body scrubs and wraps.
---

---
---
Related Articles