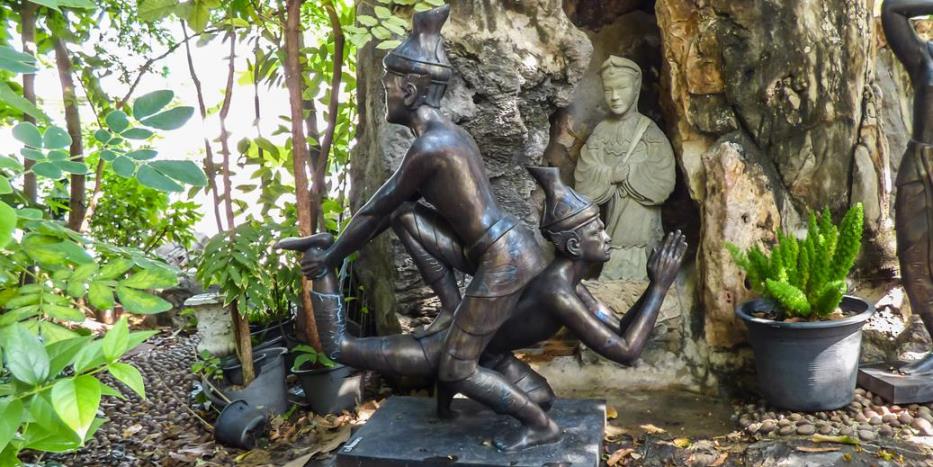 © Image from TraditionalBodywork.com
Compared to Chiang Mai in the north of the country, Bangkok counts a significantly smaller number of Thai Massage schools and trainers, and less diversity of Thai Massage training.
Of course, Bangkok on the other hand is the Muay Thai (Thai Boxing) capital of Thailand (and globally), so that at least makes up for the deficiency, and restores the balance between the two most important cities of Thailand.
Nonetheless, Bangkok hosts the most famous Thai Massage school in the world, that is, the Watpo and Chetawan Traditional Medical and Massage School, which together with the Wat Pho temple, is considered the protector and keeper of Traditional Thai Medicine knowledge.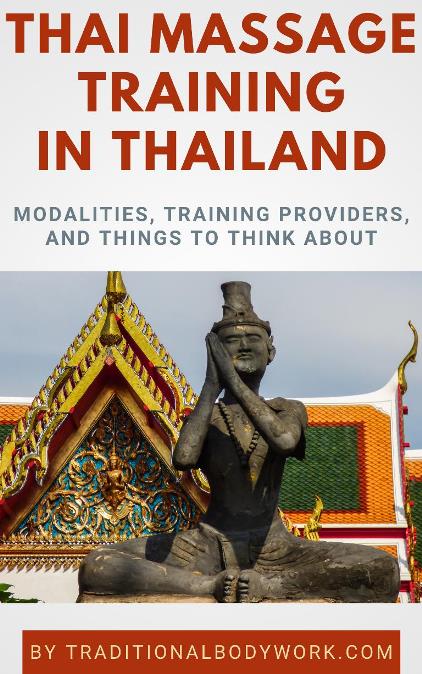 Watpo (also spelled as Wat Po or Wat Pho) has several branches in and around Bangkok (for instance at Sukhumvit and Salaya), and a branch in Chiang Mai. The school is closely related to the beautiful and inspiring Wat Pho temple where you can also find Watpo massage center. An additional service from the massage center is the opportunity to participate in daily held and free Reusi Dat Ton (Thai Yoga) morning classes.
On the Watpo temple grounds you'll also come across the famous Thai Massage and Thai Yoga statues depicting Thai Yoga postures and Thai Massages techniques (see the lead image of this article for an example). And, not to forget, the famous "stone tablets" with depictions of the Thai Massage Sen Energy Lines and pressure points with indications for Thai therapeutic treatments.
Apart from Watpo, Bangkok boasts some other well-known massage schools, such as the Thai Massage & Spa Academy, the TTC Spa School (also has a branch in Chiang Mai), Chiva-Som International Academy, and the Bangkok Spa Academy (BSA).
Additionally, concentrated in the Kao San Road area (the famous, or perhaps rather notorious backpacker paradise in Bangkok) you'll find several Thai Massage schools and training offerings.
Other institutes offering Thai Massage education are some universities in and around Bangkok (with Bachelor and Master programs of Traditional Thai Medicine) and a bunch of vocational training centers. Nevertheless, both the universities and general vocational schools are difficult to access for foreigners primarily due to the language barrier and sometimes due to admission policies that only allow Thai people.
At any rate, an instructor you might not want to miss when visiting Bangkok is the blind Thai Massage teacher and therapist Master Yong Kiat, who is a pupil of the late Ajahn Pisit Benjamongkonwaree from Pisit Massage. Yong Kiat runs the Bangkok Thai Massage center.
And if one's really into Thai Yoga (Reusi Datton) or Thai Foot Massage & Reflexology one should definitely visit Master Kong from the Yoga Massage School Thailand Metta.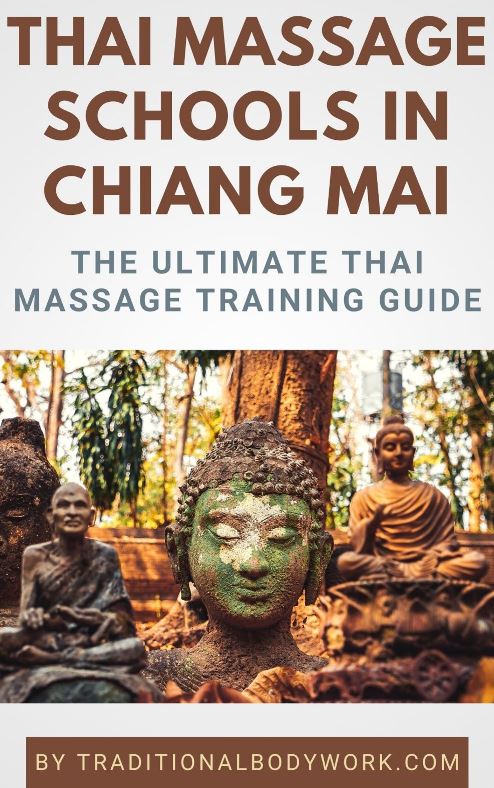 Surely, studying Thai Bodywork in Bangkok is very unlike studying in Chiang Mai. Bangkok city for instance accounts for 8 million inhabitants and Chiang Mai for about 150,000 souls. That's a big disparity and it naturally shapes things quite differently.
But there are more differences: the climate, the food, and the people. And if you like the beaches, you're better off having your base in Bangkok where you could reach the nearest beaches in about two hours (Bang Saen, Chonburi) or, a bit farther away, in about four hours (Hua Hin). Reckon that Chiang Mai is about 700 km up north from Bangkok, and for the nearest beach you'd need to go south passing Bangkok first.
However, this post is not about choosing between Bangkok or Chiang Mai though, even if the question naturally comes to mind when we consider learning Thai Massage in Thailand. Certainly, Bangkok has so much to offer that even without Thai Massage or Muay Thai spending time in the city would be indisputably justified.
---