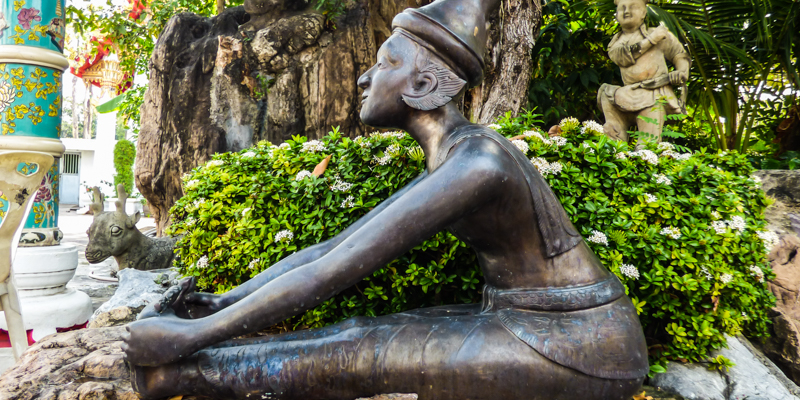 © Image from TraditionalBodywork.com
Traditional Thai Yoga or Reusi Dat Ton is an ancient form of Thai Bodywork, and part of Traditional Thai Medicine.
The practice consists of Self-Massage, breathing exercises, and a broad variety of poses and sequences which are performed in standing, sitting, or lying positions.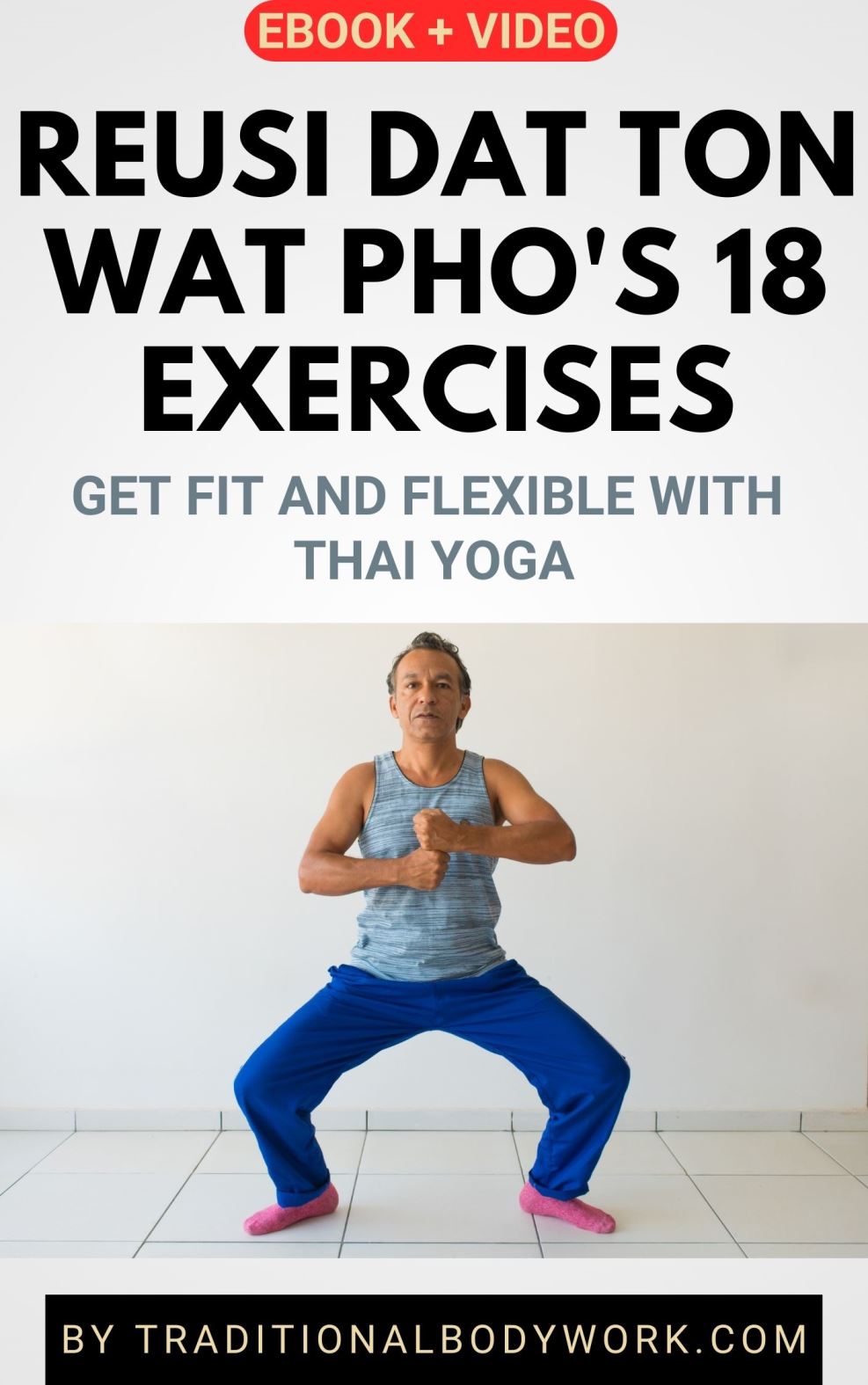 The theoretical foundation of Reusi Dat Ton, like Thai Massage, is based on the concept of the Thai Sip Sen Energy Channels (Energy Lines) that distribute Vital Life Energy (Lom Pran) through the body.
Reusi Datton is a relatively unknown aspect of Traditional Thai culture, yet much that counts for the history of Traditional Thai Massage can be applied to Reu-Si Datton also. It furthermore clearly uses some of the same techniques that can be found in Indian Yoga and Tibetan Yoga.
Below listed you'll find schools that offer Thai Yoga Reusi Datton courses and workshops in Bangkok.
Chetawan Health Center Salaya
The Chetawan Health Center Salaya is part of the Chetawan Wat Po School group and offers retreat style training a bit outside the center of Bangkok. Reusi Datton is part of their Professional Thai Massage for Health 165 hours course which takes a total of 26 days. You can expect to learn the 18 Basic Watpo Reusi Datton poses and sequences series.
Siam Health Culture Center (SHCC)
The SHCC Center is a specialist in Ruesi Datton training based in Bangkok. Main market for this school is Japan. The majority of students are Japanese students, but the courses are certainly also open for other foreigners (and Thai people) alike. There are various leveles of training available: Reusi Datton Foundation (43 poses, 15 hours), Reusi Datton Upper Grade (59 poses, 20 hours), Reusi Datton Master (35 hours, Instructor training to become a SHCC affiliate), and the Reusi Datton General Master (20 days) with which you can train students to become Reusi Datton instructors.
Wat Pho Sukhumvit Branch
The Wat Pho Sukhumvit Branch is the Watpo Medical Massage School branch in Bangkok focused on Japanese students. Apart from Thai Massage training, the basic Watpo Reusi Datton Course of 18 poses and positions is offered (4 hours training, 1 day).
Wat Po Thai Traditional Medical and Massage School
The Watpo Medical Massage School offers an official Watpo Reusi Datton Ascetic Self-Stretching Course of 18 poses and positions (4 hours training, 1 day). Note that the same set of 18 positions is taught at the Watpo Temple grounds, every morning for free at 08:00 AM.
Yoga Massage School Thailand Metta
The Yoga Massage School Metta from Master Kong offers a Ruesi Datton (Thai Yoga) Basic training (5 days, 10 hours total) and a Professional training (5 days, 10 hours total) and a Thai Yoga (Ruesi Datton) Teacher Training License program (5 days, 10 hours total) with which you can become a school affiliated teacher.
---