---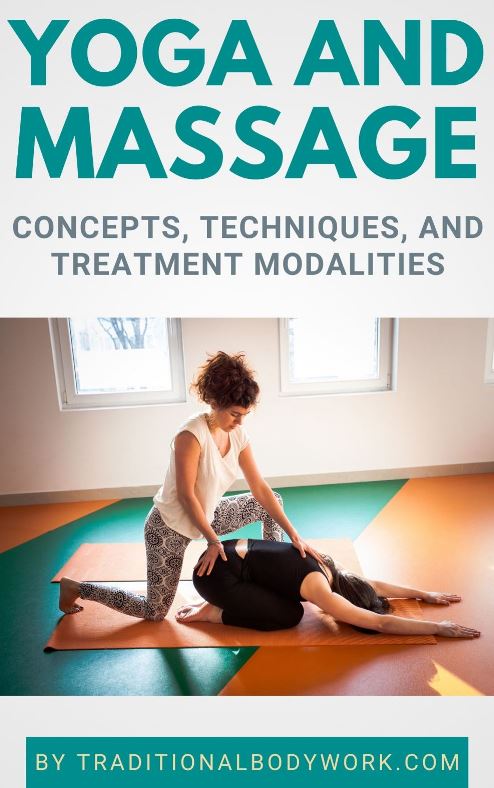 First published: December 2021
Last updated: December 2021
Length: 119 pages
Book content: more details
Table of contents: preview here
Readability: device support
Formats: pdf, epub, mobi
Delivery: download and email
Suggested price: US$ 7
Minimum price: US$ 4
What is this Book about?
Combining and integrating Yoga and Massage Therapy is an ancient practice, perhaps Thai Yoga Massage being the foremost example of a deep integration of these two modalities.
In general, Yoga and massage are blended in a variety of ways: sometimes a massage session is given followed by Yoga exercises, sometimes it's the other way around, in other cases a session consists of continually alternating between massage and Yoga techniques, or even applying Yoga and massage techniques simultaneously (such as giving acupressure while a receiver has assumed a certain Yoga Asana).
In this in-depth, comprehensive book we look at how and why Yoga Exercises and Massage Therapy are integrated or combined, covering the concepts, techniques, and a broad range of treatment modalities.
This book is not a training course and doesn't contain instructions of techniques, but aims at providing you with a thorough understanding of the topic presented.
Table of Contents
Open Preview
PREFACE
INTRODUCTION
~ Yoga 7
~ Massage 9
~ Yoga and Massage 11
~ Relaxation vs. Therapeutic Massage 15
~ Yoga as Therapy 18
CONCEPTS AND TECHNIQUES
~ Acupressure 21
~ Asanas 23
~ Assisted Stretches 28
~ Bandhas and Mudras 31
~ Breathing Techniques 32
~ Chakras (Energy Centers) 33
~ Nadis (Energy Channels) 38
~ Marma Points (Energy Points) 40
~ Pancha Kosha (Five Layers) 42
~ Prana (Vital Life Energy) 44
~ Pranayama Breathwork 46
~ Reflexology 48
~ Sip Sen Energy Lines 49
~ Visualizations, Chants, and Incantations 51
YOGA-MASSAGE TREATMENT MODALITIES
~ AcroSage 55
~ AcroYoga 57
~ Acu-Yoga 58
~ AnaThai 59
~ Ayurvedic Yoga Massage 60
~ Breema Bodywork® 61
~ Chakra Massage 64
~ Esalen Massage 65
~ Exerssage 67
~ Hydra Yoga Therapy 68
~ Japanese Okido Yoga (Oki-do) 69
~ Kum Nye Yoga and Massage 70
~ Kundalini Yoga Massage 71
~ Marma Chikitsa (Points Massage) 72
~ Marmapuncture 73
~ Massoga® Massage Yoga 74
~ OsteoThai 75
~ Pelvic Floor Exercises and Massage 77
~ Phoenix Rising Yoga Therapy 80
~ Raynor Naturopathic Massage 81
~ Restorative Yoga with Massage 82
~ Shinzo Shiatsu Yoga 84
~ Thai Traditional Massage 85
~ Thai Yoga (Reusi Dat Ton) 88
~ Thai Yoga Massage 90
~ Tibetan Nejang Yoga 93
~ Water Yoga Massage 94
~ Yamuna® Body Logic and Body Rolling 95
~ Yoga Massage 97
~ Yogassage 98
~ Yogatsu 99
~ Yomassage® 100
~ Yoni Yoga and Massage 102
~ ZenThai Shiatsu 104
SUPPLEMENT
~ Ayurvedic Massages 106
~ Doing Yoga and Thai Massage 108
~ India's Impact on Massage Therapy 110
~ Massage, Bodywork, and Spirituality 112
~ Understanding Yoga and Thai Massage 114
~ What Is Ayurveda? 117
APPENDIX
How Do You Receive this eBook?
We work with Gumroad, a reputable and established digital downloads service provider and payment processor. After buying this book you can immediately download it in one or all formats of your choice (pdf, epub, mobi). We will also send you an email with a link to the downloads so that you can re-download the book anytime you'd like to.
Device Support
Our books and videos can be viewed on all common devices, such as desktops, laptops, notebooks, Smartphones, and tablets. Our eBooks can also be read with eReaders, including the Kindle eReader. Our videos can be played in any appropriate viewer or streamed with our online viewer. All regular OS are supported, such as MS Windows, Apple Mac OS, and Google Android.

PDF files are best read on desktop computers, laptops, notebooks, and tablets, but can be easily read on other devices also. EPUB files are suitable for all generic eReaders. The MOBI file format is supported by many eReaders also, but it's specifically suitable for the Kindle eReader.

Smartphones and tablets can access all file formats we publish, but depending on the screen size and apps available or downloaded, either PDF, EPUB or MOBI will be best. MP4 video formats are widely supported by computers and Smartphones, and by many other devices.

After buying a product you can immediately download all formats, or view the product(s) online. If you use a Kindle, you can directly send PDF and MOBI files to your Kindle device using your Kindle email address.