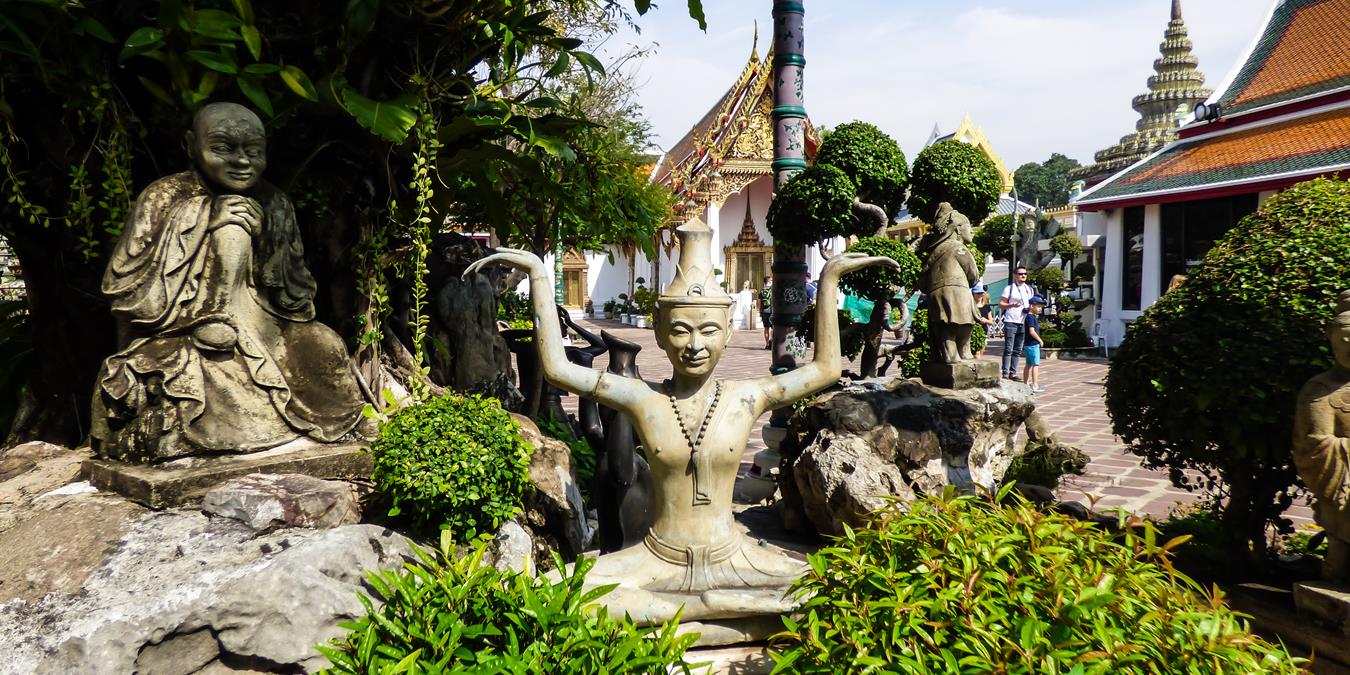 © Image from TraditionalBodywork.com
In Thailand, the Wat Pho temple and the Wat Po Massage school, both located in Bangkok, cooperate together in offering free Thai Yoga (Reusi Datton) classes daily at 08:00 (am).
The training sessions take place at the Watpo Temple grounds directly in front of the Watpo Thai Massage service facility. The Watpo Medical School has a Thai Massage "shop" located there, at the far back end of the temple complex. Just ask for it when you enter the Watpo temple grounds.

Our Video Workshop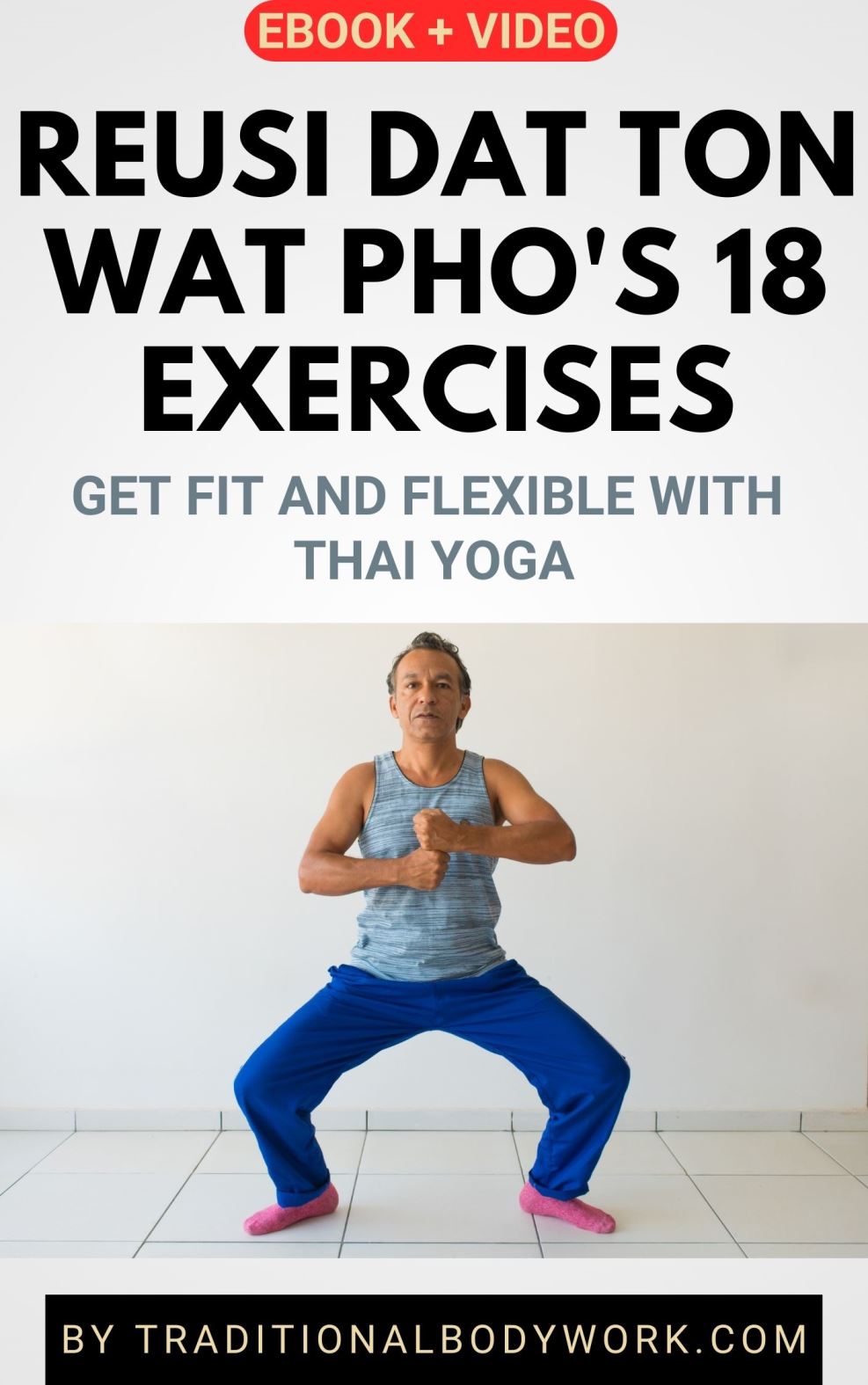 It's good to be there already at around 07:50. The session takes about 35-40 minutes, until about 08:45. Every day it's another teacher from the Watpo Massage facility or the Watpo Massage School who gives the 18-set sequence of Reusi Datton.
It's for free, BUT… if you enter at Watpo's main gate they will ask you a 100 BAHT for temple entrance and being able to visit the famous lying/reclining Buddha. It will prove hard to explain to the guards that you're there only for the free Reusi Datton session. But you can try saying that you only go to take a massage. Yet, it will be tough to get your way, because they really don't speak or understand English and even if they do… they will just try to charge you. It's just that you know… but then again… 100 BAHT for a free mini-workshop is not too much, is it?
Another option is entering at a side entrance of Wat Pho, which normally at that time is open for monks, and usually there's no one there to collect an entrance fee. How to do that: as you face the temple main entrance go to your right, around the temple walls (200 meters about), turn left following the temple walls and about another 200 meters and you will see at your left hand a temple entrance open (opposite from monk's dormitories). You could try to pass there and head on straight to the back of the temple garden…
Now, the Watpo Medical School gives official Reusi Datton courses also, a course that takes about 4-6 hours (one day). You should go to the school to register. The school itself is outside the temple, about three blocks away from the temple, in a side street/alley towards the river (facing temple, start walking to your right). There you can book a Reusi Datton Course (believe about 2000 BAHT, not sure). The Watpo School has a website also, although not so up to date.

Our eBook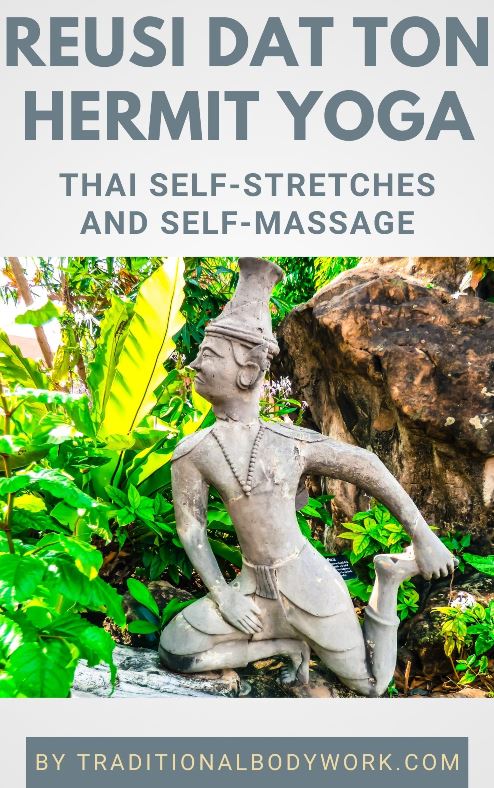 Another option, if you seriously want to study Reusi Datton, is to go to the Yoga Massage School Thailand from Master Kong in Bangkok. Kong is an excellent Reusi Datton practitioner and teacher, and offers two levels of Reusi Datton training teaching you about 200 poses and positions. Additionally, the school offers a Reusi Datton teacher training program.
If you're staying in the Khao San Road backpacker area in Bangkok you could best take the riverboat-taxi (for about 15 BAHT). The pier is at the end exiting Rambuttri Road. Ask if you doubt, because the pier is a bit hidden. A tuk-tuk is the best alternative to the taxi-boat, but you'll pay a bit more, let's say like around a 100 BAHT.
Anyway, Bangkok doesn't lack transport means, there's always the usual taxi, buses, metro and sky train apart from the river taxi boats and tuk-tuks, all a bit depending on where you stay.
So, if you like Thai Massage or Yoga, just go and visit the temple in the early morning for the free Reusi Dat Ton introduction workshop! It's worth it. Have fun!
---

---
---
Related Articles