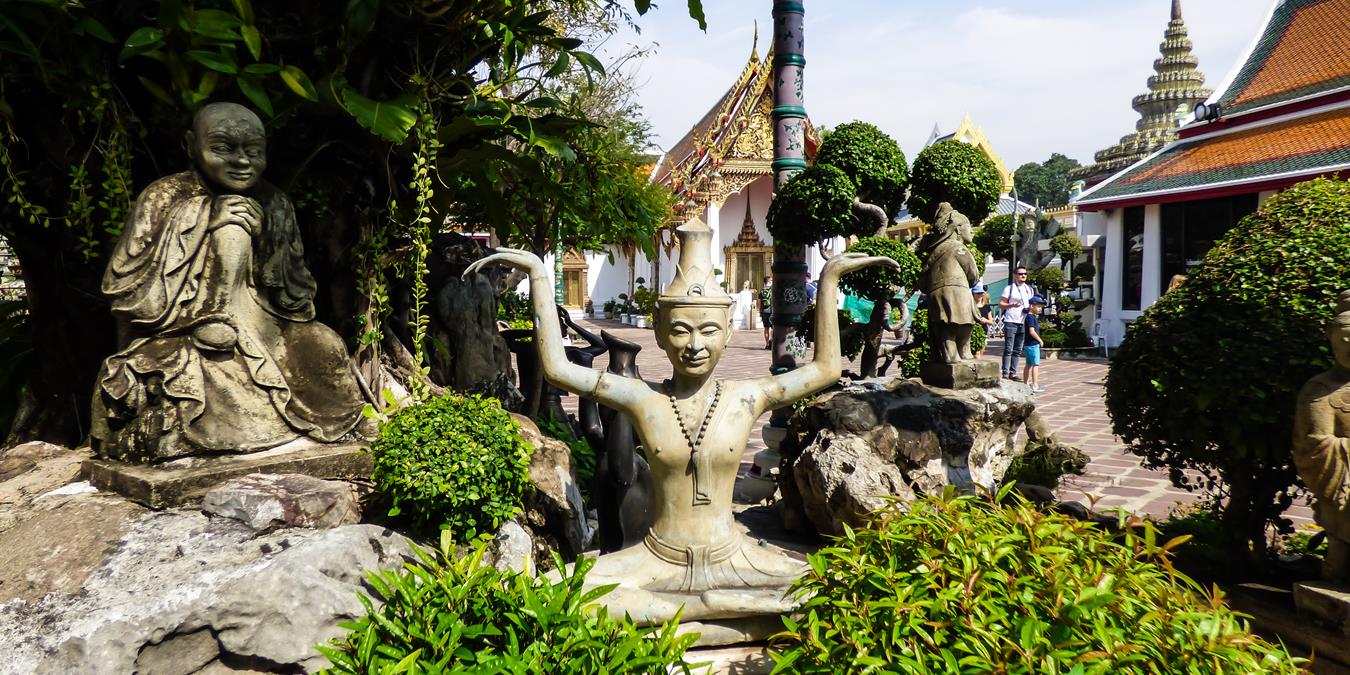 © Image from TraditionalBodywork.com
Years ago, both the Wat Pho Medical Massage School and the Institute of Thai Traditional Medicine (ITTM) compiled a basic set of Rue-Si Datton exercises for the general public. The idea was to promote knowledge about Rue-Si Datton, this still rather unknown part of the Thai cultural heritage, and at the same time give people some simple tools to work on their health, that is, to stay fit.

Video | by TraditionalBodywork.com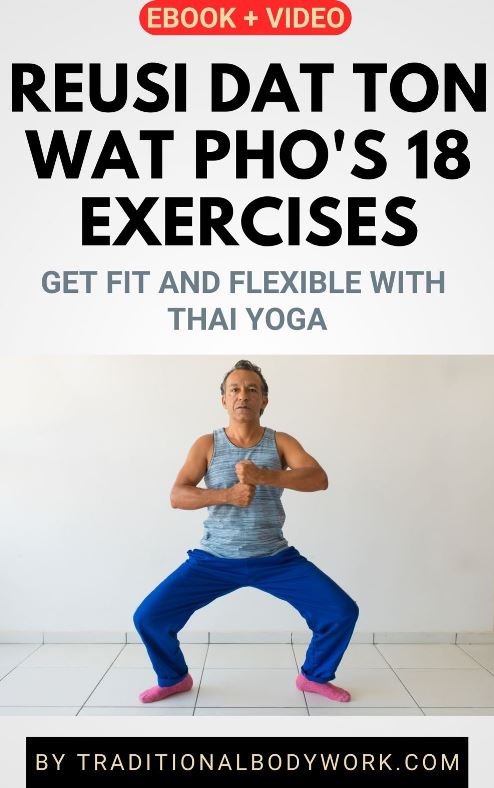 The 18 exercises from Wat Pho and the 15 from ITTM are a sub-selection of a larger set of originally 127 positions of the "Contorted Hermit" as recorded and documented in the 19th century by the Wat Pho temple. It was in that period that the famous 80 zinc-tin statues were constructed and placed in the Wat Po temple garden—57 seated or kneeling, 20 standing, 2 couples (Partner Yoga or Thai Massage), and 1 statue in lying position.
Now, the 18 Wat Po exercises, also called the Ascetic Self-Stretching Exercises, are all done while standing, and indeed, basically all more or less self-stretching exercises (and self-strengthening, by the way). That is, the set doesn't include self-massage. This is the first big difference with ITTM's 15, which includes self-massage, notable for the head and face.
Furthermore, the ITTM's 15 compilation consists of 8 seated, 4 standing, and 3 lying Rue-Si Datton exercises, making it in a way a more representative example of what Rue-Si Datton is about. Nevertheless, personally, I find Wat Pho's 18 more handy, as a quick workout, because it can be done virtually anywhere and it's more tonic, more cardio, with a lot of cool stretches and strengthening stuff.
Yet, there are more differences, notably in the way the exercises are done. Not only how we need to breathe while doing a pose is explained differently, but also the way we go into a pose. By this, it becomes rather clear that Rue-Si Datton can be practiced very differently, very much depending on a certain teacher or lineage.

Video | by TraditionalBodywork.com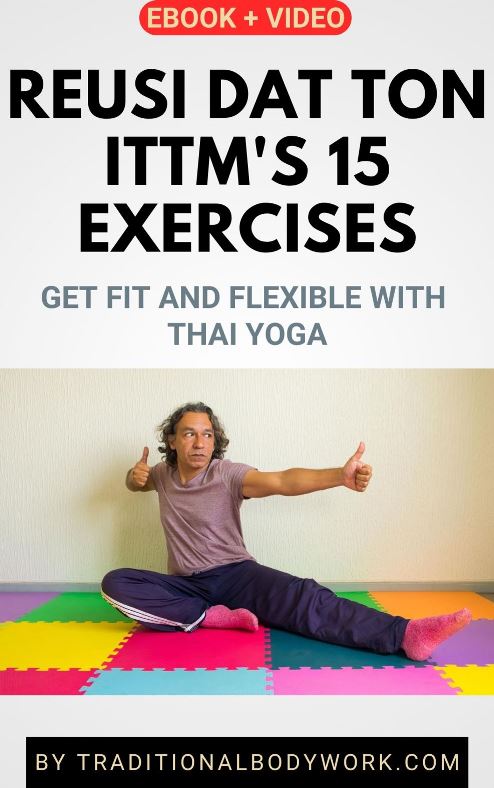 In any case, students of Thai Massage most likely get acquainted with ITTM's 15 first, because these exercises are most of the time the ones done early in the morning before Thai Massage classes start. Must say that it depends on the Thai Massage school; there are many schools or teachers that don't do Rue-Si Datton exercises at all.
So, finally, I feel that both exercise sets have their own merits. I couldn't say that one is better than the other, although as said before, I prefer Wat Pho's 18 because I find them more handy to do whenever or wherever you like, and just better fitting for me personally.
And if you're interested in learning Rue-Si Datton, well, just try both sets to get the picture, and see if it's something for you. We also have an eLearning workshop about Wat Pho's 18, but if you're in Thailand you can try the free classes at Wat Pho in Bangkok or take their one-day self-stretching course.
As for ITTM's 15 exercises, it's best to pick a Thai Massage school that give those as a warming up before the massage classes, or you can try out our ITTM 15 Video Workshop.
---

---
---
Related Articles
---