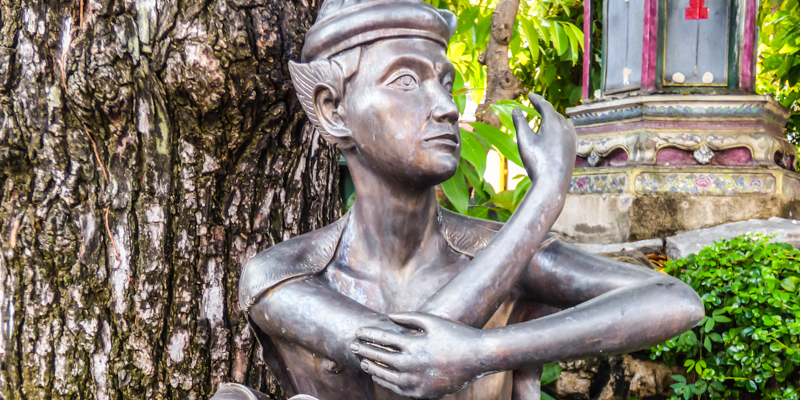 © Image from TraditionalBodywork.com
Apart from the beautiful temple buildings, pavilions, mosaic, stone and marble tablets with Thai Traditional Medicine knowledge and inscriptions, the Wat Pho temple (officially Wat Phra Chetuphon Wimon Mangkhalaram) has a large number of Rue-Si Dat Ton statues (or Thai Yoga sculptures) with Thai Yogis — the so-called Reusi Hermits or Lersis — depicted in a variety of self-stretching and self-massage exercise poses.
Aside from the sculptures of Yogis, there are also two couple-statues showing Thai Massage exercises. The assembly and placement of Yogic statues in the What Po temple garden was part of a Thai Healing Arts restoration and conservation project that started in the 18th century.
Introduction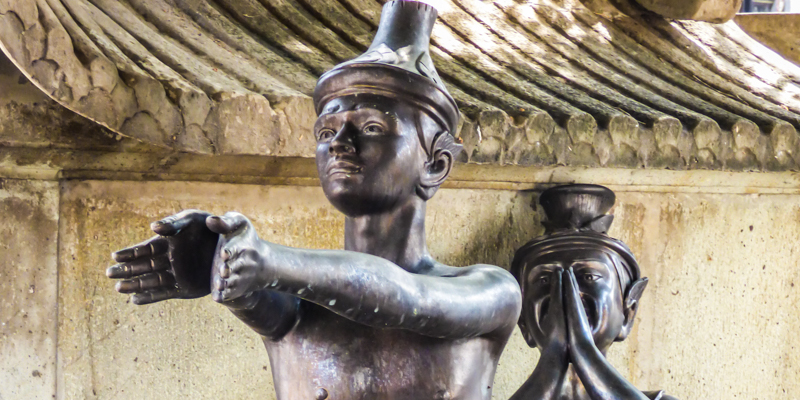 © Image from TraditionalBodywork.com
But before we continue, I want to give you a brief explanation of the label Rue-Si Dat Ton given to this ancient Thai Yogic practice.
Now, the classical idea of the Thai Ruesi Hermit is that of an ascetic who lives in caves or in the forest and spent his (or her) life practicing meditation in seclusion. It's from these ancient hermits where the term and practice Rue-Si Dat Ton emerged, meaning "the ascetic who stretches himself." The stretches and self-massage, and other techniques, where done after long meditation sessions to loosen up and stretch the body, but also to strengthen it to be able to meditate longer and better.
Over time, these ascetic self-stretching and self-massage exercises where integrated in Thai Traditional Medicine — it became an official Thai Healing Art.

Our eBook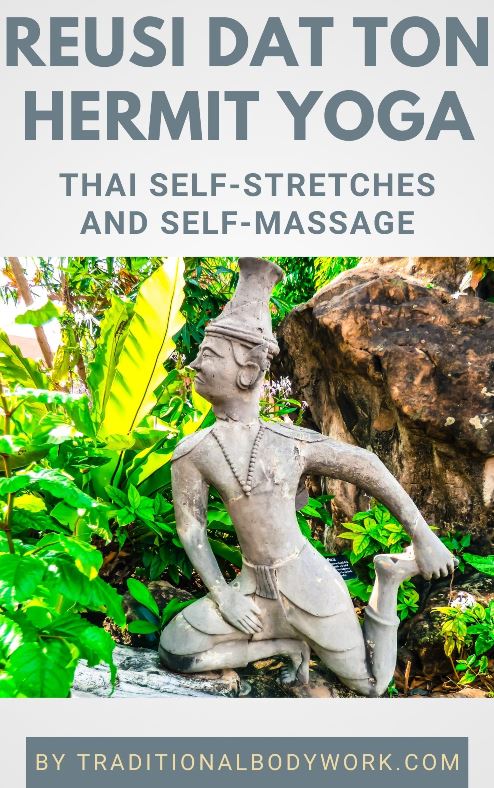 It's important to realize that "Rue-Si Dat Ton" is a phonetic translation of the Thai description "ท่าฤาษีดัดตน" and just one version of how it's written in the Latin or Roman alphabet. There are a lot, a very lot of labels used in Thailand and across the globe, such as Reusi Datton, Rusie Dutton, Ruesi Dat Ton, Lusie Datton, Lucy Dutton, Rusie Dotton, Ruesri Dat Ton, Ruesri Datton, Rue Sri Dut Ton, Ru Si Datton, Rue See Dat Ton, and Rasidaton, just to point out a non-exhaustive list of options.
Honestly, the naming "convention" is very annoying, and it makes it hard to do research on the topic or to find training courses, for instance. In any case, I just want to say, don't get hung up on the mind-boggling naming conventions … it's better that we just take it how it comes and try to live with it.
Okay, having said that, let's go take a look at the history of the Reusi Datton statues at Wat Pho, which is the actual reason for writing this article.
History of Reusi Dat Ton Statues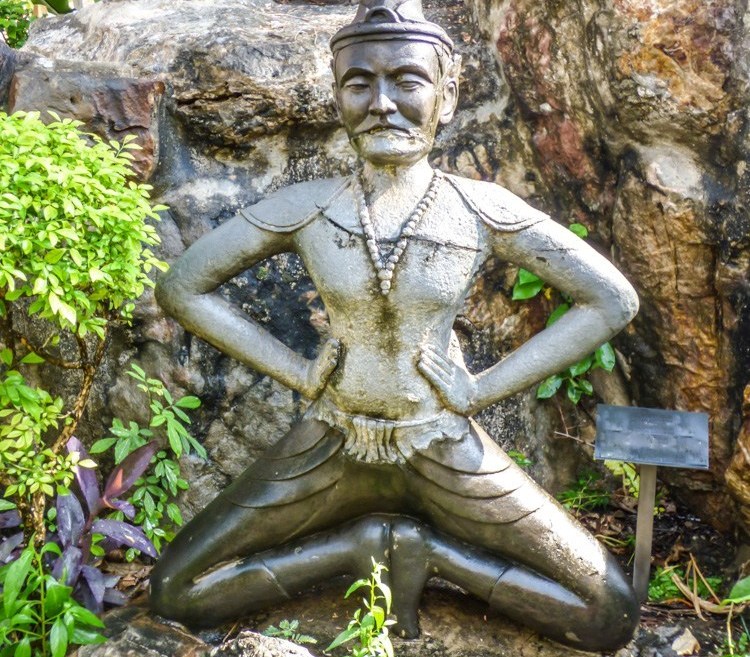 © Image from TraditionalBodywork.com
In 1767, the Burmese armies destroyed the old Thai capital of Ayutthaya and lots of the writings and knowledge about Thai Traditional Medicine got lost.

Our Video Workshop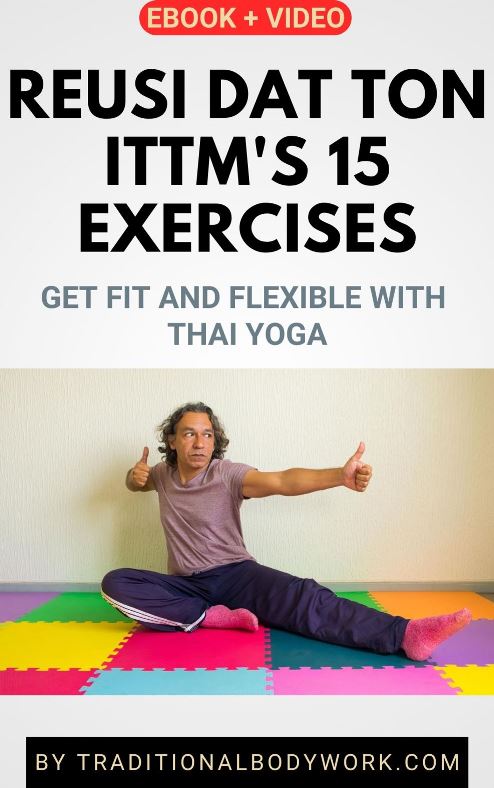 After his coronation in 1782, the Thai King Rama I established a new Thai capital in what we know today as Bangkok. He also started a project to revive Thai cultural, scientific and Thai Healing Arts knowledge after the loss of Ayutthaya. An old, existing temple called Wat Potharam, (today known as Wat Po) was chosen to become the place of a new Royal temple.
As part of this project, medical texts from across Thailand kingdom were gathered and brought to be stored at Wat Po. It was in this period (in 1788, according to some sources) that the King ordered the creation of a set of clay Reusi Datton statues — the Contorted Hermits — showing various Reusi Dat Ton techniques and poses.
This project was later on continued by the Kings Rama II and Rama III. Many scholars compiled important texts on various ancient arts and sciences and created authoritative textbooks safeguarding the Thai cultural heritage. Subsequently, in 1832, a project to engrave the herbal formulas, massage acupressure charts, medical texts and theories into marble tablets was started.
Wat Po steadily grew to become a seat of learning for all classes of people of all walks of life expounding all branches of Thai traditional knowledge both religious and secular, serving as an open university of traditional Thai culture.
By 1836 however, the clay Reusi Dat Ton statues created around 1782 (under King Rama I) had deteriorated. To replace these, King Rama III ordered the creation of 80 new Reusi Dat Ton statues.

Our Video Workshop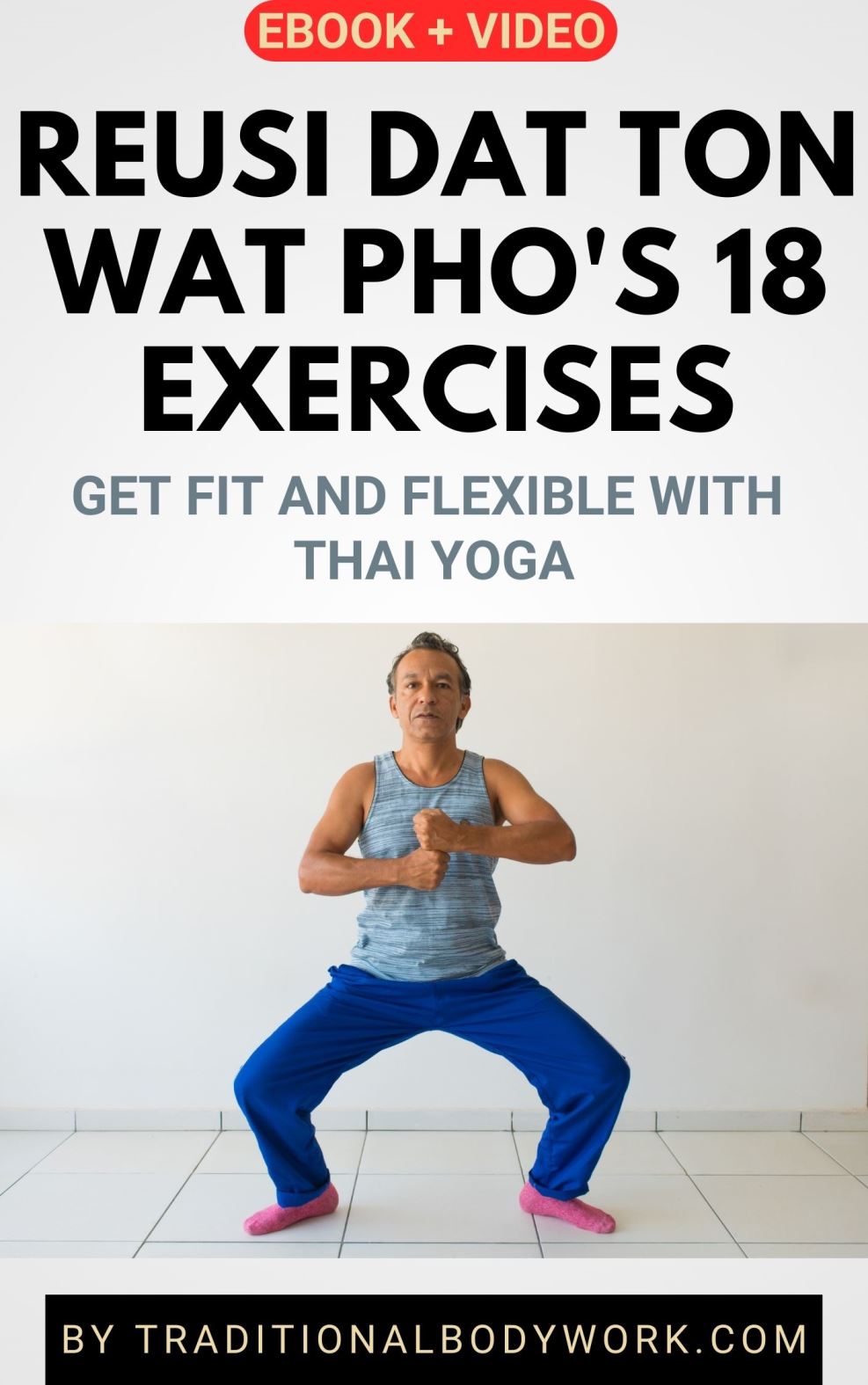 The set of 80 Ruesi Dat Ton statues depicted various poses: 57 seated or kneeling, 20 standing, two couples (partner Yoga i.e. Thai Massage), and one lying. These sculptures were made of a mixture of zinc, tin and stucco (some only from stucco).
King Rama III also ordered that a poem (written on marble tablets) should accompany each statue telling the people about the technique and the health benefits of each exercise posture. The King wrote six of the poems himself, and it's said that high-ranking officials, poets, physicians, monks, but also laypeople have written the rest of the poems.
The 80 statues were originally placed in 16 individual pavilions inside the Wat Pho temple area. They were later moved to the Sala Lai pavilion under the reign of King Rama V, but then in the years following some of the statues were stolen or damaged.
The Reusi Dat Ton Statues Today
Around 2009, there were only 24 Ruesi Dat Ton statues remaining at the Watpho temple grounds. These were displayed upon two small so-called "Hermit's Mountains" near the Southern part of the Wat Po temple grounds. To safeguard the surviving marble tablets with poems and descriptions, those have been separated from their statues and stored in the pavilion Sala Rai.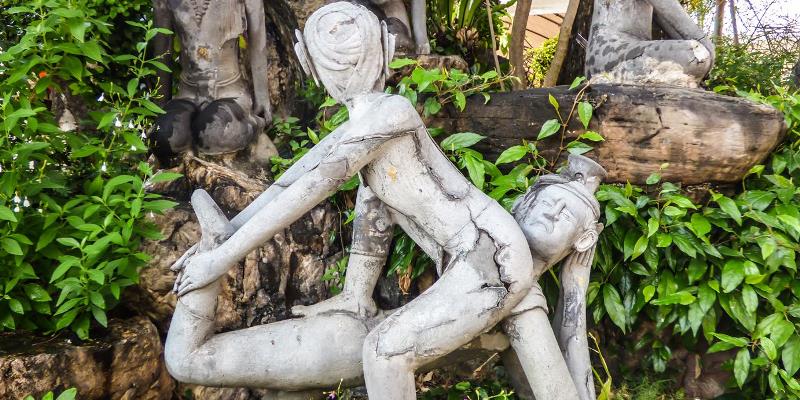 © Image from TraditionalBodywork.com
The Thai Public Health Ministry's Department for Development of Thai Traditional and Alternative Medicine (DTAM) being made responsible for the sculptures subsequently planned to replace the whole set. Casting of the new statues started in 2009, and finally today we encounter a whole new series of 80 Reusi Dat Ton sculptures at Wat Pho, just as it was about 180 years ago.
© Image from TraditionalBodywork.com
The new Ruesi Dat Ton statues in exercise postures are made of a mixture of brass, zinc, tin, lead and copper. Additionally, as in the old days, a poem describing the health benefits of each exercise posture will accompany the sculptures.
---
---
Related Articles