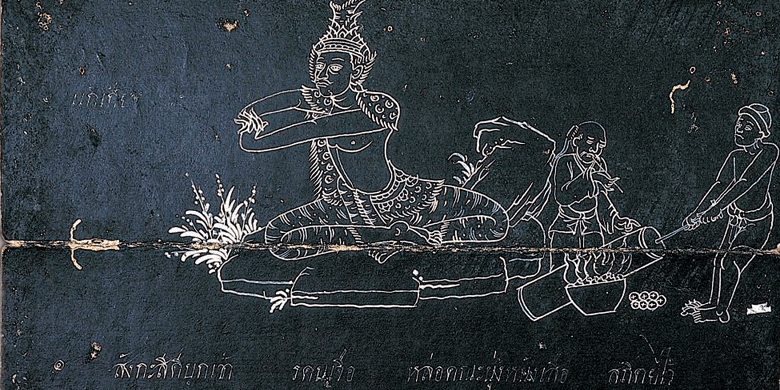 Apart from the Rue-si Dat Ton statues which are placed in the Wat Pho temple garden, the Samut Thai Khao (also called the Rue-Si Datton Samut Thai Dam or Samut Thai Khoi) is one of the oldest evidences of the existence of Reusi Datton knowledge in ancient times.
The Rue-Si Datton Samut Thai Khao (also written Samut Thai Kao) is an ancient manuscript (a kind of book with black pages) dating from 1838, and contains 80 Reusi Datton drawings i.e. illustrations, similar to the 80 statues in the Wat Po temple garden. Each illustration is accompanied with a poem i.e. description of the Yogic pose or technique performed.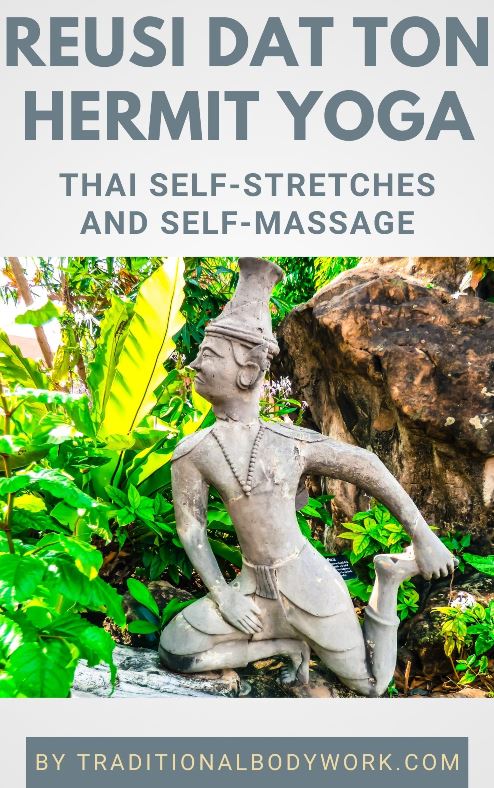 Mind that the 80 line drawings in the Samut Thai Khao are only a selection of all known Reusi Dat Ton techniques, which some say to be at least 127, although others extend this number to 200 to 300 techniques and poses.
The poems were written by the Thai King Rama III and a variety of other people, such as monks, noblemen, important officials, artists, including common people. The result of that effort is that today many doubt the complete accuracy of those descriptions (poems) in relation to the Yogic stretching or massage techniques being depicted.
Moreover, in the well-known Wat Pho Thai Traditional Medical School "The Book of Medicine" of 1958, a range of Samut Thai Khao poems is (freely) copied, sometimes accompanied with Reusi Dat Ton poses that don't match the description, adding to the general confusion.
Yet, in spite of the inaccuracies, the Samut Thai Khao of Rue-si Dat Ton is an important document, not only artistically, but also as historical evidence of the role Reusi Dat Ton played (and still plays) in Thai society. The manuscript is conserved in the Thai National Library in Bangkok. One needs special permission and an appointment to see and/or browse the book.
---