The Wat Pho 18 Ascetic Self-Stretching Exercises | Thai Hermit Yoga
Published: Nov 26, 2019 | Updated: Feb 14, 2021
---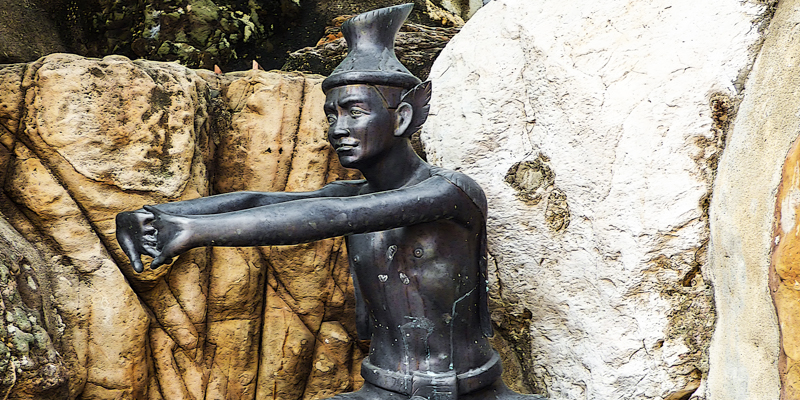 The 18 Wat Pho Rue-Si Datton Ascetic Self-Stretching Exercises (Thai Hermit's Yoga) are part of a larger set of 80 exercises as designed by the Wat Pho Medical Massage School.
The 18 exercises (actually, sequences with more than one exercise) are all standing exercises, but the complete series also contains exercises done in sitting and lying positions. In fact, the set of 18 is designed for young and old, with exercises which are considered safe, and consists of bodywork with and for the whole body. The idea is to supply the general public with an easy to do, short series of exercises promoting fitness, flexibility and health.
The complete series of 80 exercises is based on the 80 Rue-Si Dat Ton statues placed in the Wat Pho temple garden in the year 1836. They were ordered by the Thai King Rama III. The set of statues consisted of Rishis (Reusis or Yogis) doing a range of exercises in various poses and positions: 57 seated /kneeling, 20 standing, two couples (Partner Thai Yoga or Thai Massage), and one in lying position. They were made of a mixture of zinc and tin.
The Wat Pho temple and school actively promote Rue-Si Datton and every morning, starting at 08:00, you can take a free workshop doing the 18 sequences in the Wat Pho Temple garden in Bangkok. The session takes about 45 minutes.
Additionally, the Wat Pho Medical Massage School also offers a 5 hour training course to learn these exercises more in-depth.
An important observation is that the 18 exercises were originally done with a certain breathing technique and with strength/power. The official Wat Pho Ascetic Self-Stretching course book still reflects this practice. Nevertheless, today, for safety reasons, the Wat Pho organization has omitted those aspects in their trainings (from both the free classes and in the course).
Below we've listed an overview of the sequences/exercises as offered in Wat Pho's 18:
Sequence No. 1: Relief Of Tension Headache And Giddiness
Sequence No. 2: Relief Of Physical Discomforts
Sequence No. 3: Relief Of Shoulder And Neck Discomfort
Sequence No. 4: Relief Of Shoulder And Leg Stiffness
Sequence No. 5: Relief Of Knee And Leg Discomfort
Sequence No. 7: Relief Of Chest Compression Caused By Wind Or "Wata"
Sequence No. 8: Relief Of Convulsion Caused By Wind Or "Wata"
Sequence No. 9: Relief Of Chest Pain At The Cardiac Region Caused By Abdominal Distension
Sequence No. 10: Relief Of Knee Sprain
Sequence No. 11: Relief Of Heel Stiffness Caused By Wind Or "Wata"
Sequence No. 12: Relief Of Back Pain Causing Leg Discomfort
Sequence No. 13: Relief Of Foot Numbness
Sequence No. 14: Relief Of Hip And Lower Back Discomfort
Sequence No. 15: Relief Of Muscle Cramps In The Hands And Feet
Sequence No. 17: Relief Of Chest Trouble, Cough, And Asthma
Sequence No. 18: Treatment Of Wrist Trouble Caused By Wind Or "Wata"
---
---
Related Articles