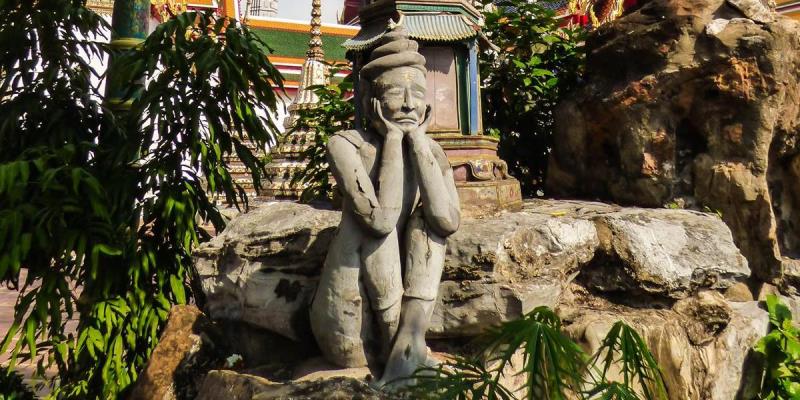 © Image from TraditionalBodywork.com
The Wat Pho temple in Bangkok is without doubt the most famous place in Thailand with reference to knowledge, drawings, murals, and statues of both Thai Massage and Thai Yoga (Reusi Dat Ton).
Moreover, the Reusi Dat Ton Yogi statues in the Wat Pho temple gardens have been recently replaced with new ones and missing statues have been added. Today, the original 80 poses are again to be admired in full glory.
Nevertheless, there are also some other locations in Thailand with paintings, murals, drawings and/or statues of Reusi Dat Ton. Below you find some examples.
Institute of Thai Traditional Medicine (ITTM)
In Nonthaburi (a city slightly north of Bangkok), at the location of the Thai Ministry of Public Health and the Institute of Thai Traditional Medicine (ITTM), you can find the Thai Traditional Medicine Museum with a section that displays Reusi Datton statues.
Outside the museum there's also a little mountain with Reusi Dat Ton Yogi statues, and inside this mountain you'll see a variety of miniature Reusi Dat Ton statues. The statues show poses derived from both the Reusi Dat Ton Samut Thai Khao (1838) and Wat Pho's The Book of Medicine (1958).
Siriraj Medical Museum
In Bangkok, you can also find Reusi Dat Ton figurines in the Siriraj Medical Museum on the Bangkok Noi campus of the Mahidol University. The museum boasts a section of Thai Traditional Medicine, which includes sixty wooden Reusi Dat Ton statues based on the poses and techniques shown in Wat Pho's The Book of Medicine.
The Ancient City
A bit southeast of Bangkok in Samut Prakan, one finds the The Ancient City (Muang Boran), which is a park i.e. outdoor museum that displays the heritage of Thai traditional wisdom. It's a place with a wide range of architectural symbols combined with fine arts and craftsmanship, built in a structural layout and situated in a natural environment.
Within the Ancient City you will encounter the Sala of 80 Yogi. This pavilion displays 80 Reusi Dat Ton statues, some of those unique and not found among the Reusi Dat Ton manuscripts of the Wat Pho temple.
Wat Matchimawat Temple
In Songkhla, a beach town in the South of Thailand you can find the Sala Reusi (Hermits Pavilion) in the Wat Matchimawat temple. In the Sala Reusi pavilion you will encounter 40 drawings (murals) of Reusi Dat Ton techniques (30 sitting postures and 10 standing postures).
The various color paintings date from the reign of King Rama III and IV (period 1836 – 1846) and have been renovated several times in the past 200 years. The drawings are accompanied with the famous Reusi Dat Ton poems and explanations of the goals of the techniques. By the way, these 40 murals are an identical subset of the 80 Wat Pho drawings as recorded in the Samut Thai Khao.
---

---
---
Related Articles