---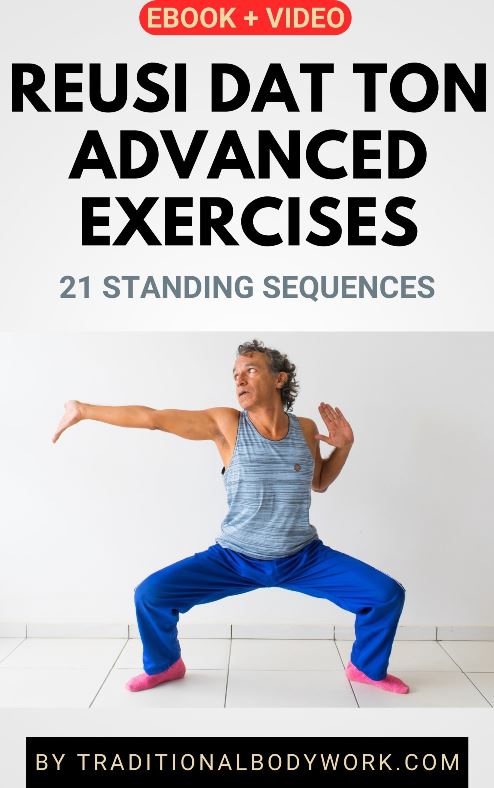 Instructor: Marce Ferreira
First published: February 2022
Latest revision: February 2022
eBook: 63 pages
Video: 23 minutes
Summary: more details
Product contents: preview here
Readability: device support
Formats: pdf (eBook), mp4 (video)
Delivery: download and streaming
Price: US$ 5 or more if you want.
About Pay What You Want pricing
---
What is this Workshop about?
The set of 21 Reusi Dat Ton advanced standing sequences in this video workshop contains other exercises than carried out in our previous workshops Wat Pho 18 Ascetic Self-Stretching Exercises and ITTM 15 Basic Positions of the Contorted Hermit.
According to the Wat Pho Medical Massage School there are 80 important Reusi Dat Ton exercises (performed in standing, sitting, kneeling, or lying positions), which are based on the Samut Thai Khao, an ancient manuscript on Reusi Dat Ton dating from 1838.
Nevertheless, the Thai governmental Institute of Thai Traditional Medicine (ITTM) rather recognizes the broader set of 127 sequences (which includes Wat Pho's 80 exercises i.e. sequences).
The 21 standing sequences you'll find in this workshop are a selection of the 127 Reusi Dat Ton exercises. We've compiled them into a meaningful set to make a balanced stretching and strengthening workout for your body.
Workshop Contents
This product contains an eBook (pdf), a quick reference guide (pdf), and one video (mp4). The video (23 minutes) shows you the set of 21 sequences; each exercise within a sequence is repeated twice.
For info about Reusi Dat Ton precautions, contraindications, breathing techniques, warming-up and cooling-down exercises, download our FREE Reusi Dat Ton Support Guide (includes videos).
Video Course Example on YouTube
Below you find the table of contents of the accompanying Reusi Dat Ton Advanced Exercises Workbook.
Workbook | Table of Contents
How Do You Receive this Product?
We work with Gumroad, a reputable and established digital downloads service provider and payment processor. You can immediately download the book (pdf) and video (mp4). Videos can also be streamed. Additionally, we send you an email with a link to the product so that you can access it anytime you'd like to.
Device Support
For those who own a smartphone, an easy way to read our eBooks and watch our videos is to use the free Gumroad App, for instance available on
Google Play Store
or on
Apple App Store
. The Gumroad App is offered to you automatically, immediately after you've bought a product of ours, and it's optional to install on your device.
Nonetheless, our eBooks and videos can be easily downloaded and read or viewed on all common devices, such as desktop computers, laptops, notebooks, smartphones, and tablets, without needing to use the Gumroad App.
Our eBooks can also be read instantly online with our online reader, and with eReader devices, including the Kindle eReader. Our MP4 videos can be downloaded and viewed in any appropriate media player, or instantly streamed online with our online viewer.
All regular Operating Systems (OS) are supported, such as MS Windows, Apple Mac OS, and Google Android.
PDF files can be read on smartphones, desktop computers, laptops, notebooks, tablets, and eReaders. EPUB files are suitable for all generic eReader devices and eReader smartphone apps. The MOBI file format is likewise supported by many eReaders, but was specifically designed for the Kindle eReader.
Depending on the screen size and apps available or downloaded on your device, either PDF, EPUB or MOBI will be best. MP4 video formats are widely supported by computers and smartphones, and by many other devices.
After buying a product you can immediately (or at a later moment) download all formats, and/or view/read the product(s) online. If you use a Kindle, you can instantly send PDF and EPUB files to your Kindle device using your Kindle email address.