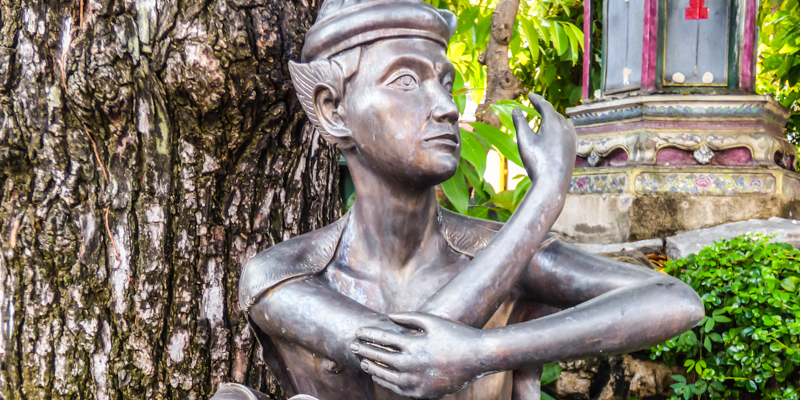 © Image from TraditionalBodywork.com
You may have noticed that there are several ways of describing the Reusi Dat Ton Self-Stretching and Self-Massage exercises. You can encounter labels like Reusi Datton, Reu-Si Datton, Ruesri Dat Ton, Rusie Dutton, and many more.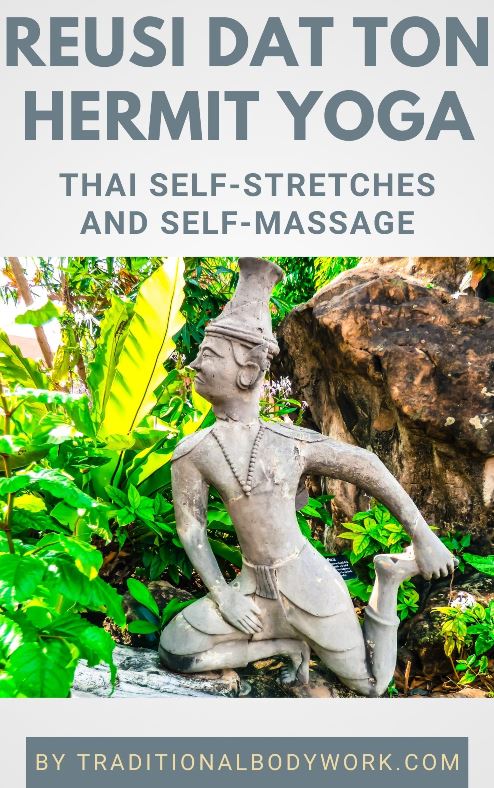 It's rather annoying, but it's the way it is in Thailand and subsequently in the rest of the world. Every other school, institute or teacher talking about "Thai Yoga" or "Thai Hermit Yoga" may use another way of spelling Reusi Dat Ton. In fact, there's no naming standard.
The problem came about because of the phonetic translation (phonetic means how it sounds) of the Thai phrase "ท่าฤาษีดัดตน" into "Reusi Dat Ton," that is, the conversion of the Thai sounds into the Latin (Romanized) alphabet.
And although there is a standardized Romanized spelling for the Thai language available, it's not widely used, and Thai words or letters converted to the Latin alphabet are thereby often spelled in a more or less phonetic manner. This results is a range of dissimilar spellings, because everybody hears something slightly different.
Now, if we would translate "ท่าฤาษีดัดตน" to its actual meaning, it would become something like "The Contortionist Postures of the Hermit" or "The Rishi Ascetic that Stretches Himself." Yet phonetically, the Thai phrase "ท่าฤาษีดัดตน" sounds like "Reusi Datton," which can result into the following plethora of Romanized phrases:
Rusie Dutton, Rusie Datton, Rusie Dat-ton, Lusie Dutton, Lusie Datton, Rusie Dotton, Reusi Da Ton, Reusi Dat Ton, Rue-Si Dat Ton, Rue-Si Datton, Reusi Datton, Ruesri Dat Ton, Ruesri Datton, Rue Sri Dut Ton, Rusri Datton, Ru Si Datton, Rue See Dat Ton, Rue See Dut Ton, Rue See Dad Ton, Rasi Daton, Rasidaton, Rasueri Dat Ton, and Lucy Dutton, among other fascinating labels.
Taking this anomaly into account, you can understand that finding Reusi Dat Ton training, schools, or teachers in Thailand or elsewhere in the world can be a daunting task.
Yet, apart from the problems with the phonetic translation there's another issue: Traditional Thai Massage is often called Thai Yoga also, which makes it hard to differentiate between Thai Massage and Reusi Dat Ton training courses.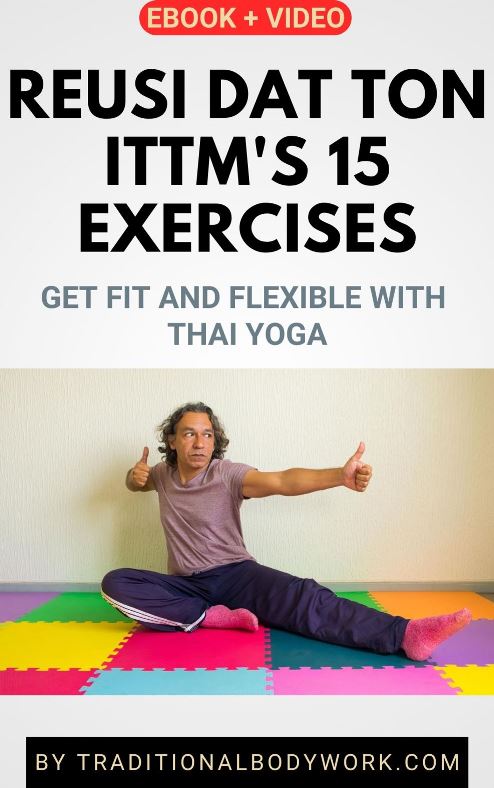 On top of all that, Reusi Dat Ton is sometimes also called Thai Rishi Yoga, Hermit Exercises, Thai Hermit Yoga, Thai Ascetic Yoga, Hermit Self-Healing Exercises, Thai Monk Stretching, or Thai Ascetic Self-Stretching, to give some examples, thereby further complicating the matter.
However, when we've finally found a school or trainer, another problem arises: there are very different styles of doing Reusi Dat Ton, which is further differentiated by sharing 15, 18, 80, 127 or even more postures and exercises to be learned in various time-spans.
Also, most of the Reusi Datton teaching is done by giving short classes (which are mostly only the ITTM 15 or Wat Pho 18 exercise sets). There is just a very small number of more diverse training courses available, and most of them hardly take more than one or two days. Schools and teachers offering an extensive, in-depth course in Reusi Dat Ton are still the big exception.
But maybe it's all for the best — in a way it keeps authentic Reusi Dat Ton relatively safe from commercializing into unrecognizable features. And that already is worth a lot nowadays — to say the least.
---