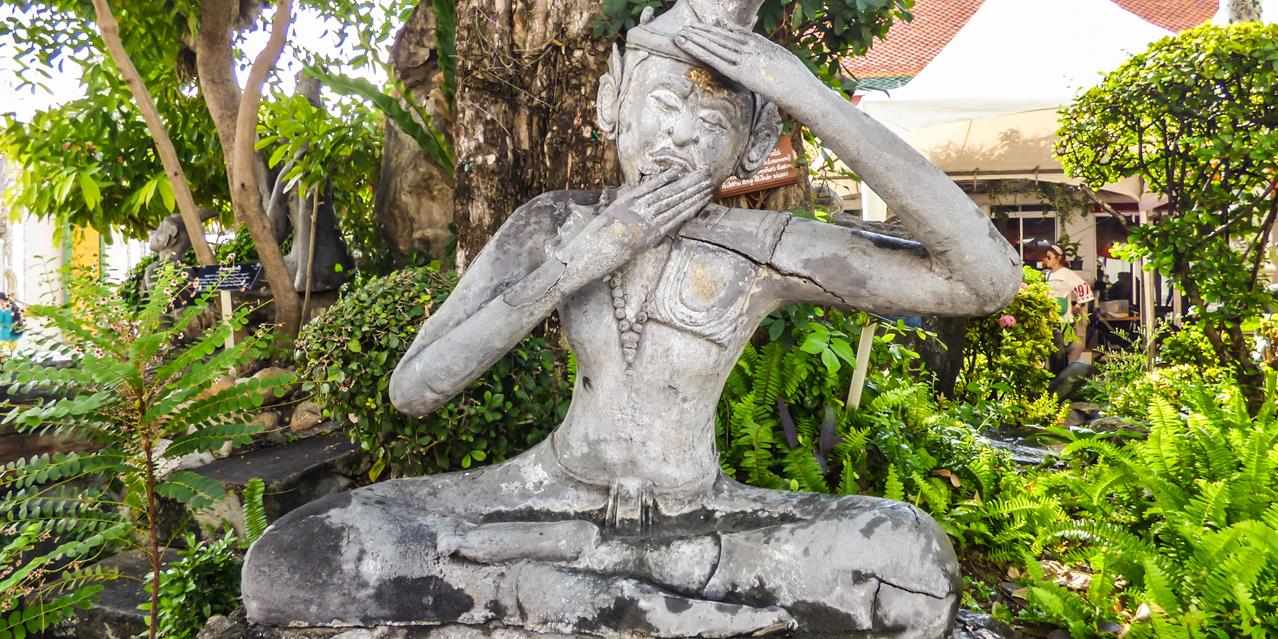 © Image from TraditionalBodywork.com
One of the most complete Ruesi Datton training programs in Bangkok is that of Master Kraijakkri Rungrojsakulporn (aka "Master Kong") from the Thai Yoga Massage School.
Master Kong considers Reusi Datton (which he also calls Thai Yoga) a method for treating and healing oneself and maintaining one's physical and mental health. Apart from Ruesi Datton, his school also teaches Thai Foot Reflexology and Thai Massage (Thai Yoga Massage). His own Thai Yoga Massage style blends stretching postures from Ruesi Datton and Thai Massage together.

Our eBook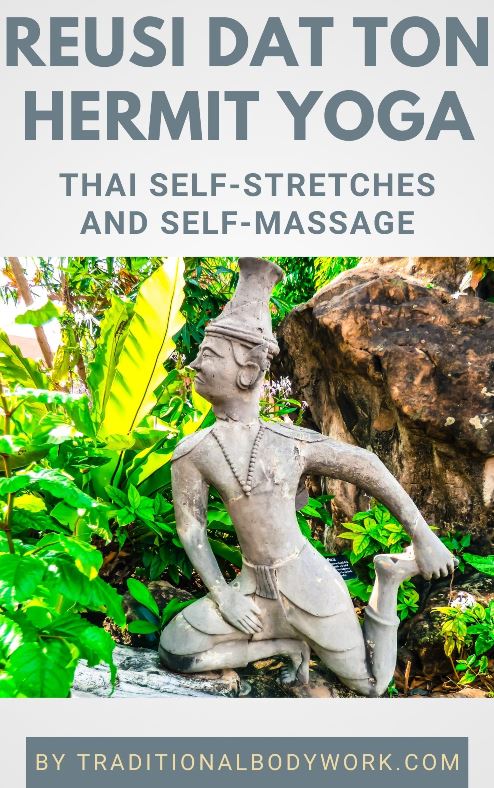 His focus of training is on the therapeutic aspect of Thai Yoga by teaching a range of exercises that restructure the spine, add flexibility to the diaphragm, expand the lungs, strengthen the cardiac muscles and stimulate the nervous system to promote better organ functions.
One of the key points in his Ruesi Datton trainings is the use of correct abdominal breathing and muscle power while doing the exercises, very much in contrast with, for instance, the way the Wat Pho schools teaches its Reu-Si Datton Ascetic Self-Stretching exercises.
The complete Rue-Si Datton training program at Kong's school consists of 200 poses divided in two training levels of 100 poses. Additionally, Master Kong also offers a Ruesi Datton Teacher Training Program.
Ruesi Datton Basic Training
This course focuses on breathing correctly, learning the proper techniques including key postural alignments, modifications, variations, and contraindications.
The course teaches 100 poses and has a duration of 10 hours over 5 days (2 hours per day). Classes are generally given from 3pm – 5pm.
Ruesi Datton Professional Training
The professional training course focuses on dynamic bodywork therapy and treatment based on the Thai Sib Sen Energy Lines, anatomy and physiology.
You will also learn how to do diagnostics and how to fix issues with the spine and muscles. Like the basic course, you will learn another 100 poses. The training has a duration of 10 hours over 5 days (2 hours per day). Classes are given from 3pm – 5pm.
Ruesi Datton Teacher Training
The Thai Yoga teacher training is based on one-by-one training while strengthening your own teaching techniques to instruct individuals or groups.
You will assist in observation and teaching other students who take the Basic and Professional Ruesi Datton classes. After this course you will be able to teach the Basic and Professional course and design your own Ruesi Datton sequences.
You will also get a license to teach the program under the name of the Thai Yoga Massage School Bangkok and hand out training completion certificates from the school.
The instructor training course has a duration of 10 hours over 5 days (2 hours per day). Trainings are given from 3pm – 5pm.
---

---
---
Related Articles