Published | Updated March 16, 2019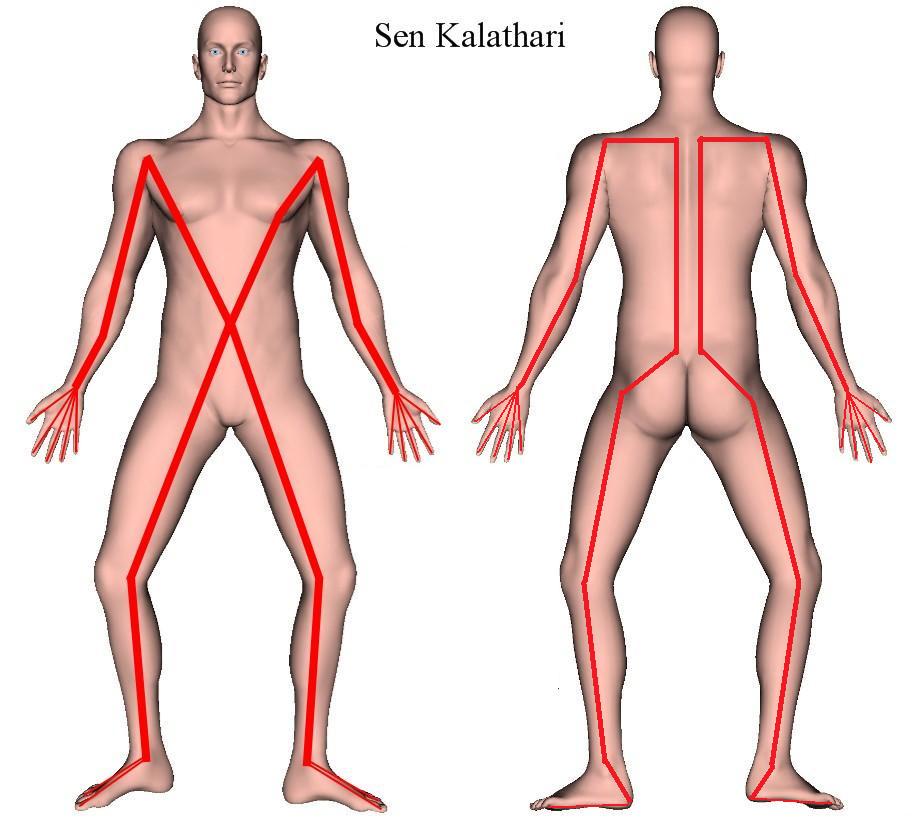 Sen Kalathari, also called the emotional and psychic line, is one of the 10 Thai Sib Sen or Energy lines of Traditional Thai Massage and Thai Yoga (Reusi Datton). It's also the energy line strongly connected to "movement of the limbs".
Trajectory:
Sen Kalathari starts at the navel and divides into four branches, two on the right, two on the left, and runs on both the front and backside of the body.
From the navel up to the chest and shoulder down the middle line of the arm (second inside line) to the hand. From there to the tips of all the fingers on both the left and right side of the body.
From the navel down the mid-line of the inside of the leg (second inside line) to the foot. From there to all the toes fingers on both the left and right side of the body.
See the image above for the trajectory on the backside of the body, running over outside lines number two of arms, back and legs.
Therapeutic indications:
Diseases of the digestive system, abdominal pains, indigestion, hernia, paralysis of arms and legs, knee pains, jaundice, whooping cough, arthritis of fingers, chest pains, shock, trauma, rheumatic heart disease, cardiac arrhythmia, angina pectoris, sinusitis, arm and leg pain, epilepsy, schizophrenia, hysteria, mental disorders, back pains, and spinal pains.
---
TraditionalBodywork.com is an affiliated partner of renowned travel service providers Agoda, 12Go Asia, and Jetradar. With purchasing a service from one of these providers we earn a small referral fee.
Agoda is one of the fastest growing online travel booking platforms and offers 2 million properties and accommodations worldwide.

12Go.Asia is a large online travel agency in Southeast Asia and Oceania, offering online booking of tickets for ground, water, and air transport services in Asia.

Jetradar.com is a travel search engine that allows users to compare airline prices and offers worldwide, specializing in low-cost airfare.
---
Related Articles