Published | Updated March 15, 2019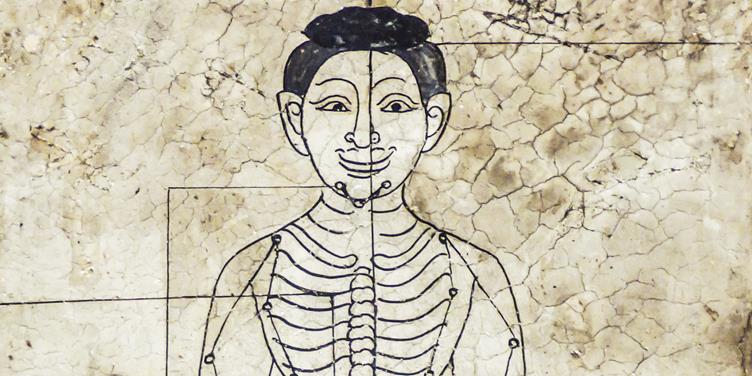 Thai Tok Sen is an Lanna Northern Thai Healing modality widely practiced and taught in the Chiang Mai area. It incorporates the use of a short-handled hammer and a chisel or wedge (made of wood, bone or ivory) to rhythmically tap along the so-called Thai Sib Sen (energy lines) of the body.
The rhythmical tapping and sound vibrations work deeply through the tissue and muscles right down to the attachments with the bones. Tok Sen is used to clear blocked energy, improve blood circulation and ease muscle and nerve tensions and problems and pains.
The shortlist below shows a list of Thai massage schools in Chiang Mai offering Thai Tok Sen training courses and workshops. If you'd like to see more details about a listed provider, you may click on the name of the training provider. For detailed filtering visit our Training in Thailand page.
Billy Bundit Sitthiwej is a Thai Massage practitioner and teacher located in Chang Mai.
[Read More...]
The official website for the Universal Healing Tao Center Chi Nei Tsang healing modality.
[Read More...]
Chiang Mai Spa academy is a school focused on the education and training of beauty and spa therapists. The academy in Chiang Mai offers a vast range o
[Read More...]
The Chiangmai Classic Art Thai Massage School is a Thai Massage school in Chiang Mai (Thailand) for Japanese students. The website is in Japanese only
[Read More...]
The CLS Massage School is located in Chiang Mai, and profiles itself as a Thai Therapy and Thai Spa massage school. There is on-campus residential ac
[Read More...]
The Hang Dong Thai Massage School in Hang dong (Chiang Mai area) specializes in Lanna Thai healing methods such as Tok Sen and Thai Fire Therapy (Yam
[Read More...]
ITM is a private vocational Thai Massage school located in Chiang Mai. The school is a family run business and was founded in 1992 by Chongkol Setthak
[Read More...]
Jindamanee (Natural Aholic) is basically a Thai products online shop, but offers Thai bodywork training courses also.
[Read More...]
At Jongrak's, specialized in Lanna Folk Healing, private Thai Massage study is possible, and groups don't exceed 4 students. The school al
[Read More...]
Jutta Kellenberger is a practitioner and Senior teacher of Mantak Chia's Universal Healing Tao system. She's based in Thailand, Chiang Mai
[Read More...]
The founder and owner of this Thai Massage school in Chiang Mai is teacher Chaweewan Vitfan. The school offers a broad variety of Traditional Thai bod
[Read More...]
LannaYoga is located in Chiang Mai and run by Guy Harriman. Guy offers a variety of Energy Healing Classes and Treatment Services.
[Read More...]
Loi Kroh Massage, founded in 1999, is one of the established Thai Massage schools in Chiang Mai. Apart from their in-depth Thai Massage training progr
[Read More...]
This Thai Massage center is located at the Wat Pan Whaen Bhuddist temple in Chiang Mai.
[Read More...]
Mantak Chia is the creator of the Universal Healing Tao System (UHT), Chi Nei Tsang, Karsai Nei Tsang, Healing Tao and Tao Yoga. Additionally, he̵
[Read More...]
Ming Akkaraya is a traditional Thai medicine doctor offering a variety of Thai bodywork courses in Chiang Mai.
[Read More...]
Nun Tok Sen Massage offers treatments and training courses of Tok Sen. Nun is located in the Silver Temple, Wat Sri Suphan, in Chiang Mai.
[Read More...]
Omsala in Chiang Mai is founded and operated by Ohm Rinraya. Ohm is a former Sunshine Massage School teacher. Apart from offering Thai Massage trainin
[Read More...]
Ong's massage school in Chiang Mai offers a broad diversity of courses with a duration generally from 1 up to 5 days. Training modalities range
[Read More...]
Mr. Joe Khumlee offers Thai Massage and bodywork training, and Guasha courses in Chiang Mai.
[Read More...]
The Sabai De Ka Massage School was founded in 2004 by "Kloy" Thanyanet Pothamoon. Initially, Sabai offered only massage and spa treatments
[Read More...]
The school offers training in Thai Tok Sen and runs an extensive shop for wooden Tok Sen tools.
[Read More...]
Sensip Training is active in both Thailand (Chiang Mai, since 2008) and in France (Aubenas, since 2015). The subsidiary in Chiang Mai was founded by A
[Read More...]
The Sirichan Thai Massage School in Chiang Mai is founded and run by teacher Sirichan Nooy, a doctor and therapist in traditional Thai massage. She al
[Read More...]
Spa Mantra is a spa and wellness center and a branch from the ITM Chiang Mai Thai Massage school. Connected to the Spa is a Thai Bodywork academy with
[Read More...]
The Tao Garden from founder Mantak Chia needs perhaps little introduction. It's a large Spa, Wellness & Health enterprise in Chiang Mai offerin
[Read More...]
The Thai Massage School of Chiang Mai, also known as TMC Chiang Mai or the Thai Massage School of Thailand, was founded in 2001. The Thai Massage Scho
[Read More...]
The Old Medicine Hospital, Chiang Mai, has been the leading Thai Medicine and Thai Massage institute in the North of Thailand from the 60's up to th
[Read More...]
The school, located a bit outside of Chiang Mai city, is founded and run by Terdchai Chumphoopong aka Mac. Apart from Thai Massage training he offers
[Read More...]
The School of Massage for Health in Chiang Mai provides a vast array of Thai Massage courses and other Thai bodywork programs. Also offers teacher tra
[Read More...]
Timmy's place offers a broad variety of Thai Bodywork courses. She's a specialist in Thai postpartum treatment of women (Yu Fai) and prepa
[Read More...]
Known massage school in both Thailand and overseas. Specialty massage courses, Spa & Wellness course modalities, and excellent Thai therapist trai
[Read More...]
The mission of UniversalTao.TV is to preserve and present to the world the Taoist Internal Alchemy Qigong as taught by Mantak Chia. The website is an
[Read More...]
A Thai traditional massage school for Japanese women.
[Read More...]
Waulai Thaimassage in Chiang Mai is specialized in Herball Ball Compress Massage courses, but also offers Reusi Dat Ton and Tok Sen. Founded and run b
[Read More...]
---
Related Articles