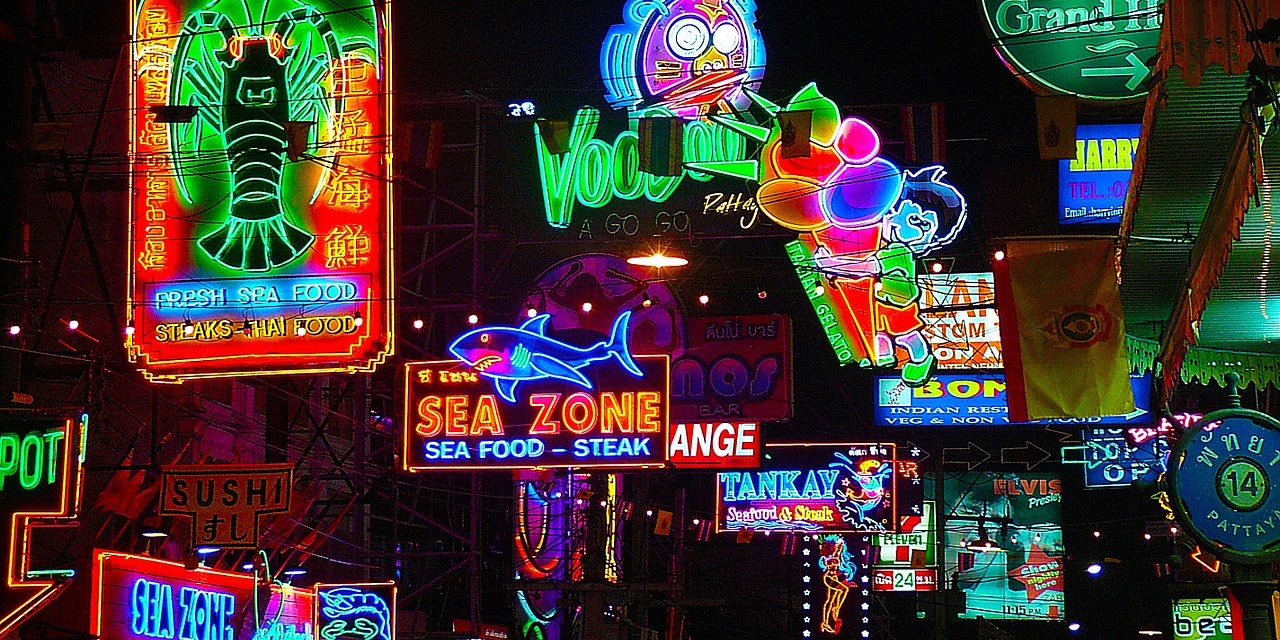 Pattaya, part of the Chonburi province, is a beach resort city in Thailand about 100 kilometers south-east of Bangkok. Pattaya City is the center of the Pattaya Chonburi Metropolitan Area and has a total population of about 1 million people.
Pattaya has a reputation as a sex tourist destination. Note that prostitution in Thailand is illegal, but tolerated. The city has a vast number of host bars, go-go bars, massage parlors, saunas, and hourly hotels, especially prominent in the so-called Walking Street, but also in other areas. Pattaya also boasts Asia's largest gay scene and is famous for its cabaret shows where transsexual and transgender entertainers perform.
The Thai government has made (and is still making) many efforts to clean up the image of the city, and make it a "family destination." To be clear, Pattaya certainly isn't a "sex-city." Many interesting activities are offered like golf, go-kart racing, theme parks and zoos. One can think about the Elephant Village, the Sri Racha Tiger Zoo, tourist submarine trips, a Tropical Botanical Garden, the Million Years Stone Park, Pattaya Park Beach Resort Water Park, Funny Land Amusement Park, Siriporn Orchid Farm, Silverlake Winery, Pattaya Crocodile Farm, Underwater World Pattaya, the Thai Alangkarn Theater, museums, and so on, and so on.
Besides the man-made adventurous attractions there are an abundance of natural and cultural beauties to be found such as of course the sea, beaches and islands near by, lush hills and forests, parks, lakes and Buddhist temples.
Anyway, sure… when it comes to Thai massage parlors—there's no end to it in Pattaya. However, in contrast, Thai Massage schools are scarce. But if you spend your holidays in Pattaya and want to learn Thai Massage, it's certainly possible.
Hereunder you'll find a list of Thai massage schools available in Pattaya that offer Thai Massage training courses. If you'd like more details about a listed provider, you may click on the name of the school or teacher. For detailed filtering visit our Training in Thailand page.
Katesiri Pattaya International Beauty School was founded in 2005. The objective of the school is to train effective beauticians. They also offer a Thai Massage program.
[Read More...]
[Read More...]
The Ruenmai Massage School is located in Central Pattaya, Chonburi. Provides vocational training in Thai Massage, Aromatherapy, Swedish massage, Foot Reflexology, and more. Levels offered for beginne
[Read More...]
The school from Khun Patthamaporn "Pat" opened January 2018. Unfortunately, we couldn't find neither a website or Facebook page. We supply an article from the PattayaPeople.com website for m
[Read More...]
SPA Cenvaree operates many Spa & Wellness centers across Thailand. The Academy trains Thai therapists, providing them with anatomy knowledge, treatment skills, guest service and spa standards. Cou
[Read More...]
The Thai massage school and TARALA spa in Bangkok offer a wealth of both Thai and Western bodywork and massage training course modalities.
[Read More...]
The Thai Massage Development School Pattaya has a variety of massage treatments to offer. The place offers Thai Massage, Aromatherapy, Hot Oil Massage, Foot massage, or Foot reflexology. They also off
[Read More...]
This Thai massage school neither has a website nor Facebook page but can be found on FourSquare. Info: 75/14-15 Pattaya Saisong (Pattaya), Bang Lamung, Chon Buri, Thailand
[Read More...]
The Oriental Massage and Training Center is located in Pattaya South and offers a variety of health massage services such as Traditional Thai massage, foot massage, aromatherapy massage, Thai herbal c
[Read More...]
The Thai Profi Thai Massage School in Pattaya is clearly set up for Russian students. The website is in Russian only.
[Read More...]
A Thai Buddhist temple in Pattaya that offers Thai Massage training also.
[Read More...]
---
---
Related Topics