Published | Updated February 27, 2019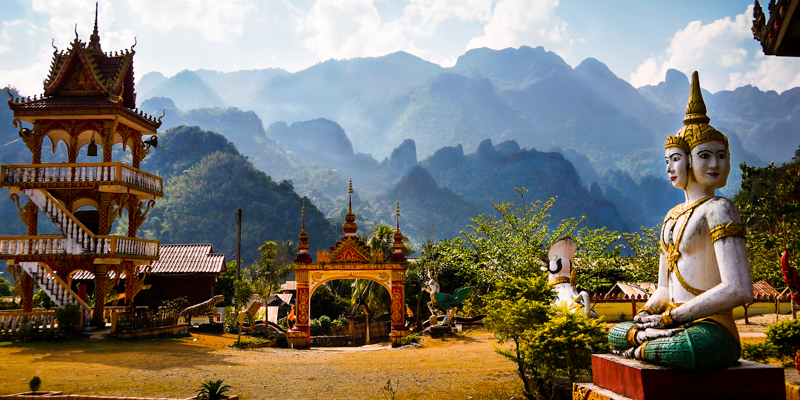 The Thai Massage Circus is a yearly returning Thai Massage immersion event near the Kuang Sii village in Laos and is founded and organized by Arno L'Hermitte who is a physiotherapist, osteopath, and Sunshine Network Thai Yoga Massage teacher.
A maximum of forty students spend four weeks together, meet up, learn and train with like-minded spirits and with a variety of international Yoga and Thai massage instructors and therapists.
The team of teachers, trainers and therapists changes every year, so one needs to visit the website to see who's coming and what is offered at the next Circus occasion.
Yet, as Arno L'Hermitte is one of the creators of Osteothai and a Thai Massage teacher rooted in the Sunshine Network lineage from Asokananda, you may expect Sunshine based Thai Yoga Massage training and Osteothai workshops.
Besides that, there are always instructors from other bodywork disciplines invited, which give participants the opportunity to get acquainted with modalities that "touch" Thai Massage, like as for instance Yoga and Acroyoga.
The location where the happening takes place (near Kuang Sii, Laos) boasts a magnificent natural environment with forests, rivers, waterfalls, and a national park, and is located about 30 km from the historical city of Luang Prabang.
The Kuang Sii village itself is surrounded by tropical forests and lies between two rivers which counts several natural pools and private beaches.
The costs for the event are $2500 (price for 2018), which surely isn't a "budget Thai Massage course" taking into account you'll still need to pay for your ticket to Laos. Yet, fair enough to mention that four weeks of accommodation, meals, recurring local transport (to Luang Prabang), and courses & workshops are included.
For all other local facilities like laundry, phone, Internet, transport, and electricity including other info like what to bring with you and visa requirements, you may check out the Thai Massage Circus website which supplies all the necessary details.
In 2017, the Thai Massage Circus celebrated its 10 years anniversary and as from 2018 the Circus Village hosts also other immersion events apart from Thai Massage.
---
Travel Support Services
Planning to go to Asia? Or perhaps already there? We help you to find the best deals on transport and accommodation. TraditionalBodywork.com is an affiliated partner of renowned travel service providers Agoda, 12Go Asia, and Jetradar. When purchasing from one of these providers we earn a referral fee which helps us to keep our website running.
Agoda is a fast growing online travel booking platform and offers over 2 million accommodation options worldwide for all budgets.

12Go.Asia is a large online travel agency, offering online booking of tickets for ground, water, and air transport services in Southeast Asia, including India and Australia.

Jetradar.com is a global travel search engine that allows users to compare airline prices and offers, specializing in low-cost airfare.
---
Related Articles