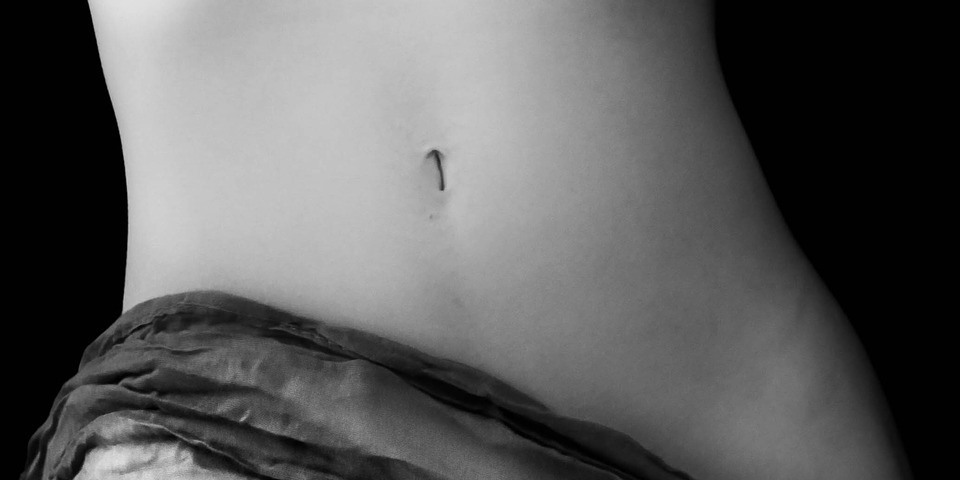 In this post, we're going to take a look at a variety of abdominal and genital massage and bodywork modalities applied and taught in the United States (USA). You might ask yourself what abdominal and genital work has to do with one another, but generally these two modalities can hardly be considered separately.

eBook | Click for details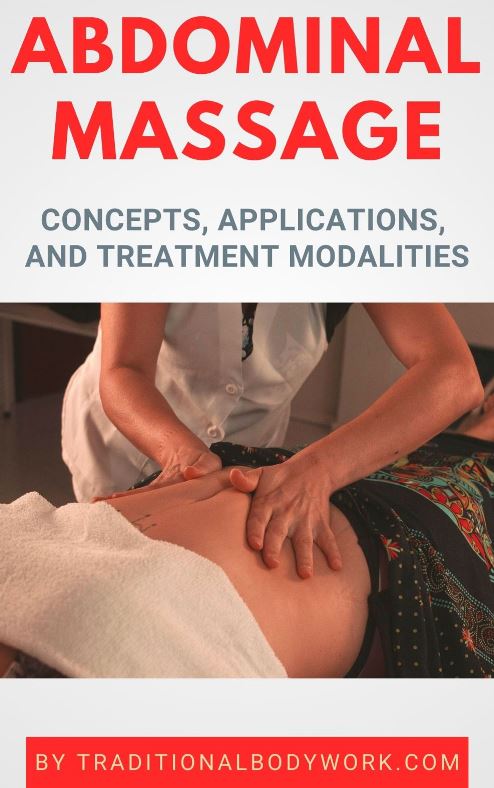 Most of the genital and reproductive organs are located in the abdominal cavity — with exception of the penis and testicles, and as such, genital work is very often directly connected with abdominal massage work. Of course, the other way around may be different; not all abdominal work is about the genital or reproductive organs.
Abdominal and genital massage and bodywork predominantly addresses issues like reproductive health, emotional and trauma release, gastrointestinal problems including digestive disorders, emotional and physical sexual healing, and pelvic disorders, but also, for instance, back problems, and respiratory and nervous system dysfunctions, to name a non-exhaustive list of pathologies that may be tackled.
But then, let's take a look at the most popular treatment and training modalities practiced and taught in the U.S. The list is in alphabetical order.
Chi Nei Tsang Abdominal Massage
Chi Nei Tsang Massage is an internal organs Massage developed in Thailand by Master Mantak Chia combining traditional Chinese, Thai Massage, and Taoist meditation techniques while focusing predominantly on the abdominal area.
It's strongly focused on the assumption that unresolved emotional issues are stored in the digestive system and that insufficient emotional digestion is one of the main causes for a variety of illnesses. Subsequently, Chi Nei Tsang aims at clearing energy blockages within the abdominal, pelvic and thoracic area and in the organs, thereby improving the free flow of blood supply and internal energy, proper functioning of internal organs and vital functions, and emotional balance.
Holistic Pelvic Care™
Holistic Pelvic Care™ is a bodywork modality created by Tami Kent. This treatment is based on gentle inter-vaginal massage, myofascial release techniques, trigger point work, visualizations and restorative breathwork, which aim at physically and energetically realigning the pelvis.
Lingam Massage
Lingam Massage was developed by Joseph Kramer in the 1980s in the USA, and can be considered the male version of a the Yoni Massage. A Lingam Massage is a full-body Tantra or Taoist Massage, but focuses primarily on the male genitalia.
It includes acupressure on points around the penis, testicles, the inner thighs and groin, and the therapist usually also works around the anus, perineum and internally or externally with the prostate. The goal is to release tensions and blockages within the abdomen, anus, anal canal (rectum) and genital organs with the aim of physical health benefits and/or releasing emotional and sexual trauma.
Maya Abdominal Massage
Maya Abdominal Massage is an internal organs and abdominal massage technique, which can be applied for adults, men and women, and for children. Its main objective is to guide and realign the internal abdominal organs into their correct, proper position to promote optimal functioning, health and well-being.
Mercier Therapy
Mercier Therapy is a abdominal internal organs bodywork modality created by Dr. Jennifer Mercier. It's a non-invasive deep pelvic organ visceral manipulative technique for women to mobilize the reproductive organs, restore a healthy blood flow and optimal pelvic organ function.
The goal of the Mercier treatment is to remove organ restrictions and restore movement between the organs and surrounding structures to enhance their natural function. This gentle and non-invasive technique is beneficial for women of all ages.
Sacred Spot, Prostate and G-Spot Massage
The Sacred Spot Massage and G-Spot Prostate Massage are often used as synonyms, but, apart from a variety of goals in this treatment, there's also a difference between the two as for how it works for men or women. Learn more about this in our article What are the Sacred Spot and G-Spot Prostate Massage.
Sexological Bodywork
Sexological Bodywork™ was created by Dr. Joseph Kramer and has its origins in Taoist and Tantric philosophical ideas and Asian massage and bodywork practices, blended with modern Western massage techniques and contemporary insights in treating sexual dysfunctions.
The work is a Somatic Sex Education methodology supporting people to connect fully with their bodies and emotions, enabling new experiences with sensations and sexuality. Sexological Bodywork may also include full body and genital massages.
Tantra Massage
Although there are a variety of Tantra Massage applications today, it's generally acknowledged that Tantra Massage, or Tantric Massage, has been developed by Andro Rothe in 1978 in Berlin, Germany.
It's a sensual and erotic massage for men and women, including work with the erogenous zones of the body, such as the mouth, ears, breasts and nipples, inner thighs, groin, the penis, vagina, perineum, and the anus. Some Tantric massage therapists also work internally with the uterus, cervix or prostate.
Taoist Erotic Massage
Taoist Erotic Massage, developed by Dr. Joseph Kramer in the 1980s, is an integration of breathwork, full body massage and erotic touch, including genital stimulation.
The treatment allows to experience bliss, trance-like states of consciousness, and ecstatic unity with the divine in ourselves and others. It's also a modality that can awaken deep emotions and traumas and expose fears, blockages or hidden patterns.
Yoni Egg and Yoni Wand Applications
The Yoni Egg is a semiprecious stone or gemstone carved into an egg shape, polished, and subsequently inserted and carried inside the vagina. The idea behind carrying the stone is that crystals and gemstones are thought to radiate certain frequencies with energetic, healing properties. Additionally, because the body must "clench" the egg to keep it inside the vagina, it is claimed that it automatically strengthens both pelvic floor muscles and vaginal muscles.
Yoni Wands are phallic-shaped crystal tools designed with the idea to transcend the masturbation practice into a more self-loving, emotional and sexual de-armoring, and self-pleasure practice.
Yoni Massage
A Yoni Massage is partly based on ancient Tantric and Taoist spiritual ideas, and was developed by Joseph Kramer and Annie Sprinkle in the 1990s in the USA. Over the years, the various steps of the massage have been refined, and today it's a widely taught and applied vaginal massage modality, across the world.
The treatment has a spiritual Tantric and Taoist focus, with the primary aim to bring a woman's sexuality and sexual creative energy to life. It's an exploration of the woman's genitals and her femininity. A Yoni Massage can also be a therapeutic opportunity for women to open up energetically and spiritually, to de-armor emotionally, releasing traumatic sexual and emotional tensions and frustrations.
---
---
Related Articles