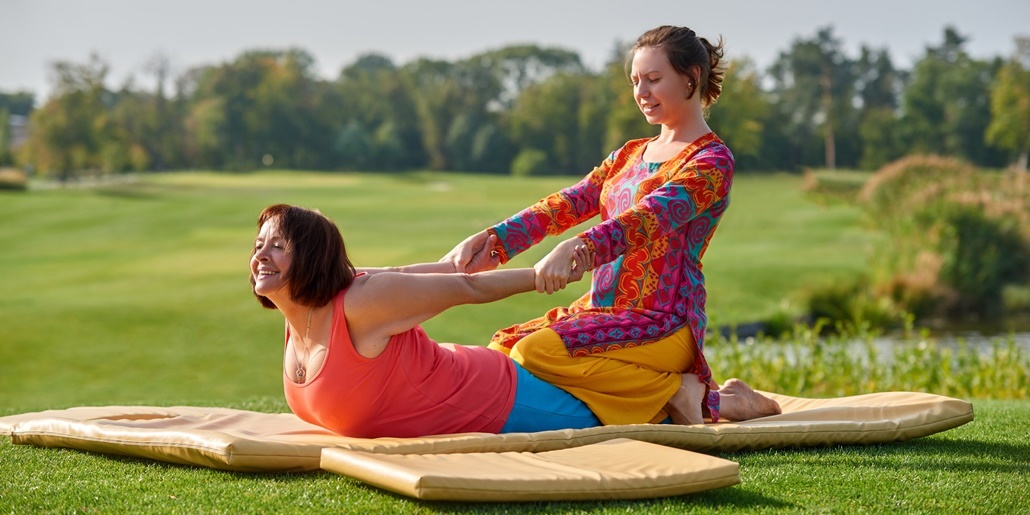 Thinking about Thai Massage mats and mattresses a famous quote from Johan Cruyff (1947-2016) — a legendary Dutch soccer player — comes to mind: "The ball is an essential part of the soccer game." That, perhaps, sounds ridiculous and simple, but as simply truthful as Johan's quotes were, as simple is the fact that a good Thai Massage mat is fairly essential.
In fact, with a good mat, one could say that half the work is done … if you're an experienced, competent, and proficient Thai Massage therapist. Without the perfect mat, well, it becomes pretty hard to do an excellent job, even if you're good at the job.
The Best Thai Massage Mat or Mattress

Our eBook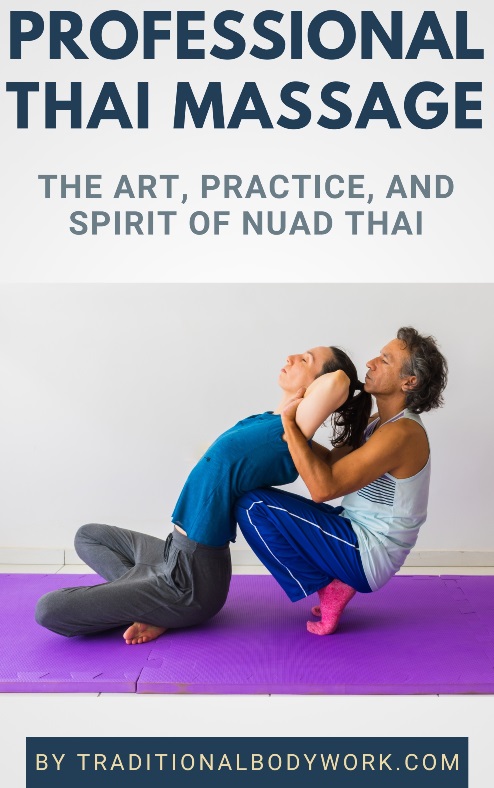 So, Thai Massage mats … it's indeed an issue. Finding a good one is difficult. They need to be soft, but also hard enough at the same time … give way, but not too much … rather precise this thing. Also, not too thick (else it will be tough for the practitioner to make the moves on an uneven level with the floor) and they need to be wide enough for extensive stretches, preferably very wide, on the other hand not too large or heavy if it needs to be portable.
Well, to be honest, wide or not wide depends on the style of Thai Massage. The famous Wat Pho Massage School, for instance, which rather teaches Southern or Royal Style Thai Massage (with actually no big stretches) uses fairly narrow mattresses, let's say, about 80 cm by 200 cm. To be clear, wide mats are actually especially needed in Northern Style Thai Massage — sometimes also called Thai Yoga Massage — or in any style that incorporates wide surfaced Yoga-like stretches.
Mind that the Thai Massage schools in Thailand often use real mattresses (suitable for Thai Massage) and when they wear out or get too dirty they just buy new ones. They do use covers by the way, but finally they do get worn out and a bit filthy. The thing is, those kinds of mats are easy to acquire in Thailand, and cheap, so no problem there, and moreover, they don't need to be portable.
In the West, practitioners and teachers prefer light, portable, washable mats with removable covers, rain and water proof, and with some kind of a durable foam or latex filling, usable in a fixed setting (at home, in a practice, or school) or mobile to give sessions or training courses somewhere else, at other locations. Moreover, mind that if you give Thai Massage training courses, you will need a bunch of them.
As for hygiene and durability, organic cotton, sheep wool and the like may be nice, but they're prone to become bug-invested over time (mites, and so on) and the inside filling may get knotty, knobbly, and gnarled.
Where to Find Suitable Thai Massage Mats
In any case, when I started as a practitioner, I let my personal mats custom-made in Chiang Mai (waterproof, thin enough, 8kg, and 1 meter by 2 meters in size, with a little 50cm by 50cm side-pad for me to sit/kneel on, or to lay the arms on of the receiver). I would carry them with me home after visits to Thailand, but never bought more than three in total all the years I went to Thailand. Here you can see the mats I bought, see the photos at Chiang Mai Locator. That's by the way not the shop where I bought them.

Our eBook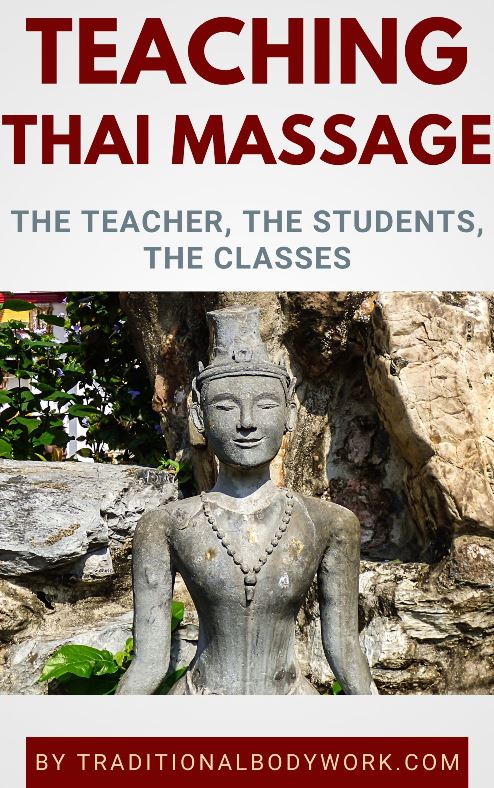 Nevertheless, for my students I created another solution (not so professional, and I don't think it will suit every teacher). I used very thick yoga mats (3 cm high by 60 cm wide by 200 cm long) and glued two of those together with strong adhesive tape on the bottom side, making mats of 200 cm X 120 cm. That always did the job, but of course, I couldn't offer my students to buy mats from me, or somewhere else or so. They always needed to find mattresses themselves, so to say, for at home, teaching, or for their practice.
I also used to work with gym-mats… you know the very large ones in gyms and other athletic facilities, often very high (5cm to 10 cm) and large (2 meters by 2 meters or so), and I would make a complete, large platform, putting them all along together. That's a great solution, by the way; but you need to have access to such facilities (although you can also buy them, of course, which would be suitable for a fixed training or practice location).
So, if you look around at massage products & supplies or sports shops and outlets in your own neighborhood or region, you may succeed, some way or the other. Or maybe you even know a mattress or mats factory that can produce them custom-made for you.
Whatever the case, suitable mats — narrow or wide — are hard to find on the commercial market, may that be online shops or local shops. Very often, floor mats and mattresses are catered to Yoga, Shiatsu (Japanese Tatami like Futons), or to camping and trekking activities.
Sure, there are offerings to be found if you search for "Thai Massage mat" on the Internet, but just go into it, for instance at Amazon, and you will see that they often don't do the job: too small, too thick, too thin, unsuitable surface or filling, not washable, or simply a guest bed or so. Now and again, there are exceptions, but in general, it doesn't matter where you search — it's tough; just as an example look at other major online product suppliers such as Alibaba or Massage Warehouse.
Locally in Thailand
In Thailand, you can find good portable mats for sale at local Thai Massage schools, such as those of the Omsala Thai Massage school. By the way, Ohm Rinraya, the lead teacher, is very sweet and nice, and I'm sure if you'd ask her, she could tell you where to buy those in bulk. I think those are pretty okay mats, by the way.
The mat described on Omsala's website: "Thai Massage Mattress: Thai massage mat made from compressed thick foam grade A. Mat size is a 2 meter long and 1 meter wide x 2.5 cm thick and it folds once and rolls up easily to fit into the custom carry bag. Plenty of room in the zippered carry bag for sheets, oil, and small props. Wide strong shoulder straps and strong sew up allow for easy and comfortable transport. The bag is rain proof and the cover of the mat can be washed easily, good for oil massage as well. Wide 1 meter – Long 2 meters – Tick 2.5 centimeters – Weight 6 kg – 3,000 THB"
Of course, you could go to Thailand and look around to find a supplier, preferably up in Northern Thailand in Chiang Mai… or even in Bangkok at the famous Chatuchak Weekend Market. Okay, I know, that's perhaps quite a drag, but on the other hand, well, mats ARE very important.
In Conclusion
It isn't easy to find good Thai Massage mats. Thai Massage on the floor requires a very specific kind of underground and the market rarely supplies "the right thing." Yet, by looking around meticulously it is possible to succeed online like on Amazon or locally in your own neighborhood with sports shops, depending on what you need exactly as a practitioner/therapist or instructor/teacher.
In Thailand, there's certainly more choice, both in various kinds of mats and mattresses for fixed locations or those that are portable, even if it means that you will most likely need to order them custom made or buy them from local Thai Massage schools and trainers.
Well, I hope to have given you some insight in the Thai Massage mat-question with this post, and I wish you all best luck finding the mats or mattresses that do the job for you.
---

---
---
Related Articles