---

Tap or click for Table of Contents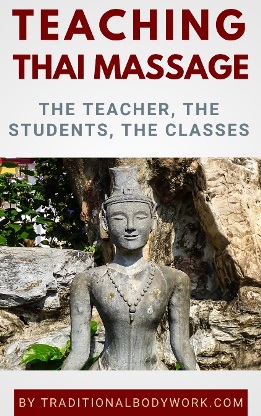 Written by: Marce Ferreira
First published: September 2020
Last update: September 2020
Length: 136 pages
Book content: more details
Table of contents: preview here
Readability: device support
Formats: pdf, epub, mobi
Delivery: download and email
Suggested price: US$ 7
Minimum price: US$ 4
Buy more books at once? Learn more about our special priced
eBook bundles
.
What Is this Book about?
This book is a practical guide and companion to teaching Traditional Thai Massage, based on my personal teaching experiences in various countries across the world.
I take an in-depth look at the different aspects of teaching Thai Massage: the teacher training, the teacher, the students, and the classes.
The book is aimed at Thai Massage students and therapists who want to start teaching Thai Massage, but it also serves as a healthy reflection for already active Thai Massage teachers.
Table of Contents
PREFACE
INTRODUCTION
~ Why Become a Thai Massage Teacher? 7
TEACHER TRAINING
~ Types of Thai Massage Teacher Training 11
~ Should You Study Thai Massage in Thailand? 14
~ Teacher Training in Thailand – Sense or Nonsense? 18
~ Thai Massage Training Benchmarks 21
~ Spiritual Aspects of Thai Massage Training in Thailand 25
~ When Can You Start Teaching Thai Massage? 27
THE TEACHER
~ Independent, Freelancer, or Employee? 31
~ The Nomadic Thai Massage Teacher 34
~ Promoting Yourself and Your Courses 36
~ Legal Aspects of Teaching 37
~ Accreditation of Your Courses 39
~ Where to Teach Your Classes? 41
~ Your Thai Massage Style and Lineage 45
~ Physical Requirements and Strains 47
~ Managing the Thai Massage Classroom 52
~ Avoiding a Teacher Burnout 55
THE STUDENTS
~ Why Do People Study Thai Massage? 61
~ Cultural Differences between Students 65
~ Cultural Differences with Experiencing Pain 67
~ Behavioral Aspects in the Classroom 70
~ The Physical Fitness of the Students 72
~ The Emotional State of the Students 74
~ The Practitioner Code of Ethics 76
THE CLASSES
~ Intimacy and Intimate Aspects 80
~ Spirituality and Teaching Thai Massage 83
~ Mystification and Spiritualization of Thai Massage 85
~ Teaching Materials, Books and Tools 86
~ Thai Massage Mats and Mattresses 88
~ The Structure of a Thai Massage Class 92
~ Setting Up a Thai Massage Foundation Course 93
~ Setting Up an Advanced Thai Massage Course 95
~ Thai Massage Hybrids and Integrations 96
~ Teaching Methods and Techniques 99
~ Warming Up, Cooling Down, and Complementary Bodywork 101
~ Teaching Anatomy to Your Students 102
~ Do You Need to Teach the Sip Sen Energy Lines? 105
~ Teaching the Sen Energy Lines 107
~ Group versus Private Teaching 110
~ Teaching Thai Massage Online 112
~ Tuition Fees and Payment Structure 115
~ Handing Out Course Certificates 117
SUPPLEMENT
~ Continuing Education and Thai Massage 119
~ Thai Massage, Courses and Licensing in the USA 121
~ The Spirit of Giving Thai Massage 124
~ Metta Meditation and Thai Massage 126
~ The Wai Khru Ceremony 127
~ The Four Attitudes | Karuna, Metta, Mudita, Upekkha 131
~ Buddhist Ethics and Thai Massage 133
~ Practicing Dhammanamai 134
APPENDIX
How Do You Receive this eBook?
We work with Gumroad, a reputable and established digital downloads service provider and payment processor. After buying this book you can immediately download it in one or all formats of your choice (pdf, epub, mobi). We will also send you an email with a link to the downloads so that you can re-download the eBook anytime you'd like to.
Device Support
Our books can be read on all common devices, such as desktops, laptops, notebooks, smartphones, tablets, and eReaders, including the Kindle eReader. All regular OS are supported, like, for instance, MS Windows, Apple Mac OS, and Google Android.

PDF files are best read on desktop computers, laptops, notebooks, and tablets, but can be easily read on other devices also. EPUB files are suitable for all generic eReaders. The MOBI file format is supported by many eReaders also, but it's specifically suitable for the Kindle eReader.

Smartphones and tablets can access all file formats we publish, but depending on the screen size and apps available or downloaded, either PDF, EPUB or MOBI will be best.

After buying an eBook you can immediately download all formats or, if you use a Kindle, directly send the PDF and MOBI file to your Kindle device using your Kindle email address.