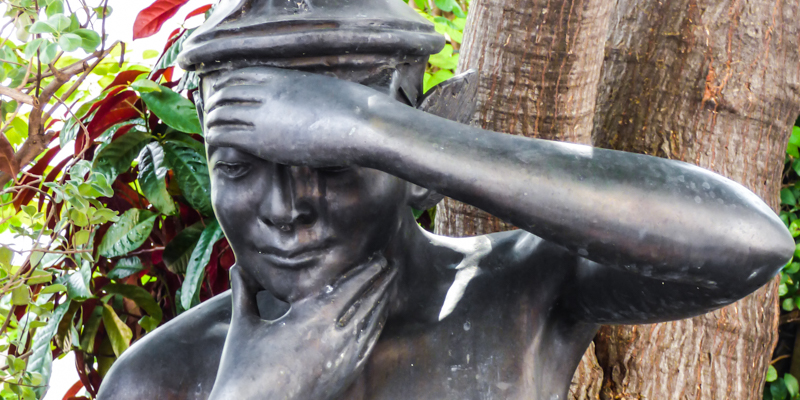 © Image from TraditionalBodywork.com
Not surprisingly, Thailand boasts the highest concentration of Thai Massage and Thai Healing Arts trainers in the world. When it's about choice of training courses, the amount of offerings is simply dazzling.
In fact, you can get it as you wish: short duration courses of only 3 hours to long study programs of 800 hours (about 26 weeks/ 6 months) or even more if you fancy full-fledged Thai Traditional Medicine courses like for instance Traditional Midwifery, Applied Thai Medicine, or Thai Pharmacy, some of which end with a college degree.
But… let's not get overwhelmed by the sheer abundance and just take a look at the most common trainings offered for beginners and more advanced students.

eBook | Click for details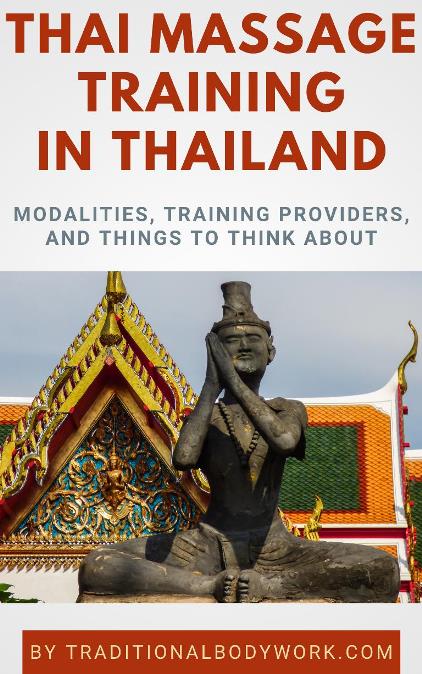 First of all, Thai Traditional Massage courses are the most common trainings offered, followed by Thai Foot Massage, Thai Herbal Compress Massage, Thai Oil Massage, Facial Massage, Neck, Head, & Shoulder Massage, and the like.
Then you have the more specialized trainings like Thai Abdominal Massage (Chi Nei Tsang), Thai Genital Detox Massage (Karsai Nei Tsang), Thai Fire Therapy (Yam Khang), and Tok Sen, to name a few.
Most of the time training course durations are between 1 and 5 days (with 5 or 6 class hours per day), and with prices ranging from roughly 1,000 Baht to 2,000 Baht per day up to 10,000 Baht for 5 days.
A step up we see courses offered with a duration of about 10 to 30 days, with prices usually ranging somewhere between 10,000 and 30,000 Baht.
Mind that the effective study time of courses longer than a week is often less than the total time span necessary to attend the courses, because of holidays and weekends. Then again, although many schools offer classes from Monday to Friday only, plenty of others also run classes on Saturdays or even Sundays, say — non-stop.
To calculate training costs correctly you need to take into account if accommodation and/or food is included, and also calculate back to costs per hour. Additionally, you need to consider transport costs to the school or training facility if you don't stay on-site.
Quality of training varies greatly, all depending on study materials like books, manuals, mats, and the like, student group size, study environment, teacher qualifications, experience and intention, and foreign language proficiency of the teacher, to name the most important factors.
Anyway, if it's just about tasting a bit of Thai Massage, it doesn't truly matter if you enroll for a course with a duration of one or two days, and perhaps then costs will be less of an issue.
But if you aim at giving real massages to family and friends or perhaps even working professionally, you should definitely consider to start with a training of minimum 5 days, preferably 10, and… repeat the course a few times. In this scenario budget and costs become way more important.
If you're really seriously thinking of starting a Thai Massage practitioner career, you will soon see that the amount of techniques shared and the theoretical and practical application of working with, for instance, the Thai Sen Energy Lines takes a lot more than a week or two of training, not even to speak about the amount of practice needed to become proficient.
Thorough research and preparation is necessary in order to find the right training school in terms of "perfect fit" for you and in terms of time and costs.
In any case, we at TraditionalBodywork.com aim a just that — supporting you in your search and choice with a complete overview of Thai Healing Arts schools and trainers in Thailand, supporting articles, reviews, tips and advice.
---

---
---
Related Articles