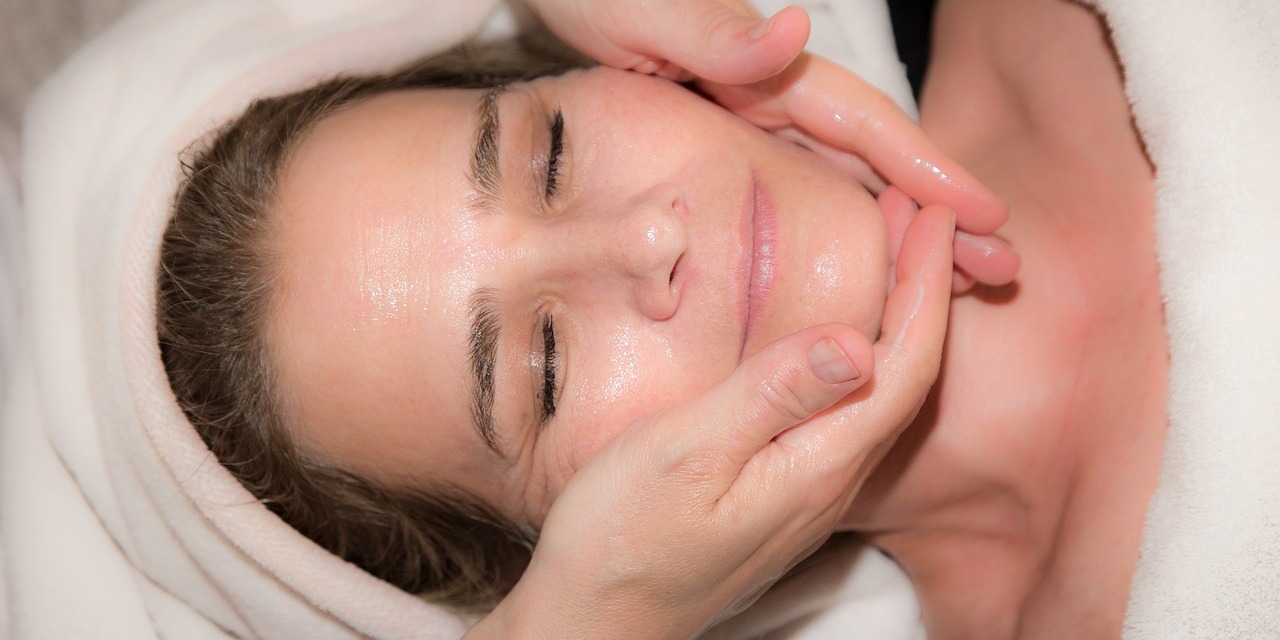 A Thai Facial Massage treatment can consist of several techniques being applied: reflexology i.e. acupressure, peeling, cupping, herbal mixtures and essential oils applied as masks, compresses, packs, scrubs, and of course our good old massage techniques, such as rubbing, pulling, kneading, pressing, circular movements, squeezing, and so on.
We do find typical Thai elements in the facial massage treatments offered in Thailand, but many are basically a mixture of both Western and Eastern facial treatment styles.
We see that the global demand for beauty, wellness and spa treatments has increased significantly in past years, and subsequently we find quite some Thai Massage schools and training centers in Thailand that offer Thai Facial Massage classes and courses.
In this article we take a look at the offerings of training in Facial Massage and in other Facial Treatments in Chiang Mai.
Ban Sabai Resorts & Spa
Ban Sabai Resort and Spa is a full service Spa and Wellness center that additionally offers a broad variety of training classes, Spa, Detox and Yoga Programs, including Vipassana and Mindfulness meditation retreats.
Their Thai Herbal Facial Massage takes 12 hours over 2 days or 20 hours over 3 days and is positioned as a spa treatment modality. The training is based on using gentle manipulation of the connective tissues and muscles of the face, neck, shoulders and scalp to release stress, tension, and toxins. Other goals are to achieve a firmer skin by minimizing fine lines, releasing impurities, and normalizing moisture balance.
Chiang Mai Spa Academy
The Chiang Mai Spa Academy is a training school mostly focused on the education and training of beauty and spa therapists. The academy offers a vast range of Thai Bodywork and Western Spa courses.
As for Facial Massage, the school offers various options – an Intensive Facial Treatment Course (30 hours), an Advanced Facial Treatment Course (120 hours), Lymphatic Drainage for the Face (15 hours), a Detoxifying Facial Massage Course (15 hours), and an Anti Aging Facial Massage Class (15 hours).
Health Lanna Spa
The Health Lanna Spa is a luxury day-spa offering a range of both Thai and Western Spa & Wellness treatments. Additionally, the Spa has a Spa Training Academy connected to it.
Their Facial Massage course takes 4 days (24 hours) and is positioned as a beauty course, covering professional facial treatments performed in spas and salons. A prerequisite for the course is their General Thai Massage Course.
The course curriculum is as follows: an eye and lip cleanse, double cleanse, skin analysis, toning, exfoliation, steaming, facial massage, masks and moisturizing.
Additionally, the following topics are covered in the course syllabus: skin structure, anatomy and physiology of the muscles, bones and lymphatic system of the shoulders, neck, head and face, health and safety, client consultations, skin types and how to treat them, contraindications, cleansing, deep cleansing, toning, exfoliating, mask mixing (powders and active ingredients) and application, facial massage, shoulder massage, aftercare advice, retailing, product advice and pricing.
Loi Kroh Massage School
Loi Kroh Massage is one of the best known Thai Massage schools in Chiang Mai. Apart from their in-depth Thai Massage training programs, the school is renowned for their Reusi Datton courses, Chi Nei Tsang Abdominal, and Thai Genital Detox massage training programs.
The Thai Facial Massage is designed to teach you how to take care of the skin in order to retain its beauty and youth. The techniques applied also use fresh fruits such as tomatoes, oranges, tamarind, white mud, and sesame (1 day, 5 hours).
Additionally, there's a Special Facial Massage course where you also learn how to use hot and cold Thai Herbal Ball Compresses on the face (1 day, 6 hours)
Namo
Namo offers Thai Massage and Yoga classes, and a variety of other Massage & Bodywork courses. The school focuses mostly on short duration training courses, ranging from 1/2 day to 6 days.
The school offers a Therapeutic Head Massage Course (2 days, 12h) concentrating on treating the shoulders, neck and head (including the face).
Ong's Massage School
Ong's Massage School offers a broad diversity of courses with a duration usually from 1 up to 5 days. Training courses range from Thai Massage, Herbal Compress Massage, Thai Yoga, Abdominal Massage, Thai Foot Massage, and so on, to Western Spa training modalities such as Lymphatic Drainage Massage, Nail Painting, and Waxing, and more.
Ong's school runs a Facial Massage course with a duration of 2 days.
PANVIMAN Spa Academy
PANVIMAN Academy offers education in both Thai and Western massage, bodywork and beauty therapies. The academy aims at training that is focused on the Spa, Holistic and Aesthetic Therapy industry.
In their beauty therapy section the academy offers a Basic Facial Treatment Class taking 60 hours.
Sabai De Ka
The Sabai De Ka Massage School offers a broad range of Thai Massage lessons and classes. Additionally, some Western spa style modalities like Foot & Hand Treatments, Hot Stone Massage, and Spa Scrub, Wrap or Mask Treatments, are offered also.
The school runs a Herbal Facial Massage Course (1 day, 5 hours), where students learn how to prepare various kinds of herbs to use for a facial massage, finger techniques, cleansing techniques, scrubbing, massaging, moisturizing and masking. During the training you will only use natural, non-chemical and organic herbal products. The idea is that you will be able to perform a 1 to 2 hours facial massage after completion of the course.
Then there's a Head, Face, Back, Neck, and Shoulder Massage course (3 hours), where after completion, the students will be able to perform a 30 minute massage.
Siam Spa Health & Beauty
Siam Spa Health & Beauty specializes in health and beauty Thai spa training. Both Thai and Western style spa courses are provided.
The academy offers a Facial Treatment Intensive Program available in a 30 hours and 60 hours variant. The curriculum consists of practice, knowledge of the anatomy of the face, skin type analysis and skin care maintenance. Additionally, spa management techniques, such as creating a spa menu and pricing knowledge is taught.
In the Waxing Treatment course (18 hours) equipment use and knowledge of the products used in waxing treatments (including working on the bikini line) and face and eyebrow procedures are taught.
Spa Mantra
Spa Mantra is a Thai Spa and Wellness center. The Spa also runs a Thai Massage academy with Western, Thai style, and Lanna Folk Healing training courses and workshops mostly focused on the spa industry.
The Facial & Body treatments program takes 15 hours (3 days) and learns you a Thai Herbs and Vegetable facial therapy including cleansing, toning, scrubbing, hot and cold compresses, massage as well as a mask and moisturizing treatments. Additionally, training of a body scrub treatment is also part of this program. This course also offers a Teacher Training option (180 hours).
Thai Oasis Spa & School
Oasis Spa is a group of Spas running branches in Chiang Mai, Phuket, Pattaya, and Bangkok. The academy is located in Chiang Mai.
The school offers four Facial Treatment courses with different durations – 3 hours, 6 hours, 12 hours, and 18 hours. The longer the course, the more complete the treatment learned.
The 18-hours course (3 days), for instance, learns students a complete facial treatment including cleansing, toning, scrubbing, massaging, masking and moisturizing and learning to identify the different types of skin in order to determine appropriate facial treatment products.
Additionally, there's also a thorough Facial Treatment Massage course taking 30 hours (5 days). The difference with the courses mentioned above is that this course also focuses on massage techniques.
The School of Massage for Health (SMH)
The School of Massage for Health offers a vast array of Thai Massage courses and other Thai bodywork programs. Also offers teacher training programs. As for facials, the school offers a Facial and Pressure Point for Face & Head program of 2 days and one of 3 Days.
TTC Spa School
The TTC Spa School offers specialty massage courses, Spa & Wellness training courses, and Thai therapist training. The school has branches in Chiang Mai, Bangkok, and on Koh Chang island.
The school offers a Facial Massage Training Course with a 15 hours duration.
---

---
---
Related Articles
---