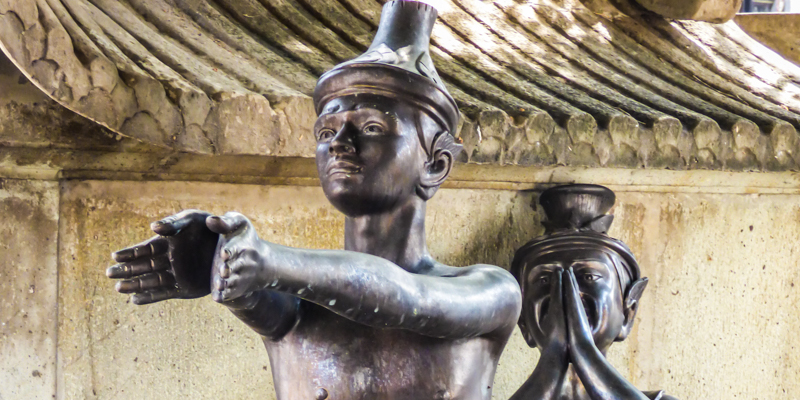 © Image from TraditionalBodywork.com
Ruesi Datton (Rue-Si Dat Ton), also called Traditional Thai Yoga, is a traditional bodywork modality of the Thai Healing arts family.

Our eBook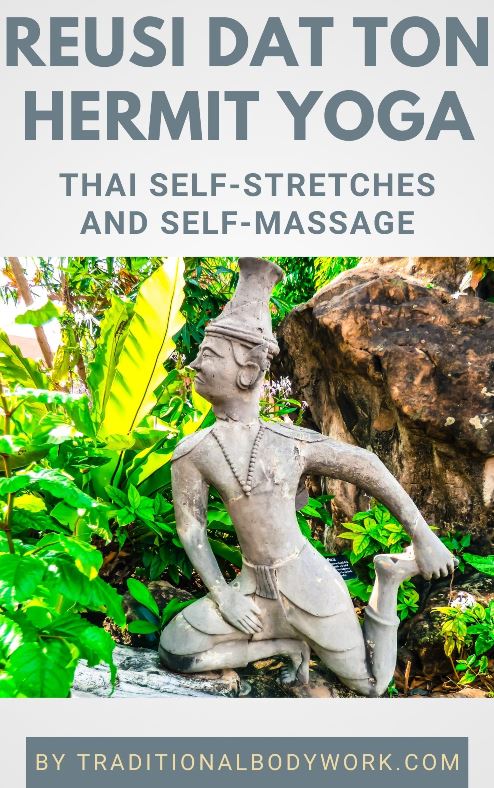 The exercises consist of Yoga-like stretches, self-massage, chanting, meditation, breathing exercises, and a variety of positions, poses, and movement sequences which are done standing, sitting, or lying down.
In Thailand, and increasingly also in other countries, Reusi Datton gradually reemerges in the spotlight becoming more popular and sought-after. It's a set of bodywork activities not only beneficial for the practitioner's health and overall well-being, but also a very graceful art form combining the flow, dynamics and techniques of Traditional Thai Dance, Thai Massage, Indian and Tibetan Yoga.
Below we list and briefly discuss the various Reusi Dat Ton training providers we've spotted in the United States (USA).
CATA – New York
The Center for the Advancement of Therapeutic Arts in New York offers weekly classes (Tuesdays, 9:00-10:00 am) of Reusi Datton (they name it Ruesri Dat Ton). Classes are given by Eric Reinhold.
Devanadi School
The Devanadi School from Tanya Boigenzahn, located in Minneapolis, Minnesota, offers 'Thai Rishi Yoga' as part of their Thai Yoga Bodywork Level 5 – Special Populations program.
Jennifer Vanderburg
Jennifer, associated with the Naga Center Teacher's Guild and based in Missoula (Montana), offers Reusi Datton training as part of her Traditional Thai Massage programs and courses.
Lek Thai Yoga Therapy
Lek Stark (Ramphoei Yimyaem) is a Thai native who offers a course (in New York) of 10 hours of The Hermits Self-healing Yoga consisting of 20 positions of Thai Hermits Yoga Self-healing practices and meditation. Book and certificate included.
One Thai Spa
One Thai Spa in Little Rock, Arkansas offers Thai Yoga (called Rusie Dutton by the school) group training classes.
The Thai Yoga Center
The Thai Yoga Center offers a so-called SomaVeda® Thai Reishi Hand Yoga (Reussi Dottan) training program. This work is especially focused on correcting and balancing the harmful effects of injury, trauma and repetitive stress causing deterioration of the hands, arms and joints including wrist, elbow and shoulder.
Thai Traditional Bodywork and Yoga
Phillip offers a daily morning practice of Thai Yoga (Ruesi Dat Ton) in Falls Church, Virginia. For in depth study of Thai yoga one can join a workshop or private instruction. Teachings are based on Master Kong's Yoga Massage School Thailand Metta.
Thaiyurveda Institute
The Thaiyurveda Institute from Camille Western in Carmel By The Sea, California offers a Thai Massage for self course. Students learn how to use Thai massage techniques to gain flexibility and relaxation using Yoga stretches, pressure points, joint mobilization, and meditation.
Studio Cleveland
The Studio Cleveland (Cleveland, Ohio) from Sarah Cheiky offers a Thai Herbal Compress Massage & Leusii Datton Self Care Certification Course of 20 Hours.
Touch Alchemy
Touch Alchemy Thai Massage (Baltimore, Maryland) is run by Gregory Oed. Gregory offers private and group training of the Thai Hermit's twists.
Two Birds
Two Birds Thai Bodyworks from Peter Bird and Melanie Eldridge offer training traveling between the Arizona desert and Minnesota's north shore of Lake Superior. Their private Hermit Yoga sessions take 90 or 120 minutes.
Wells Yoga
David Wells from Wells Yoga is one of the best known Reusi Dat Ton practitioners and instructors in the USA. David offers a broad variety of Thai Yoga Reusi Datton workshops and programs throughout the country.
Earth Harmony Spa & Wellness Eco Retreat
Earth Harmony in Tucson, Arizona offers Reusi Dat Ton (Thai Monk Yoga) in their Traditional Thai Yoga Massage Therapy Level II courses.
---
---
Related Articles