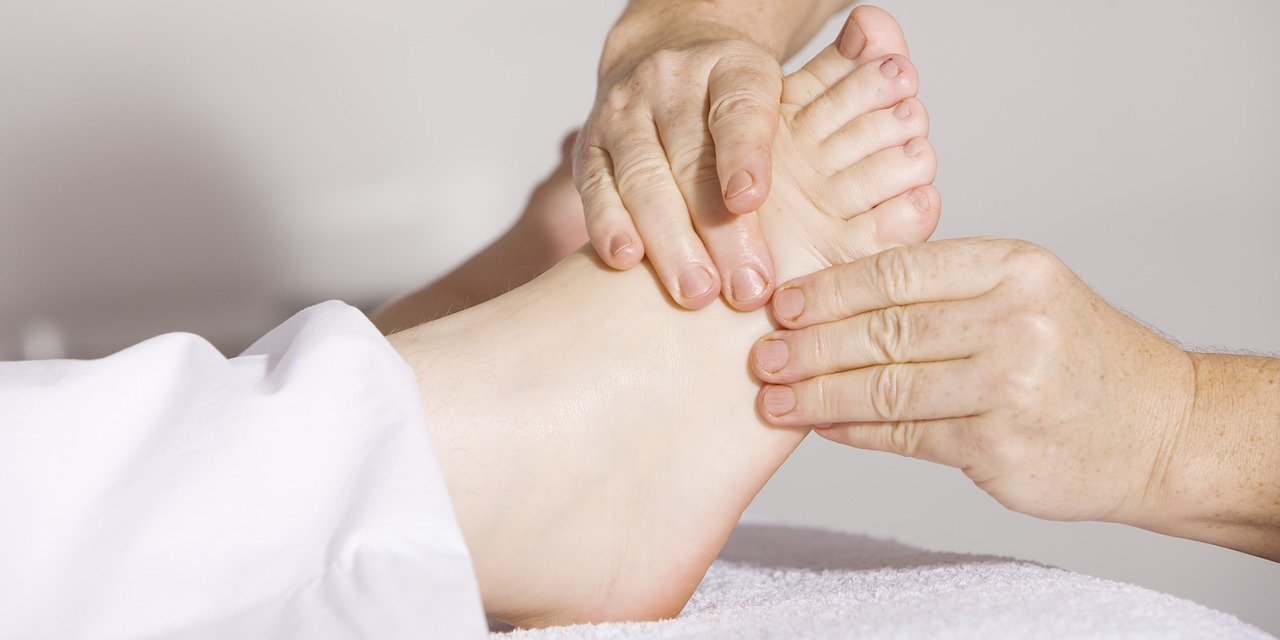 Thai Foot Massage is usually a combination of massage and reflexology techniques that aims at opening the energy meridians (the Thai Sib Sen) and stimulating overall blood circulation and the flow of vital energy. Mind that "Foot Massage" in Thailand is often extended to the calves, upper legs, and finished with a head, neck and shoulder massage.
The Foot Reflexology part is sometimes Chinese acupressure points based, then again, much in the Thai Healing Arts is a blend of Indian, Chinese, and local indigenous healing traditions, so don't be surprised of "foreign" influences.
In Thailand, you will find a whole lot of Thai Massage schools that offer Thai Foot Massage & Reflexology courses in addition to their standard Thai Massage trainings. The courses are quite popular because they usually take just a few days of training, while being an effective relaxation and healing modality.
My personal experience is that many massage therapists either start with learning Thai Foot Massage as a low profile start to a Thai Massage therapist career or specialize in foot massage besides general full body Traditional Thai Massage.
In this post, we'll take a look at the best Foot Massage and Reflexology training classes in Chiang Mai. Note that there are more than sixty Thai Massage schools and trainers in the city that offer these trainings (with or without reflexology), thus to come to a list like this is not that easy.
We have taken into account the length of the studies, skipping the one or two days courses, taking into account that the longer the study is, most likely the better the training. Mind that some courses include reflexology acupressure training while others focus only on massage.
Note: naturally, the courses that don't cover reflexology are shorter than those that include learning an extensive set of acupressure points. Thus, taking that into consideration, a 3-day Thai Foot Massage course (without reflexology) can be as good as a 5-day training that includes Reflexology.
Watpho Thai Traditional Medicine School
The Watpho branch in Chiang Mai offers a Thai Foot Massage and Chinese Reflexology points course of 30 hours.
Health Lanna Spa
Health Lanna Spa offers a 30-hours (5 days) Reflexology course based on Chinese acupressure points combining it with Thai Massage and Thai Foot Massage.
Kornthip Massage
Kornthip Massage, run by Waree (Pensiri Matchachan), offers a 5-day (20 hours) Foot Reflexology training in the second week of every new month.
Baan Tasala Chiangmai
Baan Tasala offers a 5-day (60 hours) Foot Reflexology training. I think it's quite pretentious to give 60 hours of training in 5 days (12 hours a day) especially as 6 effective hours massage training per day is the usual standard. In any case, I've seen it done before, but then it includes the breaks, extra after-class practice time and some self-study at home (in your hotel or guesthouse, that is) learning theoretical aspects (notably reflexology points), and the like.
Body & Mind Wellness Studio
The studio is founded by Sararut Pilakun and offers a 24 hours Foot Massage & Reflexology training that teaches you a 60-minute treatment sequence. Unfortunately, it's not clear on the website if this is a 3-day (8 hours per day) or a 4 day (6 hours a day) training course.
Chiang Mai Spa Academy
The CMSA academy offers 3 different kind of trainings: Foot Massage (60 hours), Foot Reflexology Massage (30 hours), and a Hand and Foot Treatment study (30 hours).
Chiida Spa
Chiida is a Spa Wellness center, resort and retreat that additionally offers Spa products and Spa & Massage trainings. The spa offers an extensive, well set-up 60-hours Foot Massage training. It's unclear how many days this course actually takes, but 60 hours of training can't be less than 5 days.
Jongrak Massage School
Jongrak offers a Foot Reflexology and Acupressure training of 5 Days (60 hours).
Lanna Thai Massage Traditional Medical School
The Lanna Medical School offers a Foot Reflexology Massage course of 5 days (30 hours) and an extended training course of 10 days (60 hours).
Loi Kroh Massage & Yoga
Loi Kroh Massage offers two related training classes: Foot Massage (2 days, 10 hours) and Thai Foot Reflexology (3 days, 15 hours) which together form a complete training course.
Sensip Training
Sensip, active in France and in Chiang Mai, offers a 5-day (30 hours) Foot Reflexology training.
Siam Spa
Siam Spa offers a Foot Massage & Reflexology training of 24 hours and a Foot and Hand Treatment training course of 30 hours.
Sunshine Massage School
The Sunshine Massage School offers a 3-day (18 hours) Foot Massage & Foot Reflexology training. This training is given on request.
Thai Oasis Spa School
Oasis Spa offers a variety of Foot Massage and Reflexology training courses: Foot Massage (3 days, 18 hours and 2 days, 12 hours), Foot Scrub (3 hours), Foot Spa (3 hours), and a Foot Massage for Health training that includes Reflexology (10 days, 60 hours).
TTC Spa School
TTC Spa offers a 3-day (22.5 hours) Foot Reflexology Massage Course.
Ajarn Somphong
Ajarn Somphong from Waulai Thai Massage offers a 3-day and 2-day Thai Foot Massage training.
---

---
---
Related Articles