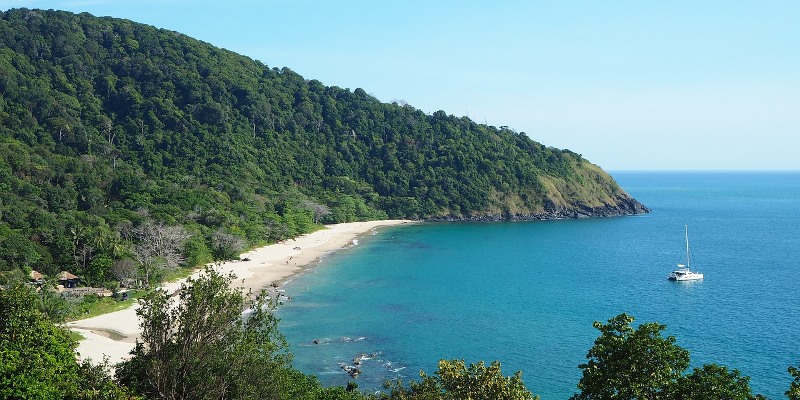 Koh Lanta (also spelled Ko Lanta) is officially a district in Thailand consisting of four island groups and its located by the Andaman coast, about 70 km from Krabi town. Koh Lanta Yai, commonly known simply as Koh Lanta, is the biggest and most populated island. It is known for its amazing beaches, tropical jungle, coral reefs, mangroves, limestone outcrops, and of course, snorkeling & scuba diving opportunities.
Although it's still less busy than Phuket or Koh Samui, this island's popularity has been increasing over the years and it has become an important tourist destination in the South of Thailand.
Ko Lanta offers quite some options of restaurants, beach bars, resorts and so on. And you can surely go snorkeling, diving, island hopping and visit the national parks on the islands as well. But if you're looking for other activities to do on Koh Lanta, such as moving and stretching your body with yoga, well, here we have a list of the resorts, guesthouses and Yoga studios where you can do just that:
Sanctuary
Sanctuary is a guesthouse located on Koh Lanta that offers bungalow style accommodation as well as daily Yoga classes, every morning and afternoon. They specialize in Ashtanga, Power Flow and Yin Yoga. Besides that, they have a restaurant and also offer massage treatments.
Oasis Yoga Bungalows
Oasis Yoga Bungalows is located on Koh Lanta and it offers Meditation & Yoga Classes from Monday to Saturday for all levels. They also offer their Health and Happiness Retreats in different locations around the world.
Lanta Yoga
Lanta Yoga is located on Koh Lanta and it offers Yoga classes a few times a week. They also own the Fruit Tree Lodge resort, where they have bungalow style accommodation and offer Yoga retreats and other wellness workshops. They also offer occasional Yoga teacher trainings, such as the Hypnobirthing & Pregnancy Yoga Teacher Training Course.
The Asylum
The Asylum is a bar, restaurant and hostel on Koh Lanta. They offer Vinyasa Yoga classes daily at 9 am and 4:30 pm at Klong Dao Beach, where they are located.
Rawi Warin Resort & Spa
Rawi Warin Resort & Spa is located on Koh Lanta. They offer a wellness package called Restful Journey that includes a Yoga Class or Muay Thai (Thai Boxing) training class + Herbal Steam + Aromatherapy massage.
SriLanta Resort
SriLanta Resort is located on Koh Lanta. They offer daily Yoga classes at their Yoga Sala, as well as a range of massage & wellness treatments and other activities such as diving and kayaking.
Relax Bay Resort
Relax Bay Resort is located on Koh Lanta. They offer activities such as daily Yoga classes at the beach, diving, and massage treatments.
Moonlight Exotic Bay Resort
Moonlight Exotic Bay Resort is located on Koh Lanta. As part of their activities, they offer Yoga & Pilates classes, retreat and personalized packages as well as snorkeling, cooking classes, Biodynamic Cranio-Sacral Therapy treatments, etc.
---

---
---
Related Articles