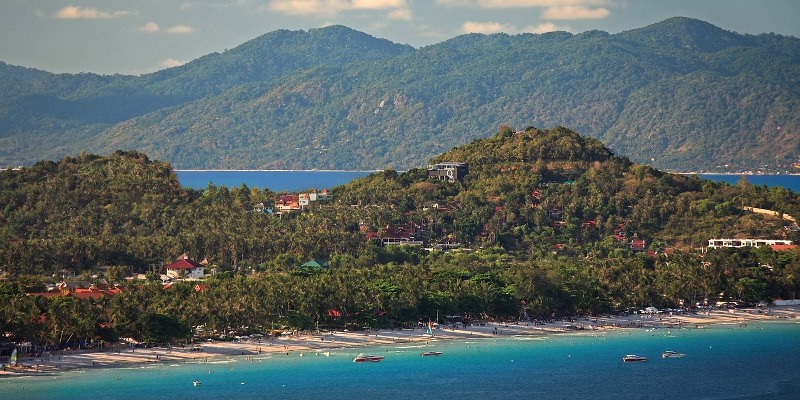 Koh Samui (which translates to Samui Island) is the second-largest island of Thailand, with an area of 228.7 km² – just losing to Phuket. It's located off the east coast of the Kra Isthmus, and its part of the Surat Thani Province – about 35 km northeast of Surat Thani town.
Besides being known for its tropical jungles, amazing white sand beaches and coral reefs, the island is also a cosmopolitan hotspot with many options of restaurants and hotels, from the simple guesthouse for the budget traveler, to super luxury spa & wellness centers.
On the island you can find some options of Thai Massage training, as well as many options of Yoga Classes & Workshops. Check out our Related Articles section below for some other posts about Yoga training on Koh Samui.
And so, Koh Samui being such an international tourist destination, also offers quite some Yoga Teacher training programs, many given by traveling teachers from abroad, once or twice a year.
But besides these occasional offerings, we found five wellness centers, resorts and yoga studios with teachers who are based on the island and offer Yoga teacher training programs on Koh Samui more regularly. We list them below:
Absolute Sanctuary
Absolute Sanctuary is a luxury resort on Koh Samui that offers many options of Spa Retreats and Wellness Programs. It's one of Thailand's most popular Yoga teacher training & retreat centers, with two fully equipped yoga studios and frequent courses, trainings and workshops being offered.
This luxury resort is in fact part of Absolute You – a Boutique Fitness and Lifestyle Brand which owns and operates Absolute Yoga, with 10 yoga centers nationwide and many years of experience with Yoga training.
Orion Retreat Centre
Orion Retreat Center located on Koh Samui. They offer drop-in Yoga classes from Monday to Friday, and also private classes. Besides that, they offer a variety of detox, fasting and Yoga programs & retreat options as well as a range of holistic therapy treatments. Among their Yoga program offerings there's also the 28 day Hatha, Vinyasa and Yin Yoga Teacher Training Course, given by Gabe Azoulay and Yaron Cohen.
Sun Art Center
Sun Art Center is a retreat center located in the mountains of Koh Samui. They offer Yoga & Meditation Retreats as well as a 28 days (200 Hours) Yoga Teacher Training course.
The Yogarden
The Yogarden Yoga Studio offers a wide range of yoga classes and workshops, of different styles of Yoga such as Hatha yoga, Vinyasa Flow, Iyengar yoga, Ashtanga Yoga and many more. Plus, they offer regular teacher training programs, such as the Yin Yoga Teacher Training (Level 1 and 2), and a 50 hour Advanced teacher training for those who want to study further.
Vikasa Yoga Retreat
Vikasa Yoga Re­treat offers a variety of yoga & meditation classes, workshops and retreats on Koh Samui. They also offer regular Yoga teacher training programs, such as a Foundation Yoga Teacher Training Course (RYT 200), and a Advanced Yoga Teacher Training Course (RYT 500).
---
---
Related Articles