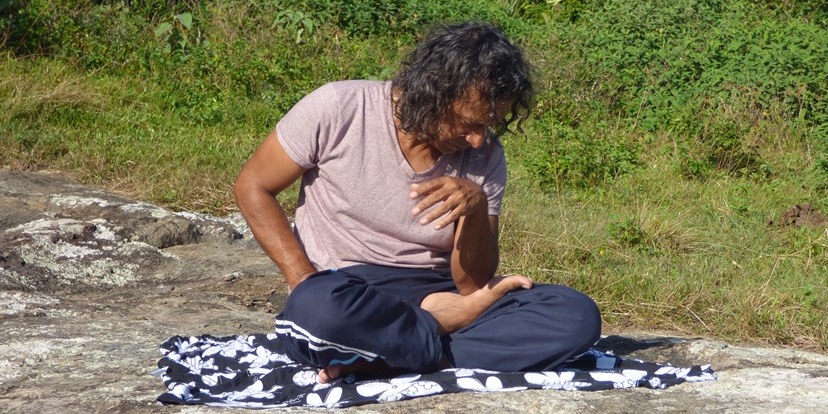 © Image from TraditionalBodywork.com
From a country so big in massage, notably in Thai Massage — both on the treatment and training level — one would expect a substantial number of Self Massage training courses and workshops. Nevertheless, if you would look to find a Self-Massage training in Thailand, offerings are virtually absent.
But how come? Well, first of all, massage treatments in Thailand are rather cheap, fully integrated in everyday life, and readily available everywhere across the country, in abundance, thus, why would you massage yourself? And then secondly, actually there is Thai Self-Massage training available, but it's part of a broader Self-Care modality called Thai Traditional Yoga or Reusi Dat Ton (Reusi Datton).

Workshop | Click for details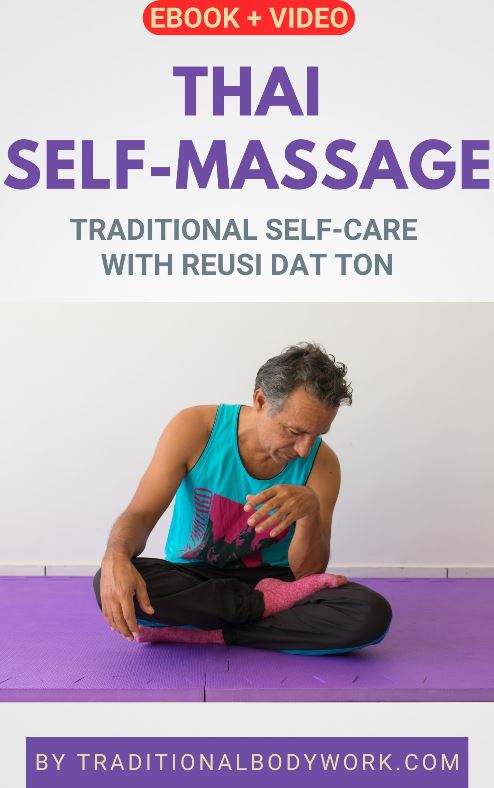 Yet, Reusi Dat Ton is much, much broader than Self Massage alone. It's a complete Thai Self-Care methodology that consists of Breathwork, Self-Massage, Self-Mobilizations, Self-Stretches, Visualizations, Meditation, Chants, and a vast array of Poses and Sequences, which are performed in standing, sitting, or lying positions. And, moreover, Reusi Dat Ton itself is integrated in the Dhammanamai practice, which is a method of holistic care of the body, the mind, society and environment, based on Buddhist relaxation techniques and moral precepts.
Hence, if you're interested in learning Thai Self-Massage, you would typically take a Reusi Dat Ton training course. Depending on the course level and depth, you will learn a variety of Self Massage techniques, apart from many Self-Stretches, the latter generally making up the most part of trainings. Below, under our Related Articles section, you will find some of our posts with listings of Reusi Dat Ton Thai Yoga training options in Thailand.
Mind also, that quite a number of Thai Massage schools and trainers in Thailand offer Self-Massage or Thai Self-Care as part of their Thai Massage training courses. Usually, you would start the class day with some Self-Stretching and Self-Massage, as a kind of warm-up before the actual training. Here also, depending on the institute, more or less Self-Massage or Self-Stretching techniques are being taught, with various levels of depth.
Some Thai Massage schools and teachers have designed there own Reusi Dat Ton sequences, others use the set of 18 Ascetic Self-Stretching Exercises as taught by the Wat Pho Medical Massage School or the ITTM set of 15 Contorted Hermit Exercises.
At any rate, Thai Self-Care practices are an important part of Thai Traditional Medicine, and Self-Massage is only one aspect of a much broader paradigm.
---

---
---
Related Articles