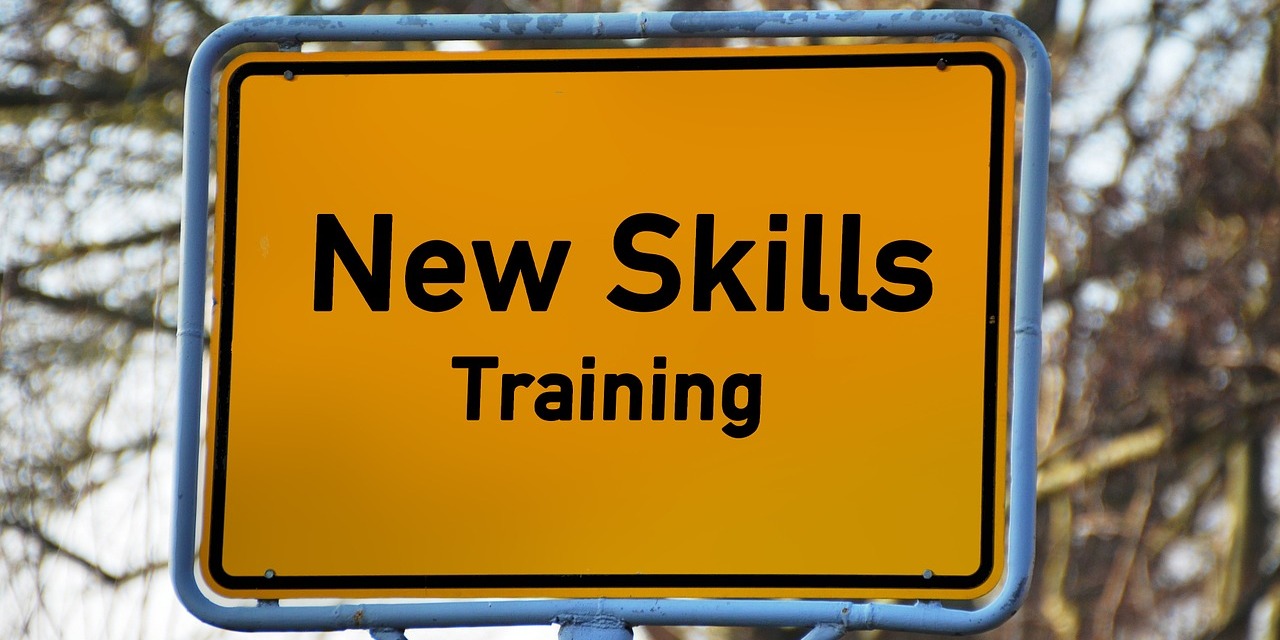 Wanting to be a Thai Massage practitioner or Thai Masseur is one thing, but to opt becoming a Thai Massage Teacher a whole other game.
First of all, there are generally no special regulations or restrictions profiling yourself as a Thai Massage instructor. In most cases you don't NEED to do a special study to become a teacher. Anyone with enough practitioning experience and/or an accredited massage therapist training can launch him or herself as a Thai Massage teacher, and this applies to the majority of countries around the world.

eBook | by TraditionalBodywork.com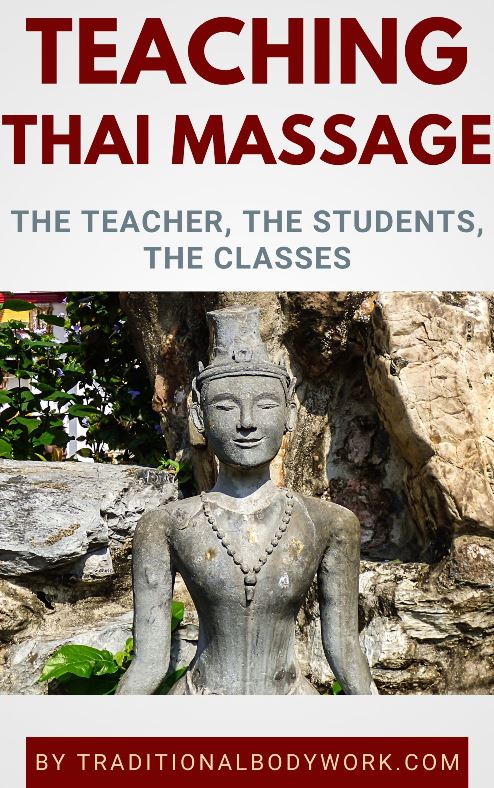 Then, secondly, depending on the country where you'd like to exercise the Thai Massage teaching job, you should sometimes name the profession "in a special way" like for instance "Personal Development Instructor," "Thai Bodywork Teacher," "Healing Coach" or "Thai Healing Energy Instructor," and so on, to avoid legal issues.
But — surely you would like the trust of your future students and preferably you would like to offer them courses and workshops that are valid counting towards Continuing Education points in your country. So naturally, you would want to become a Thai Massage teacher via a "recognized" Thai Massage institute in Thailand and afterwards apply for CE accreditation in your own country if possible. Of course, studying in Thailand just an option, one can study Thai Massage in other countries also.
Now, Thai Massage instructor training in Thailand is offered in a variety of modes:
the "organic way," that is sitting at "the master's feet" for an indefinite period of time until you're declared ready, or
a fixed set of time (mostly a few weeks or months) studying to teach one or more "Levels" of Thai Massage from a certain Thai Massage school, or
a fixed set of time studying to teach certain specific Thai Massage modalities, like for instance Foot Massage, Tok Sen, Chi Nei Tsang, and the like.
Some of the schools in Thailand offer an affiliation or franchise program (you are allowed to hand out their certificates, hopping along on their reputation and accreditation), some don't offer a explicit affiliation program (but you could just say you studied with them becoming a teacher showing off your teacher certificate).
Anyway, let's go take a look at the best known schools that offer instructor training courses for Thai Massage and/or other Thai Bodywork training modalities:
Baan Hom Samunphrai
Baan Hom Samunphrai (Chiang Mai) offers a long term intern study program, where students can return to the school over longer periods of time learning to become a Thai Massage teacher or teacher for other Thai Healing modalities. The school basically works in an "organic" way teaching future trainers. There's no fixed time set.
Chiang Mai Massage School
The Chiang Mai Massage School has a Thai Massage teacher training program divided up into three distinct levels. The duration of the courses is not very clear.
ITM Chiang Mai International Training Massage School
ITM Chiang Mai runs a Certified Advanced Practitioner & Teacher Training Program also known as the CAPT-program. It's a 390 hour program, and takes 11 weeks, guiding you through Thai Massage Level 1 up to Level 5.
Additional elements of the CAPT course are Thai Herbal Compress Massage, Foot Massage and Reflexology and Applied Anatomy and Field Work. No previous experience required, in three months time CAPT students will be able to give a Thai Massage professionally and have the blessing to teach ITM Level I and Level II Thai Massage.
Loi Kroh Traditional Thai Massage & Yoga
The Loikroh School in Chiang Mai offers teacher training in Thai Massage and Reusi Dat Ton, including in Oil Massage and Foot Massage & Reflexology.
Massage School Phuket
The Massage School Phuket offers Thai Massage instructor training in a variety of Traditional Thai Bodywork modalities.
Ong's Thai Massage School
Ong's Thai Massage School in Chiang Mai runs a Teacher Training program, where one can choose to become a teacher for one or more Thai bodywork modalities. Depending on the amount of modalities one wants to become a teacher of, the Teacher Training can take from two weeks up to twelve weeks. Ong also offers an affiliation program.
Sabai Corner Spa
The Sabai Corner Spa in Bangkok offers a Traditional Thai Massage Teacher Course of 372 Hours. Additionally, Sabai offers a Thai Massage Instructor & Specialist Training, Health Spa Instructor and Beauty Instructor under supervision of the Union of Thai Traditional Medicine Society (UTTS).
Siam Holistic International
Siam Holistic International in Bangkok offers a Thai Massage Teacher training program.
Sensip Training
Sensip Training offers a Basic Thai Massage course and a set of Professional Modules which together result in a Certified Nuad Boran Practitioner Diploma (NBP) that comprises of 396 hours of training and practice. This diploma gives the right to use the label ASB® Ancient Siamese Bodywork and the right to train overseas students.
Suai Thai Massage School
Suai Thai on Phuket has a instructor training program for Thai Massage and Reusi Datton (Thai Yoga). Depending on the level of Thai Massage you want to teach the course takes between 30h and 222h (Level 1-5).
Sunshine Massage School
The Sunshine School located in Chiang Mai offers the possibility of teacher training. However, it's not a formalized program, yet rather an organic and customized process tailored around their own training program for Sunshine school teachers. Ask the school for more info on the subject.
Tao Garden Health Spa & Resort
Mantak Chia's Tao Garden in Chiang Mai offers instructor programs in Tok Sen, Chi Nei Tsang (Thai Abdominal Massage) and Karsai Nei Tsang (Thai genital Massage). See also the Universal Healing Tao Instructors website.
Thai Massage & Spa Academy
The Thai Massage & Spa Academy in Bangkok offers a Trainer of Thai Massage & Spa program.
Thai Massage School of Chiang Mai | TMC
TMC Chiang Mai offers a GCT teacher Training program of 300 and one of a 600 hours curriculum. The 300 hour program can be done in 10 weeks/50 days. The 600 hours program (with the prerequisite of having done the 300 hour program) can be done in 10 weeks (50 days also).
The courses one can teach after the GCT 300 Hour Curriculum are Foundation of Thai Massage (Level 1), Foundation of Thai Massage Applied on Table (Level 1 Plus), Thai Foot Reflexology, Thai Table Massage and Thai Chair Massage.
The courses one can teach after the GCT 600 Hour Curriculum are those of the 300 hour program plus Thai Massage Enhancement (Level 2), Therapeutic Thai Massage (Level 3), Yogi Stretching Exercise and making of Thai Herbal Balls.
Thai Profi Massage School
The Russian Thai Profi Massage School in Pattaya offers a Thai Massage teacher program.
Thaispaschool Khonkaen
The Thaispaschool Khonkaen in Isan (Khon Kaen) offers a Thai Massage instructor training program.
The Fine Art of Thai Massage School
The Fine Art of Thai Massage School in Chiang Mai from Terdchai Chumphoopong, aka "Mac," offers a teacher training program in the traditional way: there's the opportunity to extend your stay or return anytime for those wanting to become an Thai Massage instructor. One will repeat the entire program with more depth and precision.
The School of Massage for Health
The School of Massage for Health in Chiang Mai offers a range of Thai Massage Teacher Training courses varying between 60, 90, 180 and 360 hours. Not clear what the differences between the trainings are.
The Sunshine Network
The Sunshine Network with its base in the Lahu Village Huay Nam Rin (Chiang Rai province) offers a Thai Yoga Massage teacher training following the "organic way." You will train with senior teachers of the network until they declare you ready to operate as a so-called Sunshine Network Teacher.
Yoga Massage School Thailand Metta
The Metta School from Master Kong in Bangkok offers teacher training in Thai Massage, Thai Foot Massage & Reflexology and Ruesi Datton. Depending on your previuos experience and courses taken with the school the training takes one week up to six weeks.
Did we forget a Thai Massage school or teacher that offers teacher training? Please let us know. We'll appreciate it!
---

---
---
Related Articles
---