Published | Updated March 17, 2019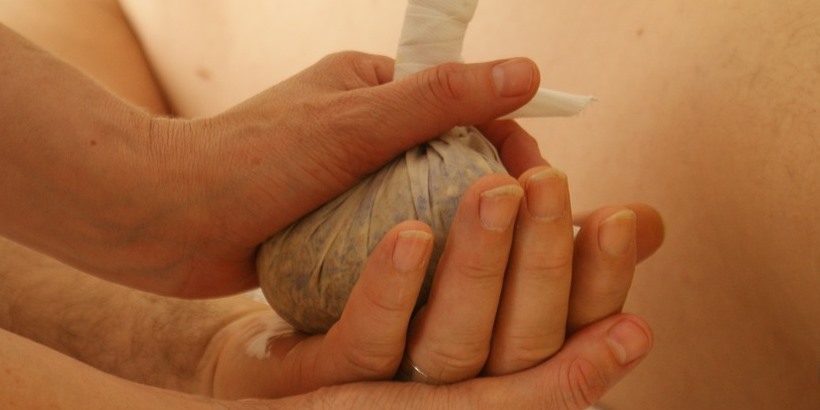 The Thai therapeutic practice of Hot Herbal Compress Massage goes back to the ancient knowledge of healing properties of plants and herbs and their application on the body.
Thai herbal treatments are for instance used to soothe and to relieve pain and inflammations. Important in the application are the selection of herbs with therapeutic qualities, such as prai, ginger, turmeric, kaffir lime, camphor, tamarind and lemongrass. A mix of herbs is wrapped in a compress, then steamed and when hot, applied to the body by pressing, gliding or smearing in circular, linear and/or rolling movements.
In Thailand, the herbal compress is called Luk Pra Kob. Treatments are immensely popular in Thailand, can be obtained virtually everywhere, and popularity is rapidly increasing in the West and other countries. Herbs used are generally cheap and easy to find, and the treatments are effective.
The shortlist below gives a list of Thai Massage schools in Chiang Mai that offer Herbal Ball Compress Massage training courses and workshops. If you'd like see more details about a provider listed below, you can click on the "Provider Quick Overview Page" link coming with each education provider entry.
For detailed filtering and other Thai Bodywork courses in Thailand visit our Training in Thailand page.
Siripanna Villa Resort & Spa runs spas in Chiang Mai, Bangkok and Phuket and in Hangzhou, China. Apart from Spa treatment services and retreat programs, Arom:D offers Training Courses and Spa Man
[Read More...]
An established school located a bit outside of Chiang Mai city (Hang Quae) with on-site accommodation options. Offers Thai Abdominal Massage i.e. Chi Nei Tsang, Thai Foot Massage & Reflexology, Th
[Read More...]
Baan Tasala Chiangmai offers a variety of Thai Massage and other Thai bodywork courses, notably so-called Thai Fire Therapy (Yam Khang). The school additionally offers Spa Swedish and Hot Stone Massag
[Read More...]
Ban Sabai Resort and Spa is a full service Spa and Wellness center that additionally offers a broad variety of massage and bodywork training classes, Spa, Detox and Yoga Programs, and Vipassana and Mi
[Read More...]
The Body & Mind Wellness Studio is founded by Sararut ("Sara") Pilakun and offers Yoga classes, Thai & Western massage therapy sessions, Thai & Western massage training and meditati
[Read More...]
The Chiangmai Classic Art Thai Massage School is a Thai Massage school in Chiang Mai (Thailand) for Japanese students. The website is in Japanese only.
[Read More...]
Chiida Spa is a Spa Wellness center, resort and retreat and additionally offers Spa products and Spa & Massage trainings. Chiida has branches in Chiang Mai (Sukantara Cascade Resort & Spa) a
[Read More...]
The CLS Massage School is located in Chiang Mai, and profiles itself as a Thai Therapy and Thai Spa massage school. There is on-campus residential accommodation available. Thai Spa Courses & Work
[Read More...]
The Hang Dong Thai Massage School in Hang dong (Chiang Mai area) specializes in Lanna Thai healing methods such as Tok Sen and Thai Fire Therapy (Yam Khang). Students are welcome to learn with teacher
[Read More...]
ITM is a private vocational Thai Massage school located in Chiang Mai. The school is a family run business and was founded in 1992 by Chongkol Setthakorn. ITM is one of the best known Thai Massage sch
[Read More...]
Jack Chaiya, a Thai Massage teacher from Chiang Mai, is the son of the late Lek Chaiya. "Mama Lek" was a well-known healer, herbalist, and teacher. Her Thai Massage style is widely known a
[Read More...]
The health village is a retreat, resort and activity center. Offers Thai Massage, Thai Herbal Compress massage and Thai Martial Arts workshops.
[Read More...]
At Jongrak's, specialized in Lanna Folk Healing, private Thai Massage study is possible, and groups don't exceed 4 students. The school also offers in-depth Thai Traditional Medicine colle
[Read More...]
Joy's house is a traditional family guesthouse that offers travel programs, cultural and nature immersions, social programs, Thai Massage and Thai Cooking classes combined as packages from up to
[Read More...]
Kornthip Hattavej Massage Training, run by Pensiri Matchachan (Waree), offers Private training & Intensive treatments of Abdominal Healing massage, Thai massage, Thai oil massage, Thai foot reflex
[Read More...]
The founder and owner of this Thai Massage school in Chiang Mai is teacher Chaweewan Vitfan. The school offers a broad variety of Traditional Thai bodywork courses.
[Read More...]
Loi Kroh Massage, founded in 1999, is one of the established Thai Massage schools in Chiang Mai. Apart from their in-depth Thai Massage training programs, the school is renowned for their Thai Yoga Re
[Read More...]
Ming Akkaraya is a traditional Thai medicine doctor offering a variety of Thai bodywork courses in Chiang Mai.
[Read More...]
Namo in Chiang Mai offers Thai Massage and Yoga classes, and a variety of other Massage & Bodywork courses. The school focuses on shorter term courses, ranging from 1/2 to 6 days.
[Read More...]
Omsala in Chiang Mai is founded and operated by Ohm Rinraya. Ohm is a former Sunshine Massage School teacher. Apart from offering Thai Massage training, she's specialized in Chi Nei Tsang and Ka
[Read More...]
Ong's massage school in Chiang Mai offers a broad diversity of courses with a duration generally from 1 up to 5 days. Training modalities range from Thai Massage, Herbal Compress Massage, Reusi
[Read More...]
The PANVIMAN Spa Academy is part of the Panviman Group of Resorts. The group represents a "Boutique Group of Resorts" with International Hospitality Standards. The academy offers education in both
[Read More...]
© Sabai De Ka Massage School The Sabai De Ka Massage School was founded in 2004 by "Kloy" Thanyanet Pothamoon. Initially, Sabai offered only massage and spa treatments, but later added T
[Read More...]
The center in Chiang Mai, also called Thai Massage & Folk Healing Training Center, is founded and operated by Sararut "Sara" Pilakun.
[Read More...]
Siam Spa Academy specializes in beauty spa training courses. They offer this in combined, intensive and short term programs. Both Thai and Western spa courses are provided.
[Read More...]
Teacher and massage practitioner Somwang Khacceniam in Chiang Mai offers a variety of Thai Massage and Thai Bodywork course modalities. Somwang worked for more than 15 years as a Thai Massage instruct
[Read More...]
SPA Cenvaree operates many Spa & Wellness centers across Thailand. The Academy trains Thai therapists, providing them with anatomy knowledge, treatment skills, guest service and spa standards. Cou
[Read More...]
Spa Mantra is a spa and wellness center and a branch from the ITM Chiang Mai Thai Massage school. Connected to the Spa is a Thai Bodywork academy with both Western and Thai style courses and workshops
[Read More...]
The Sunshine Massage School in Chiang Mai is a reputable Traditional Thai Bodywork training center, not only known in Thailand, but also within the global Thai Massage community. The school offers so
[Read More...]
The SVG Thai Massage Training Center in Chiang Mai was founded in 2009 and offers Traditional Thai Massage courses. The center is led by Ajarn Parawat Poungpiam (Mr. PP), a former Chiang Mai Old Medic
[Read More...]
The Spa offers training courses in both Thai and Western bodywork modalities, including Spa Management training. Training options in Bangkok, Chiang Mai, and Macau (China).
[Read More...]
The Thai Massage School of Chiang Mai, also known as TMC Chiang Mai or the Thai Massage School of Thailand, was founded in 2001. The Thai Massage School of Thailand was founded one year later in 2002.
[Read More...]
The Old Medicine Hospital, Chiang Mai, has been the leading Thai Medicine and Thai Massage institute in the North of Thailand from the 60's up to the start of the 21st century. Many Thai Massage sch
[Read More...]
Oasis Spa is a group of Spas with branches in Chiang Mai, Phuket, Pattaya, and Bangkok. Education is fundamental for Oasis Spa. They offer a wealth of Thai, other Asian, and Western spa bodywork cours
[Read More...]
© The Fine Art of Thai Massage School The school, located a bit outside of Chiang Mai city, is founded and run by Terdchai Chumphoopong aka Mac. Apart from Thai Massage training he offers a teacher
[Read More...]
The School of Massage for Health in Chiang Mai provides a vast array of Thai Massage courses and other Thai bodywork programs. Also offers teacher training programs.
[Read More...]
Timmy's place offers a broad variety of Thai Bodywork courses. She's a specialist in Thai postpartum treatment of women (Yu Fai) and preparation of herbal products. Besides that, she offer
[Read More...]
Known massage school in both Thailand and overseas. Specialty massage courses, Spa & Wellness course modalities, and excellent Thai therapist training courses from 38 hours up to 380 hours (2 mont
[Read More...]
The Watpo Thai Massage School in Bangkok, the name also spelled as Wat Pho or Wat Po, is without any doubt the most famous Thai Traditional Medicine institute in the world. The school is closely conne
[Read More...]
The Watpo & Chetawan Health Center Chiang Mai is a Thai Massage training branch of the world famous Watpo Medical Massage school in Bangkok. Although Watpo Chetawan Chiang Mai offers only a subse
[Read More...]
Waulai Thaimassage in Chiang Mai is specialized in Herball Ball Compress Massage courses, but also offers Reusi Dat Ton and Tok Sen. Founded and run by teacher Ajarn Somphong Prapharat.
[Read More...]
---
Related Articles