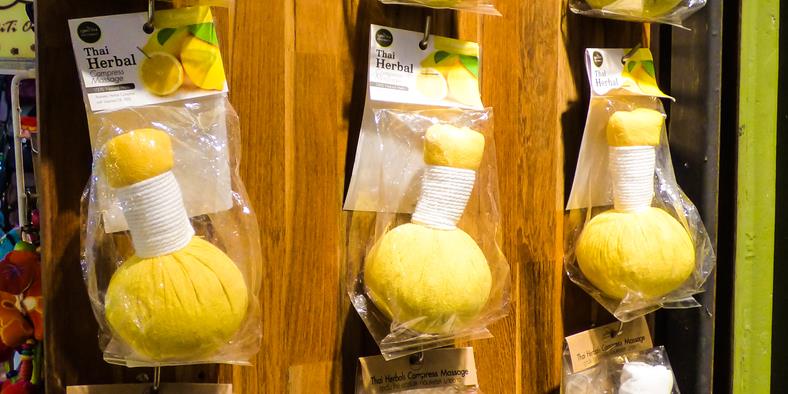 © Image from TraditionalBodywork.com
The Thai Herbal Compress Massage treatment (called Luk Pra Kob in Thai) carries a variety of names, such as Herbal Ball Compress Massage, Hot Herbal Ball Massage, Herbal Pouch Massage, Herbal Packs Massage, or Herbal Stem Massage. Note also that herbal compresses can be used either hot or cold, although usually hot compresses are applied.
In this article we take a look at what it takes to give Herbal Compress massages, and we discuss the quality of Thai Herbal Ball Compress Massage Training Courses and Classes offered in Thailand.
First, in general, we'd like to make a distinction between the techniques and application of herbal compresses (how and when to do it) on one side, and the herbal composition of the compresses (what kind of herbs are used and what for) on the other side. Herbal Compress Massage classes can focus on one or both of the aspects, in variable levels of training-depth.
Techniques and Application
The herbal ball compress or herbal pack is a (often cotton) wrapped mix of herbs, steamed (in a bamboo or electrical steamer) and when hot, applied to the body by pressing, gliding or smearing in circular, linear and/or rolling movements. As said, compresses can be cold also, depending on the application or goal of the treatment.

Our eBook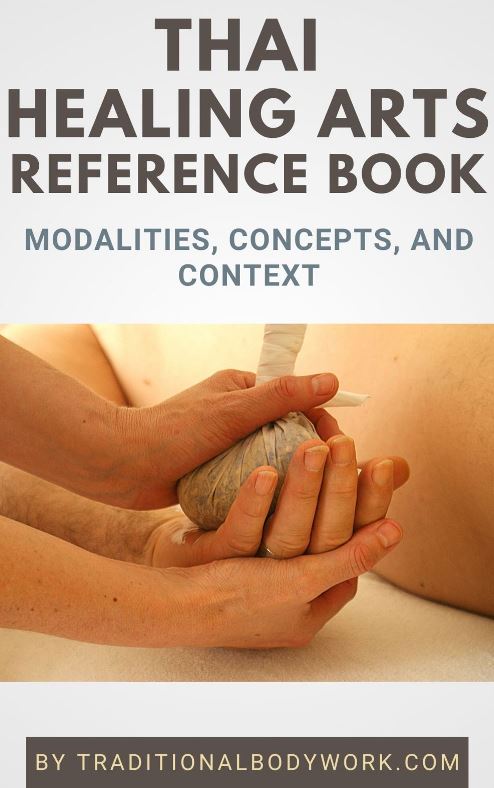 Sometimes herbal compresses are used as an integral part of a Thai Massage or Thai Abdominal Massage (Chi Nei Tsang) treatment session to warm up and open up the body before a session and to soothe the muscles and organs after a session. Yet, note that herbal compress massage can also be given as a complete full body massage treatment.
Another popular application is to soothe and re-energize the body, abdomen and internal organs of women in their postnatal i.e. postpartum period. For instance, herbal compresses are essential in Traditional Thai Postpartum Treatments (Yu Fai).
When applied as a full body massage, typically the Thai ten Sen Energy lines (Sib Sen Meridians) are treated, which assumes knowledge of the (whereabouts) of the Sen Lines and/or a basic knowledge of giving Thai Massage.
If not offered as a full body massage, herbal compresses are applied in fact locally, let's say on the abdominal region or on the lower back region, etc., depending on the goal of the treatment (for instance, Womb lifting, Abdominal Massage, Genital Massage, Postpartum Yu Fai, and so on).
Making Packs and Compresses – Herbal Knowledge
A key aspect with herbal compress massages is the selection of herbs used for the packs/compresses.
Each herb or combination of herbs has certain medicinal therapeutic qualities and one wants to know what herbs to use in case of certain discomforts or illnesses.
Apart from herbal knowledge in itself, one needs to know the recipes, that is — the dosages to be used and what kind of combinations. In fact, there's of course a strong link with Thai Traditional Pharmacy here.
In Thailand, the most popular (combination of) herbs used are for instance prai, ginger, turmeric, kaffir lime, camphor, tamarind and lemongrass, but this is in fact only a fraction of all possibilities.
Training Courses in Thailand
When it comes to Thai Herbal Compress training courses in Thailand, we encounter all sorts of offerings, both in course duration and focus (massage techniques on one side or herbal compress composition and creation on the other side).

Our eBook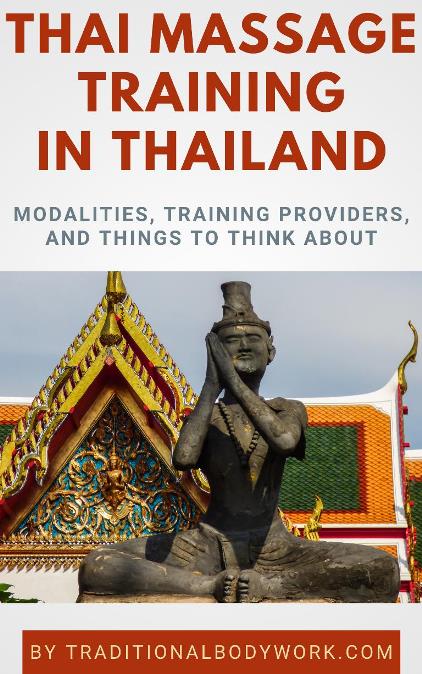 We'll find Herbal Compress Massage courses of 4 hours, or 1 or 2 days, claiming to teach you how to make/produce herbal compresses including a complete herbal ball massage training for various scenarios. That certainly is rather… ridiculous. Nevertheless, it's not an exception, and too many training centers in Thailand (to my taste) offer ultra-short herbal ball compress courses, yet still giving you the idea that you'll really learn "how to do it."
Luckily, there are enough Thai Massage schools and trainers who take their trade seriously and go a step further with offering 30 hours (5 days) or even 60 hours (10 days) Herbal Compress Massage courses. Necessarily, those training courses and classes are of much better quality covering more in-depth the techniques, therapeutic applications and herbal packs composition and creation.
Typically, in the North of Thailand in and around Chiang Mai (former Lanna Kingdom region), you'll find quite a number of Herbs and Herbal Training Specialists and Therapists, in fact, Herbal Knowledge & Application being a well-known signature mark of the Lanna Folk Healing Arts. Certainly, in the south, from Bangkok and below, you'll find serious herbal compress massage (and herbal knowledge) classes also.
Finally
It all depends on what you need and want. Do you have Thai Massage knowledge already – are you a Thai Massage practitioner? And not that interested in herbal composition of the packs? Then it may be that a Herbal Ball training course of 2 or 3 days is enough for you to master the techniques.
But if you want to learn about (Thai) herbs, herbal ball compress compositions in relation to medicinal properties and treatment of discomforts or ailments, you should definitely look for a longer course which also seriously covers those aspects.
And if you have no or little experience with practitioning Thai massage and/or knowledge of Traditional Thai Medicine theoretical foundations e.g. Sen Line theory, our advise would likewise be to take a longer herbal compress massage course to better master these aspects, or… to take a beginner Thai Massage course first.
---

---
---
Related Articles