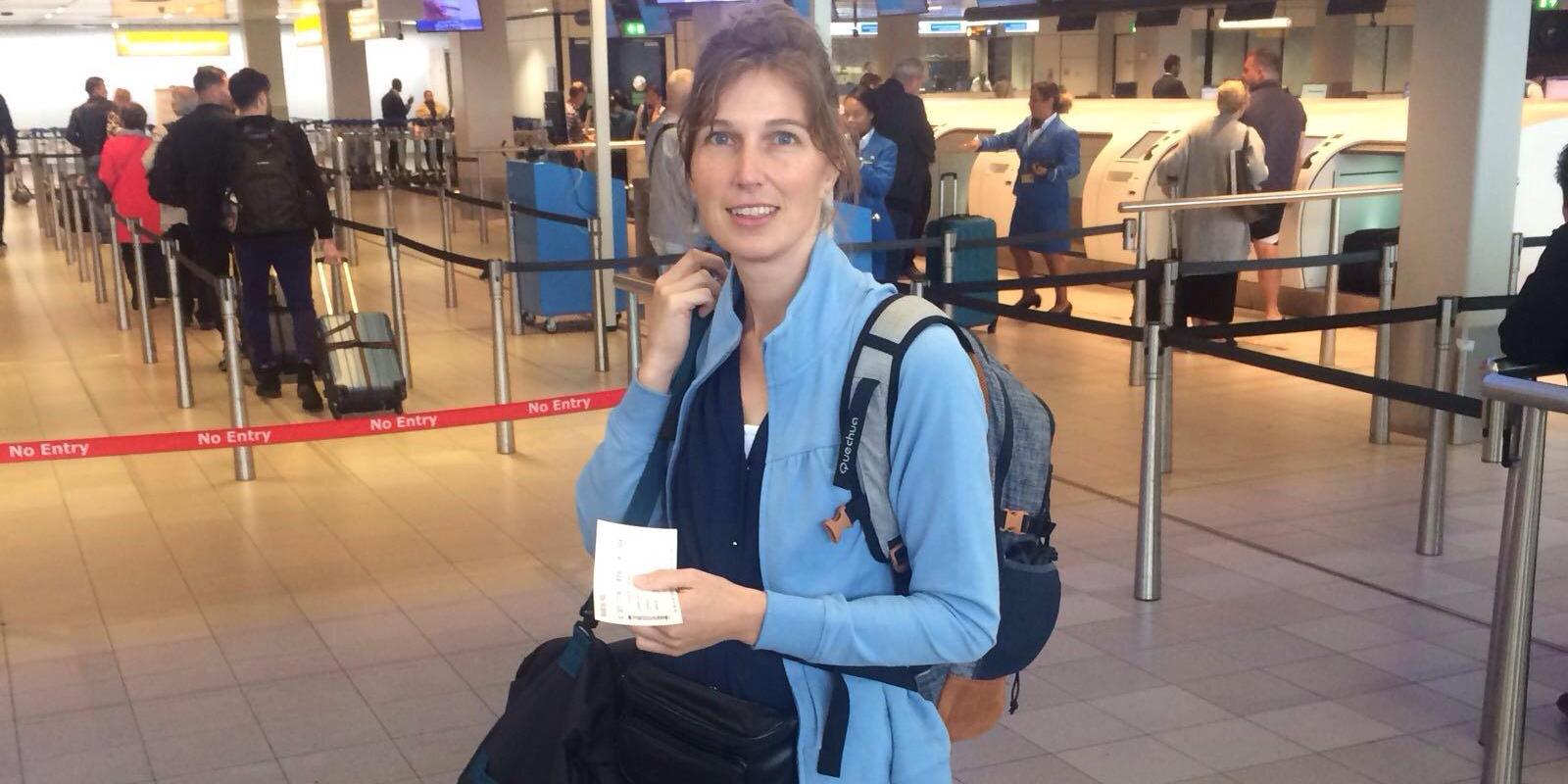 © Image from Caroline Grootscholte
In October 2017, after completing my 3-year professional Foot Reflexology education in the Netherlands, I went to Thailand for three weeks to participate in a Thai Foot Reflexology training course and a Thai Yoga Massage training.
Preparation
The idea came to mind a year earlier when I met a Thai Yoga Masseur who had studied extensively in Thailand. He was talking very enthusiastically about his trainings. When he heard that I was studying Foot Reflexology, he advised me to go to Thailand to study Thai Foot Reflexology with Master Kraijakkri Rungrojsakulporn (aka Ajarn Kong) at the Thai Yoga Massage School Bangkok (officially named Thai Yoga & Healing Art Training Center). This idea kept going around in my thoughts.
I told my husband and children about this and they supported me to go. When the opportunity arose, I booked my ticket, and I registered for both the Thai Foot Reflexology training and the Thai Yoga massage training.
For me it was very exciting. It would be the first time to be away from home for so long, so far, and without family or friends. It had also been a long time ago I had been traveling by airplane. Before I went, I tried to prepare myself and I read a lot on the internet. Although later on being in Thailand, the actual reality was so much different than I could have thought or expected.
Thailand – Bangkok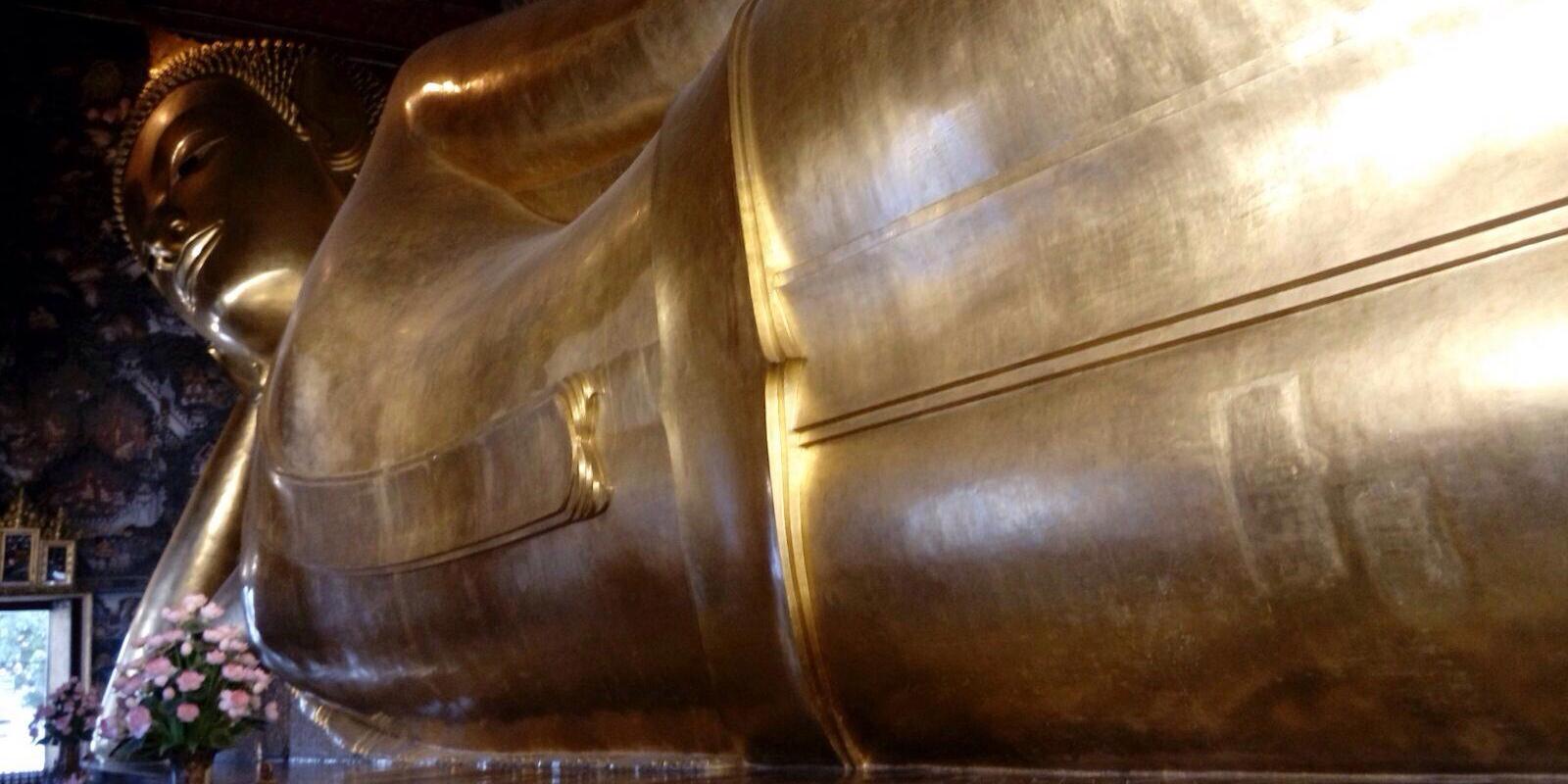 The image I had before about Asian countries and Buddhism was so different compared with what I experienced in Bangkok. For instance, the people in Thailand I saw were also very materialistic, passionate about shopping, have unhealthy eating and living habits too, and drive around like crazy and seemingly irresponsibly.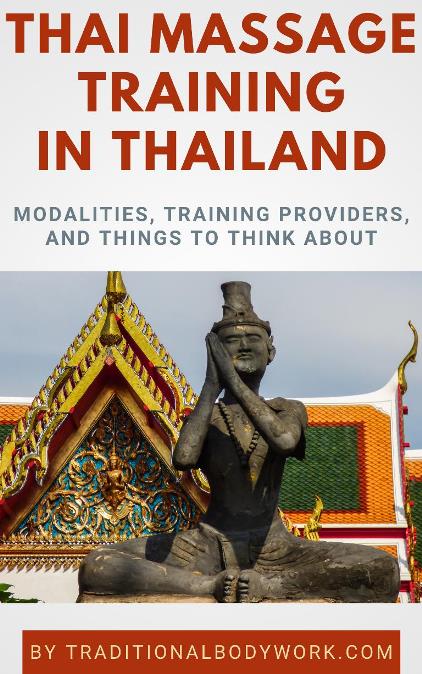 The well-known 7/11 mini-supermarkets in Thailand (they're just about everywhere) were just very unlike the supermarkets in The Netherlands. The first time I entered one I was shocked: where was the food? It seemed more like a drugstore or beauty store. They sell stuff like chips, beer, water, candy, cookies and all kinds of other commodities like shampoo, make-up, umbrellas, and what not. Fresh food like vegetables of fruits didn't seem to be available in the store. Luckily there were bananas (sold individually in plastic), and I bought those a lot.
Later on I also found other (bigger) supermarkets (like Tesco Lotus) where they had a larger product range and also sold fresh vegetables and fruits. Of course most food and fresh vegetables and fruits were sold on the streets at market stalls (Food Booths).
The phenomenon street-food in Thailand I sort of recognized, because in Holland we have the French Fries street vendors. And of course we have the food stalls on village festivals and fairs where Dutch mini pancakes, hamburgers and chicken satay is sold, among other things.
I was a bit afraid of eating food from market and food stalls, because I was not familiar with Thai food and I didn't want to get sick from it. In the tourist areas I saw there was much offering of the well-known Pad Thai and Mango with Sticky Rice. In the more authentic areas with mostly Thai people, the street food was quite different; usually more spicy and different from what we Western people are used to eat.
Sometimes, I got a bit nauseous of the specific odors and smoke on the streets of the food being prepared. Luckily the McDonald's is present in Thailand too, and at some moments it is so nice and comforting to eat something familiar and known.
The first two weeks, I stayed in a hotel near the school, in a suburb of Bangkok with very few tourists around. I was a bit conspicuous as a European female among the Thai people. My last week however, I stayed in a hotel in the center of Bangkok (close to China Town) which had a rooftop restaurant with a beautiful view on the Chao Phraya River.
My last hotel was comfortably situated near a train, metro and water taxi station (Chao Phraya taxi-boats). It was somewhat further away from the school and I needed to get up a bit earlier to catch the right taxi-boat. Both accommodations were fine and not too expensive.
Kong's Thai Massage School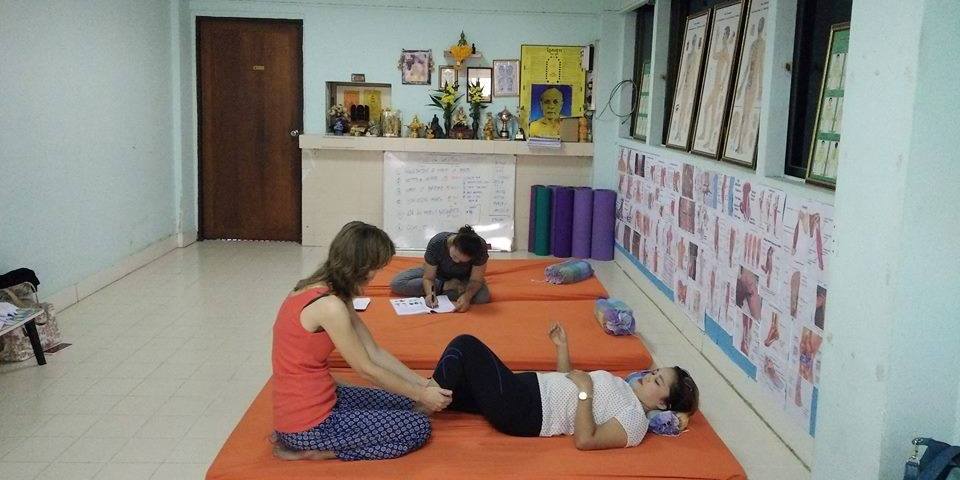 I liked the Thai Yoga Massage school in Bangkok. The trainings were given in small groups. In my group most of the students were Thai people, or of Thai origin. So the training was given in both English and Thai. The lead teacher, Mr Kong, speaks English well (especially considering the general level of English I encountered in Thailand).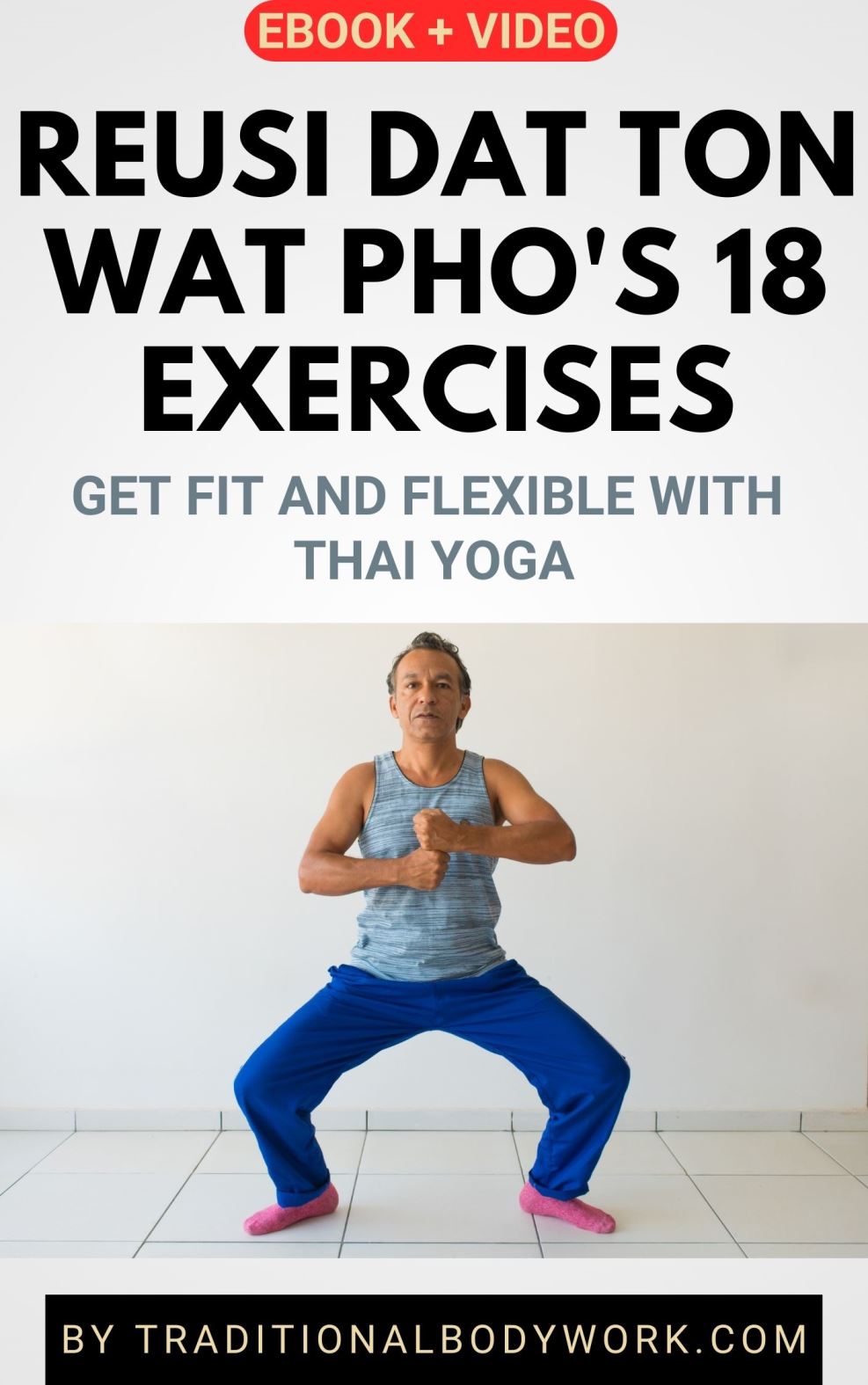 The first days, I really had to adjust to Mr Kong's Thai accent and the vocabulary he used. Sometimes, I didn't understand him immediately. Fortunately he showed what he meant by doing it, he also used anatomy pictures as an example, and from his explanations, doings and expressions his teachings became clear to me.
Because of my previous knowledge of Foot Reflexology Mr Kong advised me to do the Foot Reflexology Teacher Training. This training was very informative to me. I learned new zones on the feet, and zones which were on a very different spot than I knew from Western and Chinese Reflexology. We drew a lot of zones on each other feet to learn them well. After that we learned the techniques. These techniques varied from soft and gentle to deep and firm ones. We learned to do the whole Foot Reflexology practice. In between we learned useful things from Mr Kong to teach to other students and doing reflexology for clients.
At the Thai Massage school I also did the Basic and Professional I Thai Yoga Massage training course. A few things looked like the Chinese Tuina Massage I already learned in Holland, like doing acupressure, and moreover, the location of some Thai Sen Energy lines resembled the trajectory of the Chinese meridians.
But most of the things were completely new to me. The Thai technique to touch and massage was very different from what I had learned before; very gentle and slowly getting deeper and deeper and then letting go. Very focused on feeling, sensing and connecting.
During the training the focus was also on the right way of doing techniques (ergonomics) and fluent movement of the whole body so the practice would be easy with little effort and little muscle power. The techniques had to be practiced on Mr Kong also, so he could feel if we were doing it the right way. When our doings were approved, the training continued further.
The training was very intensive. I had a lot to learn. In three weeks time I have learned, seen and experienced so many things. Looking back at it, I am very happy and grateful that I could experience this journey, although sometimes it was quite tough, intense and a bit lonely for me.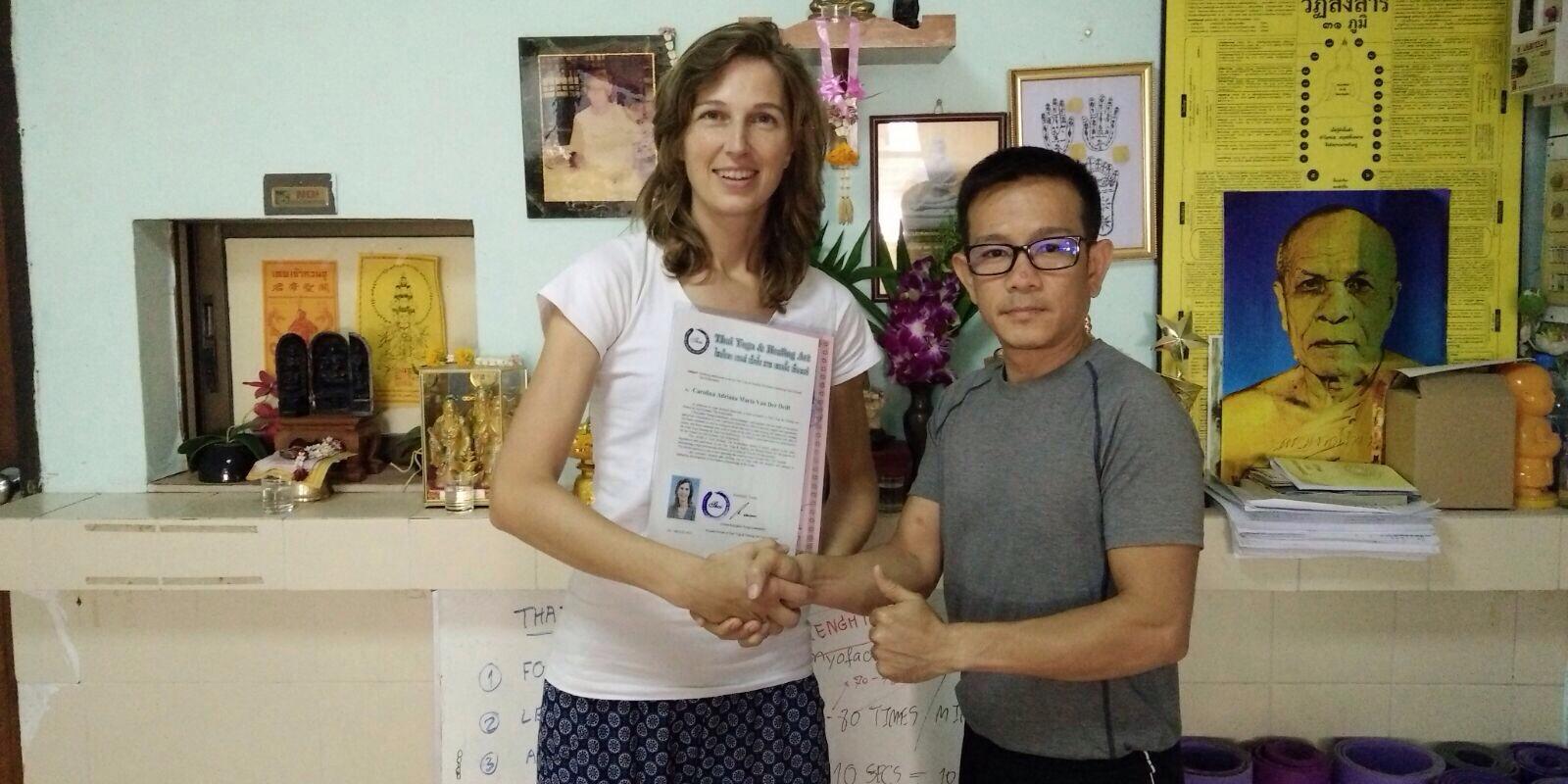 ---