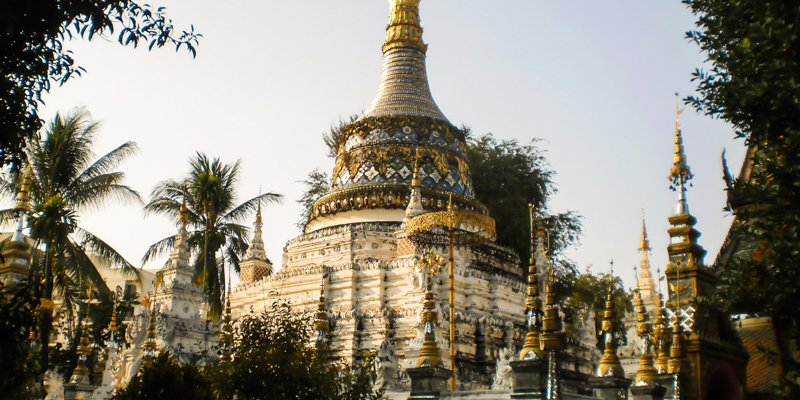 In this post, we're going to take a look at the best and most popular places in Thailand to learn Traditional Thai Massage.
Chiang Mai
With almost 40% of all Thai Massage schools, Chiang Mai in the far north of Thailand is without any doubt the center and Mecca of Thai Massage training in Thailand.

eBook | Click for details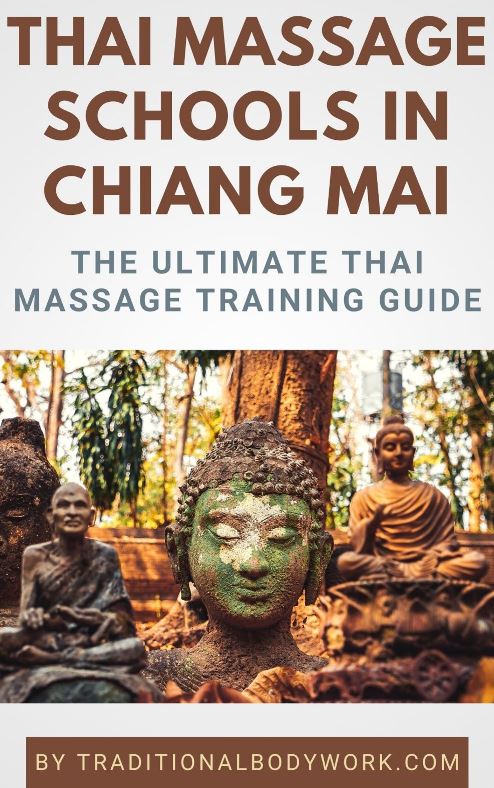 In Chiang Mai, you'll find an amazing abundance of massage schools, and a broad variety of training course and workshop offerings in the Thai Massage, Thai Healing Arts, and Thai Bodywork spectrum.
Certainly, for Thai Abdominal Massage (aka Chi Nei Tsang), Thai Fire Therapy, and Thai Tok Sen you can't avoid Chiang Mai, because those course modalities are very rarely offered in other places in Thailand.
For in-depth info about Chiang Mai and Thai Massage, you may read our article Thai Massage Schools in Chiang Mai.
Bangkok
With about 25% of all Thai Massage training centers, Bangkok boasts a quarter of the total courses and classes offerings in Thailand.
Bangkok's atmosphere is of course quite different compared to laid-back Chiang Mai, but noteworthy to mention is that Bangkok caters for the most famous Thai Massage school in the world, the Watpo Medical & Thai Traditional Massage Center.
Perhaps Bangkok offers less Thai bodywork course varieties than Chiang Mai, but the number of Thai Massage schools certainly gives reason to put studying in Bangkok on your shortlist.
For more background info on Thai Massage education in Bangkok, visit our blog post Thai Massage Training in Bangkok.
Koh Phangan

eBook | Click for details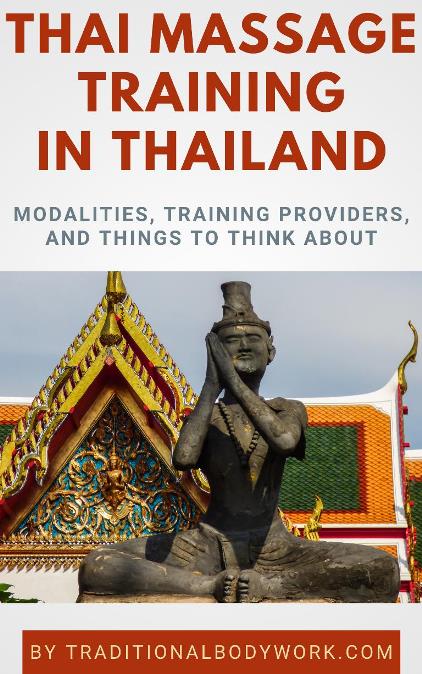 Koh Phangan Island boasts a dynamic spa, retreat, yoga and meditation industry. Thai Boxing Muay Thai camps and Thai Cooking Schools are abundantly present on the island too.
It's obvious that the real Thai Massage adapt would most likely be better off in Bangkok or Chiang Mai when it comes to choice of training, but on the other hand Koh Phangan has a lot to offer with regard to other bodywork modalities (and wonderful beaches, by the way) which most certainly compensates the lack of Thai Massage course varieties and styles.
Nonetheless, there are some excellent local Thai Massage schools and teachers to be found that offer Thai Bodywork courses and workshops. For an overview of all Thai Massage training schools on Koh Phangan, you may read our post Thai Massage Courses and Training on Koh Phangan.
Phuket
Phuket is the number one holiday island destination in Thailand. The amount of Thai Massage teachers and course centers is about the same as on Koh Phangan and not as abundant as Chiang Mai or Bangkok, but also here, there are some excellent opportunities to study Thai Massage.
Visit our article Learn Traditional Thai Massage on Phuket to know more about the various local Thai Massage schools.
Pattaya
Pattaya is perhaps the best known land-bound beach resort in Thailand, located about 100 kilometers south-east of Bangkok.
The place has a reputation as being a sex tourist destination, but the Thai government has made (and is still making) many efforts to clean up the image of the city. To be clear, Pattaya certainly isn't a "sex-city." The place has really an enormous variety of activities to offer when it comes to leisure, entertainment and adventure.
Certainly, when it comes to Thai Massage shops and parlors … there's no end to it in Pattaya. Thai Massage schools however are rather scarce, but if you spend your holidays in Pattaya and want to learn Thai Massage, there are enough good options.
---

---
---
Related Articles