Perhaps something you wouldn't think about straightaway, but depending on the time of the year —the seasons— offerings and costs of Thai Massage training courses, the weather, costs of traveling, food, and accommodation vary.
The busy tourist season in Thailand, the so-called high season, runs roughly from the 1st of November to the 31st of March (up to just before the Songkran festival, the Thai New Year's national holiday). That is, the high season is when it's winter in the Northern hemisphere of our planet (being the part of Earth that is north of the Equator, which most of the countries on our globe make part of).
Accommodation and Food
In the tourist high season in Thailand costs of accommodation are generally significantly higher than in the low season and bargains are much harder to be made. Remember that you can usually bargain on accommodation prices anyway (in or outside the high season), if you stay a week or longer in a guesthouse or hotel.
Food prices rise also in the tourist season, notably in the touristic areas and regions, although it's always possible to eat cheap in Thailand if you avoid the more fancy and trendy places.
Travels and Traveling
Travels to Thailand, flights, are cheaper in the months of the low season. My personal experience is that flights booked from roughly February to the end of October can be half to two-third of the prices compared to those charged in the high season.
When you're already in Asia, the Air Asia flight carrier is one of the best and cheapest budget airlines. Book a bit in advance (say, a few weeks), and generally you'll always be able to get very sharp ticket prices.
In Thailand, prices for buses, trains, and the like don't change much really. Traveling in Thailand is in fact quite cheap compared to many other countries, just make sure you book a bit in advance if you want to take a train (space can run out quickly, especially around Thai holidays).
Thai Massage Schools, Teachers, and Courses
In the low season, there are fewer students in Thailand, and good bargains on Thai Massage courses are much easier to be made (especially if you take more than 1 massage course with a training provider). Another advantage of fewer students being around, is that you can get more and better personal attention.

Our eBook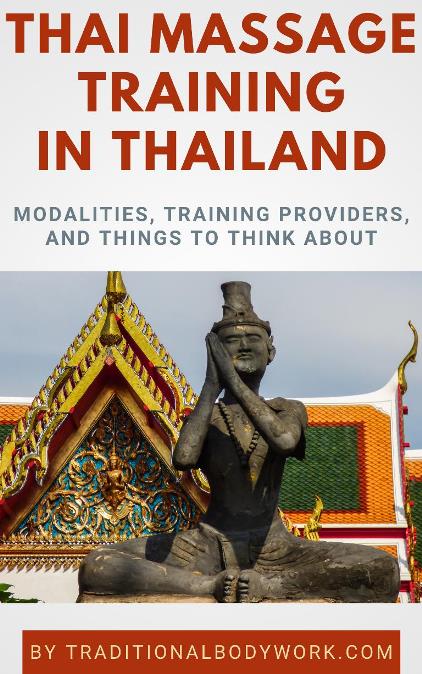 In contrast, in the high season, there are more Thai Massage schools open for business, as some just close in April (around the Songkran festival) or in the low season (or have less teachers available in this period). Additionally, in the low season, there are sought-after teachers that travel outside Thailand (from May to September), notably visiting Europe and North-America in the warmer summer months to give courses and workshops abroad.
Subsequently, if you visit Thailand out of the high season, the guru Thai Massage Master you'd like to study with might not be available. My advice is to always explicitly check this with a school or teacher beforehand (sometimes you also find teaching calendars on their websites).
Another thing you may want to take into consideration is the availability of foreign Thai Massage teachers in Thailand (generally teachers from Europe or North America). Those teachers usually only offer training courses and workshops in the tourist high season. Note that training courses from foreign teachers given in Thailand are usually cheaper in Thailand than in their home countries.
The Weather
Well… it's always warm (or hot) in Thailand, except then in the upper north region of Thailand in the mountainous areas where temperatures may drop to 5 degrees (Celsius) in the nights (in the months November to March), depending on the altitude. Then again, on the days it's always nice and warm.
More or less officially, there are three weather seasons to be recognized in Thailand (although things may vary a bit locally, as for local mini-climates): the hot season (mid February to mid of May), the wet or rainy season (mid May to mid October), and the cool season (mid of October to mid February).
Personally, I'm not scared by the monsoon season (rainy season), because it does rain a lot, hard and almost daily, but seldom longer than two or three hours in a row. After that things clear up quickly. And as for studying Thai Massage, things surely don't matter too much.
In fact, it's after the rainy season (in the months October to December) that floods are more likely, because of the saturation of forests and rivers. I've been in Thailand in these months several times, and a on a few occasions these were the months where some places, cities, villages suffered from floods and were more difficultly accessible.
---

---
---
Related Articles