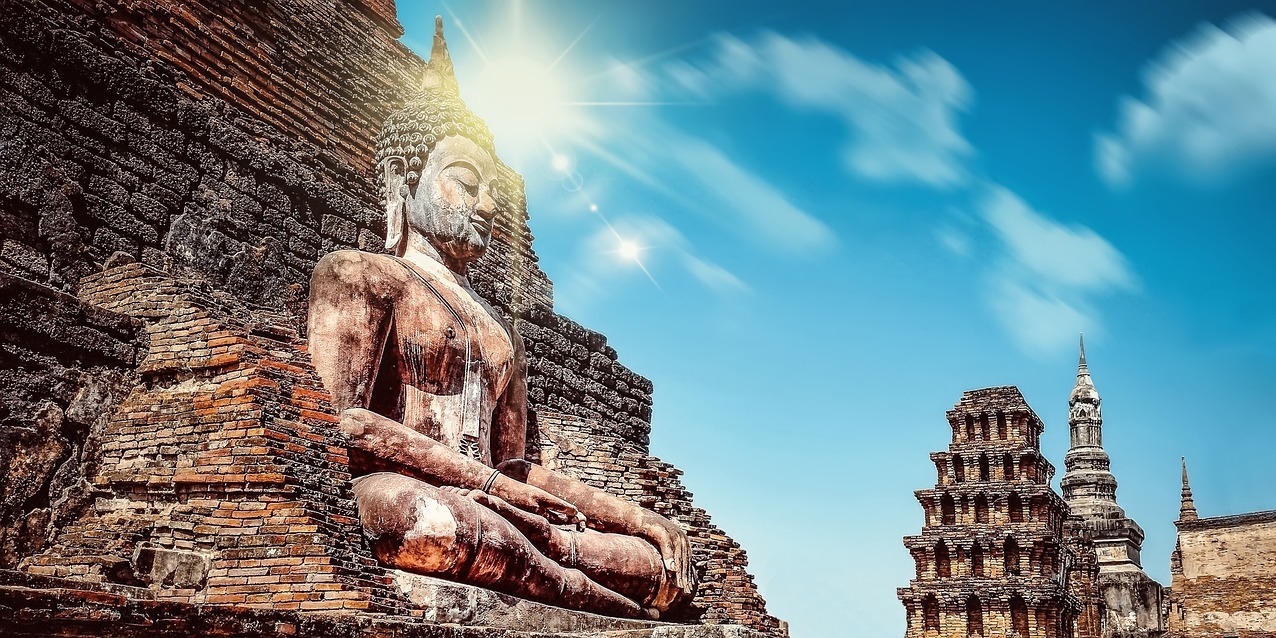 Studying Thai Massage in Thailand can be a daunting, overwhelming experience for those who either have never traveled outside their own country or… haven't been to Southeast Asia before. Asia's make-up is something totally different compared to Western societies, and profoundly challenges our senses, minds and emotions.
For some (prospective) Thai Healing Arts students it might be the better, more fruitful choice to join a group study travel program to Thailand that includes the availability of someone who knows the country, guiding and supporting us offering a safe and set environment to study Thai Massage in Thailand and getting to know the culture and tradition in a softer, perhaps more pleasant and convenient way.
Travel abroad programs to Thailand are not new, study abroad programs a bit more of late perhaps, but specialized study travel programs to learn Thai Massage are of course a niche. In this post, we'll take a look at a selection of Thai Massage schools, teachers and training centers in the USA that offer guided Thailand Study Abroad Thai Massage Programs.
Most trips are planned in the period November – March, the so-called high-season in Thailand.
Blue Lotus Thai Healing Studies
Blue Lotus Thai Healing Studies in Chicago offers a 3 week trip to Thailand learning Thai massage and other aspects of Thai Medicine in the Chiang Mai area (Northern Thailand). This teaching trip is designed to give access to a variety of Thai Healing Arts teachers and teachings in and around the northern city of Chiang Mai.
Two weeks of study will be with Ajarn Pichest Boonthumme, the renowned Thai Massage Master of Hang Dong, but you will study with other teachers and monks also who will give their view on Thai bodywork, Thai medicine, Buddhism, meditation, and indigenous healing practices.
Boulder Thai Massage School
Boulder Thai Massage School (in Boulder) offers trips of about 4 weeks to Thailand to take Thai Herbs and Tok Sen classes or Thai Medical massage training in Bangkok. The journey includes tours in Bangkok and across Thailand.
Devanadi School of Yoga & Wellness
The journey offered by Tanya Boigenzahn (Minneapolis) basically heads to Chiang Mai to study two weeks with Pichest Boonthumme. Additional, optional modules are offered to train Chi Nei Tsang or visit Pai.
Elevate Massage Training
The tour from Elevate (Memphis) includes Bangkok, Chiang Mai and the Islands. The idea is to connect with local culture and cuisine, meet new people, attend Thai Massage classes and earn CE credits.
Institute of Natural Therapies
The Institute of Natural Therapies (Hancock, Michigan) runs a study abroad in Thailand program visiting Chiang Mai to study two weeks at the Thai Massage School of Chaing Mai (TMC). Programs run yearly in August.
Living Sabai
Living Sabai (Asheville, North Carolina) offers an annual Study Abroad adventure to Chiang Mai. This trip is reserved for advanced level Living Sabai students. Students must at a minimum have completed the required pre-requisite classes.
One Thai Spa
One Thai Spa in Little Rock, Arkansas offers initial consultations around your ideas, holiday plans, preferred style, group size, and budget, and helps you to plan your study journey in Thailand. Consultancy for every step of the way; they offer complete individualized programs for all luxury levels.
Sacred Bodywork
Sacred Bodywork in Florida offers a yearly returning Travel Abroad Study program to Chiang Mai. The last program was a 10 night residential retreat studying with Jack Chaiya, the son of the famous Mama Lek Chaiya, who teaches so-called Nerve Touch Thai massage (Jap Sen) and herbal remedies. Excursions are included, visiting sacred sites, such as Wat Phrathat Doi Suthep.
Thai Transformations
Thai Transformations from Jeanne Coleman (Massachusetts, Worcester) offers a journey to the "land of smiles" to enjoy the people, wonderful food, and experience traditional Thai culture. One needs to contact Jeanne to know exactly what is offered in the study tour package.
Thai Yoga Trainings
Thai Yoga Trainings from Michael Sitzer (Asheville, North Carolina) runs a 9 day Study Abroad Travel program to Thailand learning Thai massage with Ralf Marzen and Ajarn Pichest Boonthumme.
The Naga Center
The Naga Center in Oregon, Portland regularly offers a Guided Thailand Training Program with Nephyr Jacobsen, the founder of the Naga Center. Only 4 persons, visits will be made to small mountain towns and big cities, and the whole gamut of temples, markets, jungles, hot springs, waterfalls and rivers are included in the program, and of course… Thai Massage classes and treatments, and more.
Thailand Study Tours
Thailand Study Tours is a 19-days Thai Yoga Massage Study Abroad travel program from SomaVeda Integrated Traditional Therapies® and the Thai Yoga Center founded by Dr. Anthony James (Florida). The program is based on a cultural immersion / Eco-Tour type of approach. A significant portion of the program is spent working with indigenous Thai Healing Arts teachers and professionals. Visits are made to Bangkok, Chiang Mai, Pang Lang, Chiang Rai, and Mae Sai.
Vedic Conservatory
The Vedic Conservatory from Michael Buck (Mukti) in Pensacola, Florida, organizes 12-day trips to Chiang Mai to train in Thai Massage and Thai Herbal Ball Massage. Cultural tours and trips in the Chiang Mai area are part of the program.
Viyada Thai Massage School
The Viyada Thai Massage School in Boston offers a 26-day trip to Thailand, visiting both Bangkok and Chiang Mai, 10 days of Thai massage training and other Thai cultural activities, such as Thai Cooking classes.
---

---
---
Related Articles