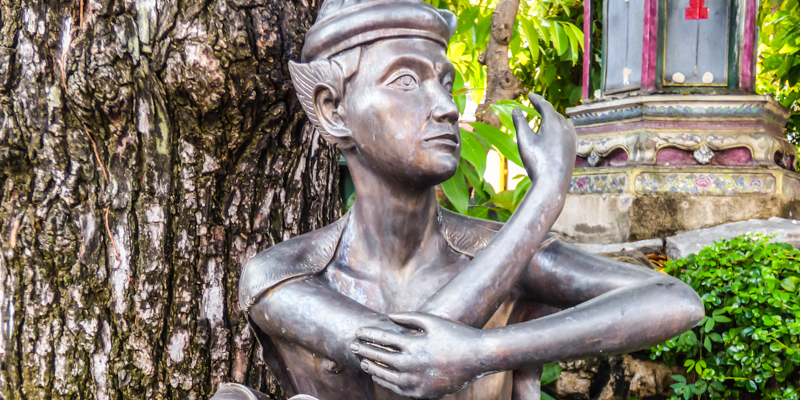 Thai Yoga or Ruesi Datton is a traditional form of Thai healing bodywork. Reusi Datton consists of self-massage, stretches, breathing exercises, and a variety of poses and sequences which are done in standing, sitting, or lying positions.
The conceptual foundation of Reusi Datton (also spelled as Reu-Si Dat Ton), like that of Thai Massage, is based on the so-called Sip Sen (energy lines) or meridians which distribute vital life energy through the body.
Thai Yoga is a rather unknown aspect of Traditional Thai culture and healing bodywork, and even in Thailand the practice is generally not well understood by the public and commonly reduced to a "set of stretching exercises."
Below you'll find a list of Thai Massage schools that offer Thai Yoga Reusi Datton courses in Chiang Mai. For detailed filtering visit our Training in Thailand page.
An established school located a bit outside of Chiang Mai city (Hang Quae) with on-site accommodation options. Offers Thai Abdominal Massage i.e. Chi Nei Tsang, Thai Foot Massage & Reflexology, Th
[Read More...]
The Chiangmai Classic Art Thai Massage School is a Thai Massage school in Chiang Mai (Thailand) for Japanese students. The website is in Japanese only.
[Read More...]
Chiida Spa is a Spa Wellness center, resort and retreat and additionally offers Spa products and Spa & Massage trainings. Chiida has branches in Chiang Mai (Sukantara Cascade Resort & Spa) a
[Read More...]
The CLS Massage School is located in Chiang Mai, and profiles itself as a Thai Therapy and Thai Spa massage school. There is on-campus residential accommodation available. Thai Spa Courses & Work
[Read More...]
IDI Thai Massage (Intellectual Development Institute), established in 2004 by Mr. Sombat Traisrisilp, is a Thai medical clinic and school in Chiang Mai that offers Thai Massage courses and Thai Yam Kh
[Read More...]
ITM is a private vocational Thai Massage school located in Chiang Mai. The school is a family run business and was founded in 1992 by Chongkol Setthakorn. ITM is one of the best known Thai Massage sch
[Read More...]
At Jongrak's, specialized in Lanna Folk Healing, private Thai Massage study is possible, and groups don't exceed 4 students. The school also offers in-depth Thai Traditional Medicine colle
[Read More...]
The founder and owner of this Thai Massage school in Chiang Mai is teacher Chaweewan Vitfan. The school offers a broad variety of Traditional Thai massage and bodywork courses.
[Read More...]
Loi Kroh Massage, founded in 1999, is one of the established Thai Massage schools in Chiang Mai. Apart from their in-depth Thai Massage training programs, the school is renowned for their Thai Yoga Re
[Read More...]
Ong's massage school in Chiang Mai offers a broad diversity of courses with a duration generally from 1 up to 5 days. Training modalities range from Thai Massage, Herbal Compress Massage, Reusi
[Read More...]
The PANVIMAN Spa Academy is part of the Panviman Group of Resorts. The group represents a "Boutique Group of Resorts" with International Hospitality Standards. The academy offers education in both
[Read More...]
Sensip Training is active in both Thailand (Chiang Mai, since 2008) and in France (Aubenas, since 2015). The subsidiary in Chiang Mai was founded by Ajarn Thanaphorn Saebun, who's licensed by th
[Read More...]
The Thai Massage School of Chiang Mai, also known as TMC Chiang Mai or the Thai Massage School of Thailand, was founded in 2001. The Thai Massage School of Thailand was founded one year later in 2002.
[Read More...]
Oasis Spa is a group of Spas with branches in Chiang Mai, Phuket, Pattaya, and Bangkok. Education is fundamental for Oasis Spa. They offer a wealth of Thai, other Asian, and Western spa, beauty and bo
[Read More...]
Timmy's place offers a broad variety of Thai Bodywork courses. She's a specialist in Thai postpartum treatment of women (Yu Fai) and preparation of herbal products. Besides that, she offer
[Read More...]
The Watpo Thai Massage School in Bangkok, the name also spelled as Wat Pho or Wat Po, is without any doubt the most famous Thai Traditional Medicine institute in the world. The school is closely conne
[Read More...]
The Watpo & Chetawan Health Center Chiang Mai is a Thai Massage training branch of the world famous Watpo Medical Massage school in Bangkok. Although Watpo Chetawan Chiang Mai offers only a subse
[Read More...]
Waulai Thaimassage in Chiang Mai is specialized in Herball Ball Compress Massage courses, but also offers Reusi Dat Ton and Tok Sen. Founded and run by teacher Ajarn Somphong Prapharat.
[Read More...]
---
---
Related Topics