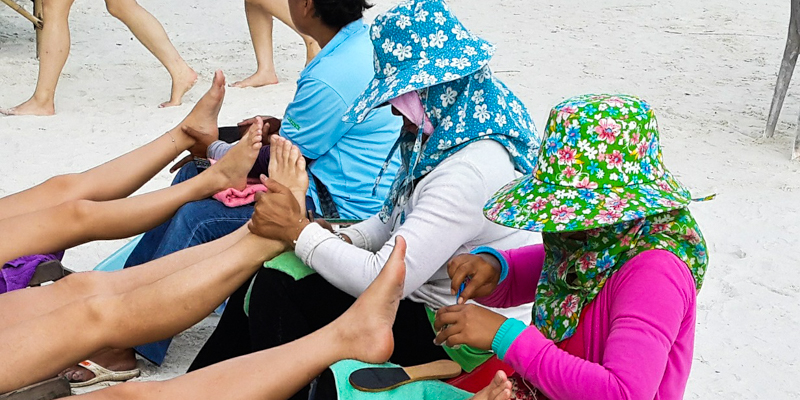 Like Traditional Thai Massage and Thai Oil Massage, Thai Foot Massage & Reflexology is a quite popular Thai Healing Arts modality. After a long day walking or standing, a Thai Foot Massage session is both pleasant and healthy for the feet, and in fact for the whole body and mind.
In this article we list the Thai Massage schools and training centers in London that offer Thai Foot Reflexology Massage training courses and classes. For all Thai Massage training centers in London or in the UK, you may visit our Worldwide Training page or use our Global Filter Engine.
Amethyst Holistic Training provides a wide range of holistic therapy, beauty therapy and nail technician courses across the UK.
[Read More...]
The Brighton School of Massage offers a variety of training courses in Complementary Therapies.
[Read More...]
Gateway Workshops, founded in 1998, offers Massage and Beauty courses for all levels, and also CPD courses for existing therapists.
[Read More...]
Jane Bryan is specialized in Spa and Beauty training courses.
[Read More...]
The London School of Massage in the UK offers a range of professional Diploma Massage Courses, Sports Massage Courses & Postgraduate Courses.
[Read More...]
The school, founded by Simon Piers Gall, is located in London, UK (Great Britain). It offers Thai Foot Massage & Reflexology, Thai Herbal Compress Massage (Luk Pra Kob) and Th
[Read More...]
London Therapists are a holistic and beauty training company founded in 2004. They offer a vast range of accredited massage and beauty courses.
[Read More...]
The Metta College is Amy Ku Redler's Thai Yoga Massage school in the UK (United Kingdom). Amy is a Sunshine Network Thai Yoga Massage instructor.
[Read More...]
The Quantum Metta School of Massage in London offers a variety of both Western and Oriental Massage courses and CPD training modules.
[Read More...]
The training center is founded by Francesca Canzano-Franklin. Apart from teaching Holistic Massage, Anatomy & Physiology, Pathology, Reflexology, Ayurveda Massage, Sports Massa
[Read More...]
Simon Piers Gall is a complementary therapist and teacher in Traditional Thai Massage. He is the founder of the London School of Thai Massage and head tutor, and a former personal
[Read More...]
Thai Yoga Massage is run by Martin Spirogyra and offers Thai Yoga Massage courses and treatments in London, UK. Martin is an ITM Chiang Mai affiliated Thai Massage teacher.
[Read More...]
The Lotus Academy in London offers a broad variety of both Eastern and Western massage and bodywork courses.
[Read More...]
Kira Balaskas is a senior Sunshine Network Thai Yoga Massage teacher based in London (United Kingdom). She is authorized to appoint new Sunshine Network instructors.
[Read More...]
The Therapy Training School offers a wide variety of oriental and western spa, wellness, and therapy bodywork courses across the UK. Live classes and online training.
[Read More...]
Zen Tranquility Holistic Beauty Training Studio offers Asian and Oriental inspired Massage Beauty Holistic Practitioner Diploma Courses across the UK.
[Read More...]
---
---
Related Topics